Need help or support from List Perfectly? Let's look at how to contact List Perfectly and List Perfectly Tech Support.
How to contact List Perfectly
You have several options when contacting List Perfectly.
From the List Perfectly website, go to the Our Company drop down menu, and select Contact.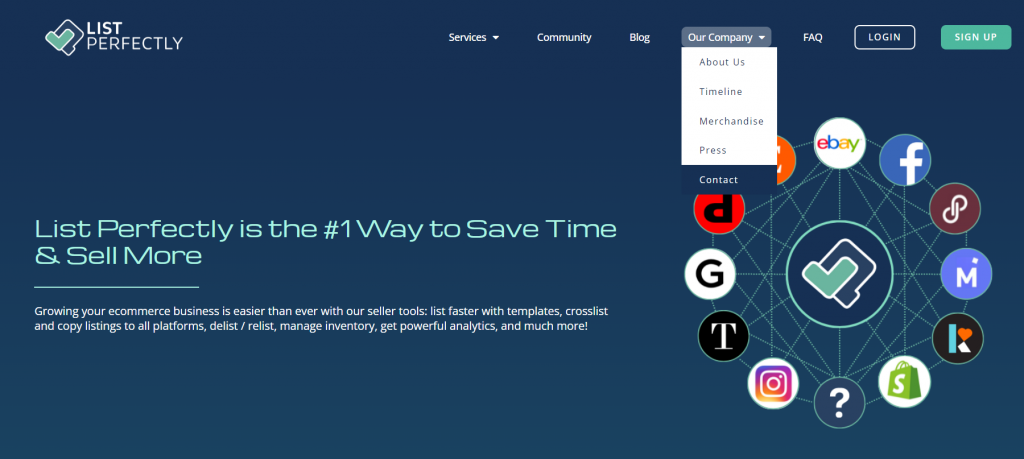 From there you will be guided through options asking what you need help with, starting with "More information about List Perfectly" and "I have an account and need help." From there follow the prompts for information about List Perfectly, or account help.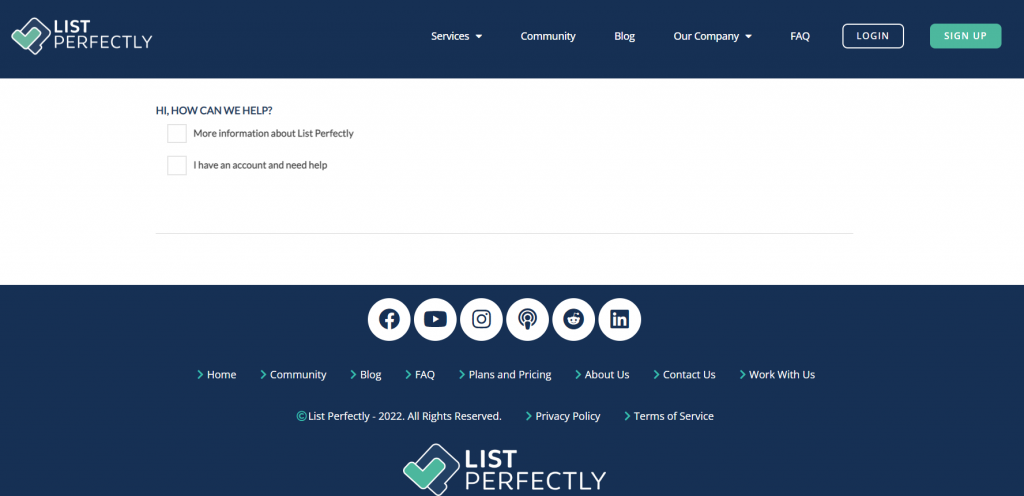 Within the List Perfectly application, go to the Main Menu and select Contact Us.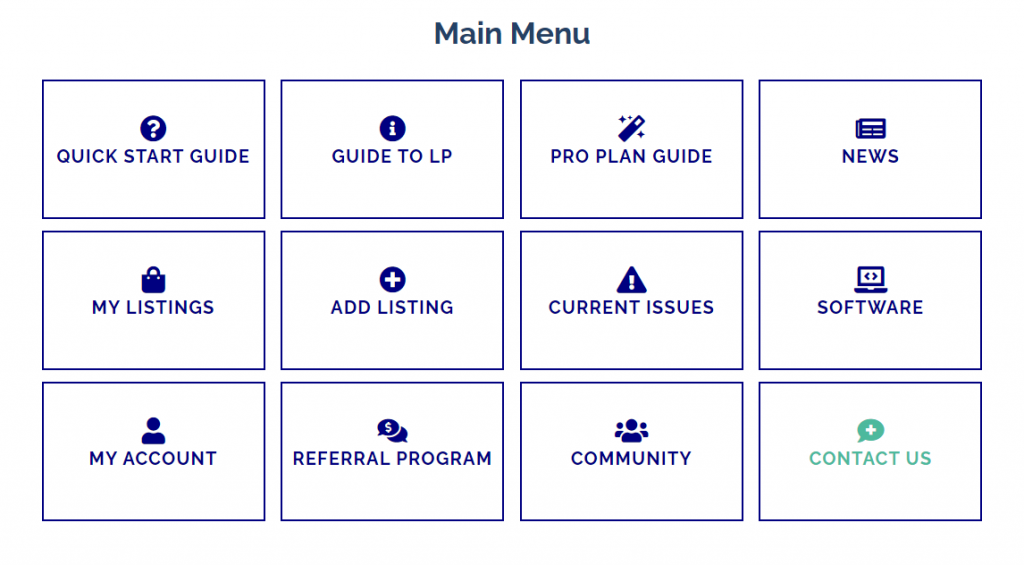 If you've already sent a help request, click the "Already submitted a Help Request" button to see your history. No more digging through emails, your help history is now stored in your List Perfectly account.
You'll also see other Help options
Quick Start Guide
Technical Support
Account/Billing
Referral Program
Feature Request
My Help Requests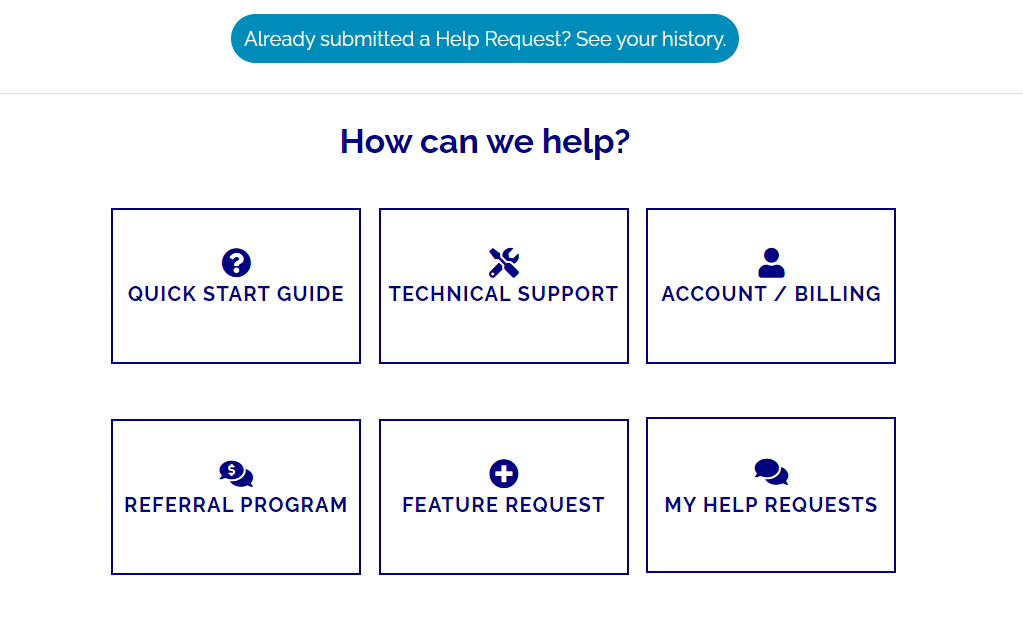 You can also click Help & News in the top navigation bar and select Contact Us (help Requests).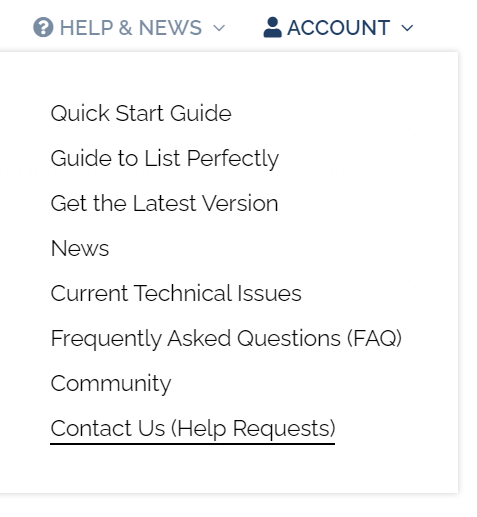 Another option is to click your List Perfectly extension in your browser and select Contact Us.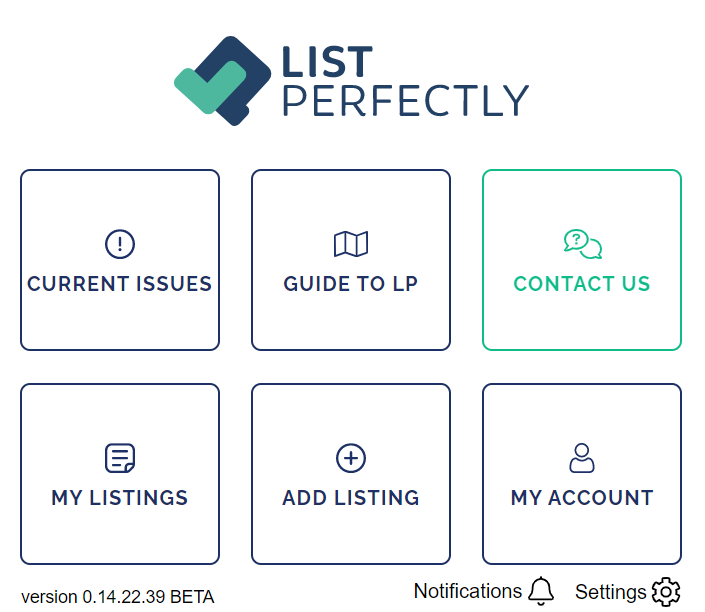 When you're crossposting within List Perfectly you can also click Need Help.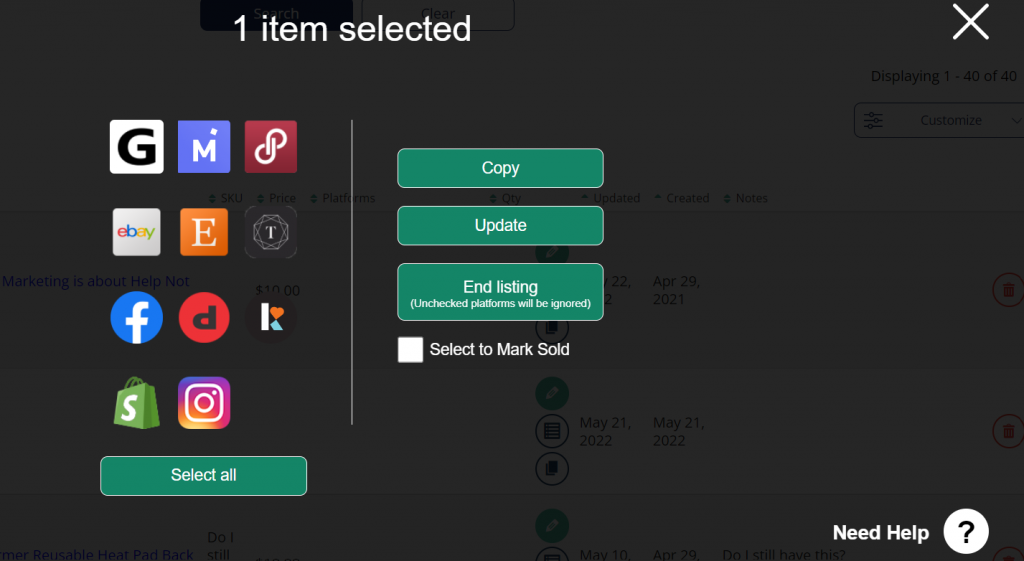 How to get List Perfectly help with our 24/7 Technical Support Help Wizard
From the List Perfectly Main Menu within the app, go to Contact Us or from Help & News, select Contact Us from there.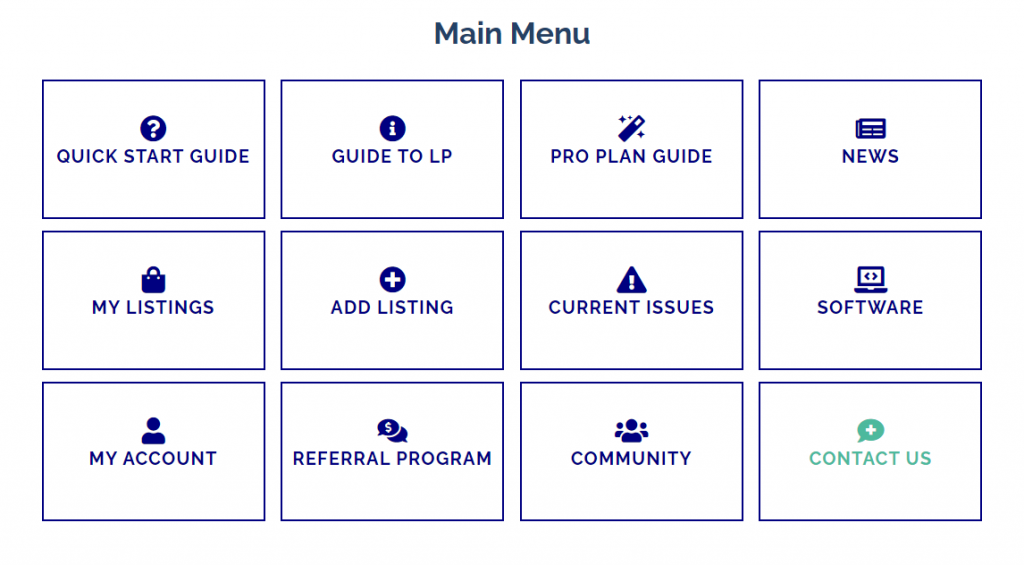 Next choose Technical Support.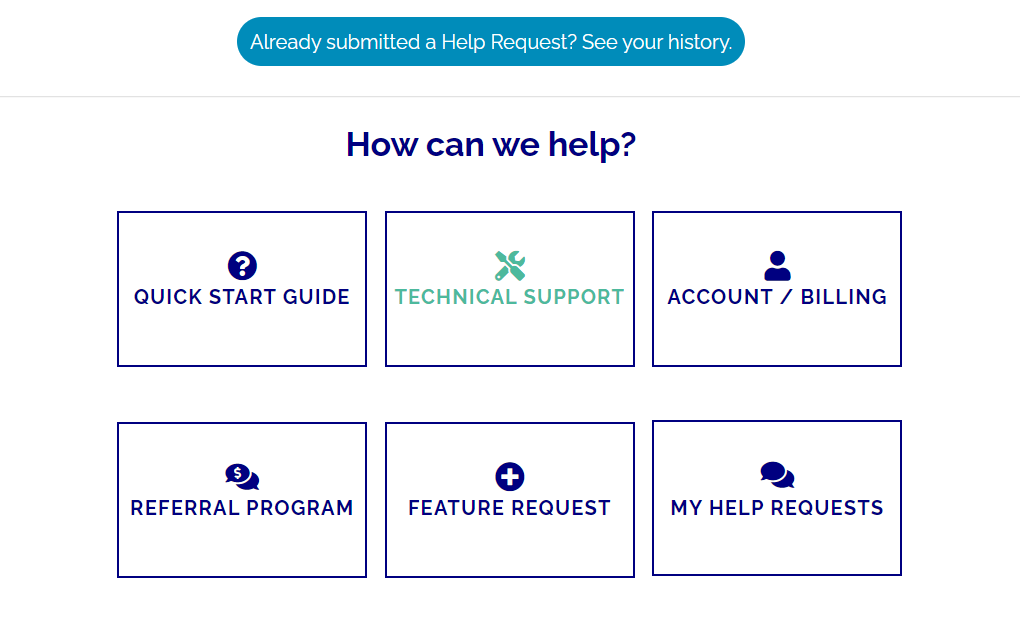 This will take you to the Current Technical Issues page showing current known issues. If the issue you are experiencing is listed here, you may not need to contact us. If your issue isn't listed, you can continue to Tech Support.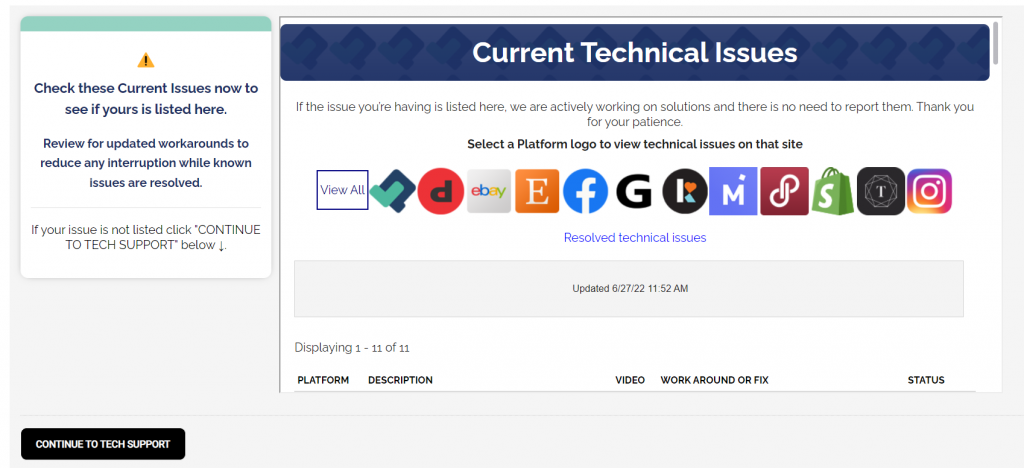 The List Perfectly Tech Support Wizard is available 24/7 and is designed to supply resolutions to questions or concerns about issues you may be experiencing.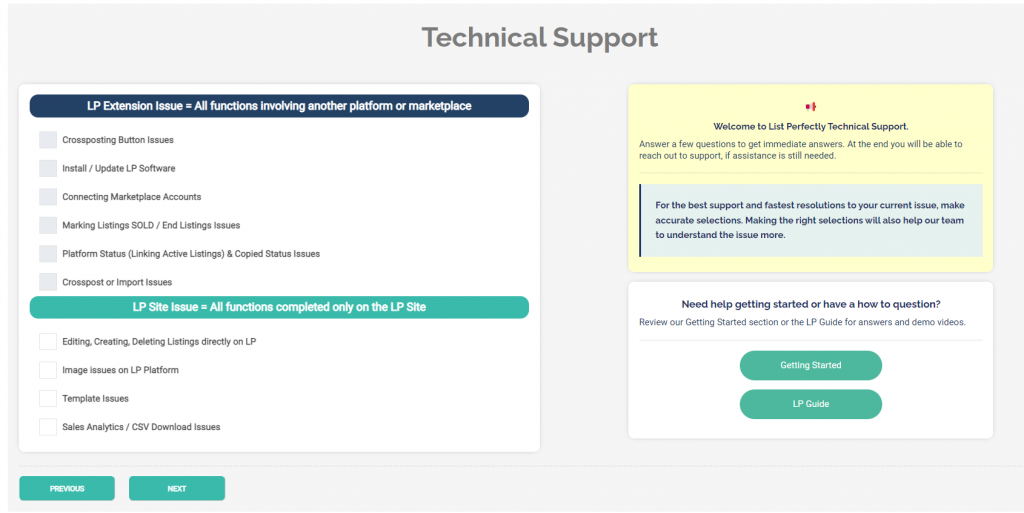 We'll ask you to tell us what your issue may be related to as in whether it's an extension issue or possibly a List Perfectly site issue. If the issue is related to or involving another platform or marketplace, it's most likely an extension issue. If the issue is exclusively on the List Perfectly site or app, it's a site issue.
Simply follow the prompts, and you'll be guided through the Tech Support Wizard.
You'll be shown some frequent questions or issues that users with a similar issue may have experienced. If your issue is one of these, just make the choice and you'll be provided with a resolution. If the response supplied resolves your problem, choose Yes and return to the Main Menu. If your issue isn't resolved, you can choose No and go ahead to the next screen.
Each path you take in the Tech Support Wizard is unique.
The List Perfectly Screen Recorder
Within the Tech Support Wizard, you may land on the Screen Recorder. Screen recordings allow the List Perfectly support team to review and respond and supply a resolution.
First click Record Screen. Your browser will allow you to choose your recording preferences, select Entire Screen to share your full screen, and then click Share Here. You'll see that there is a five-minute time limit to the length of your recording to the right. You'll see a microphone icon display the volume level.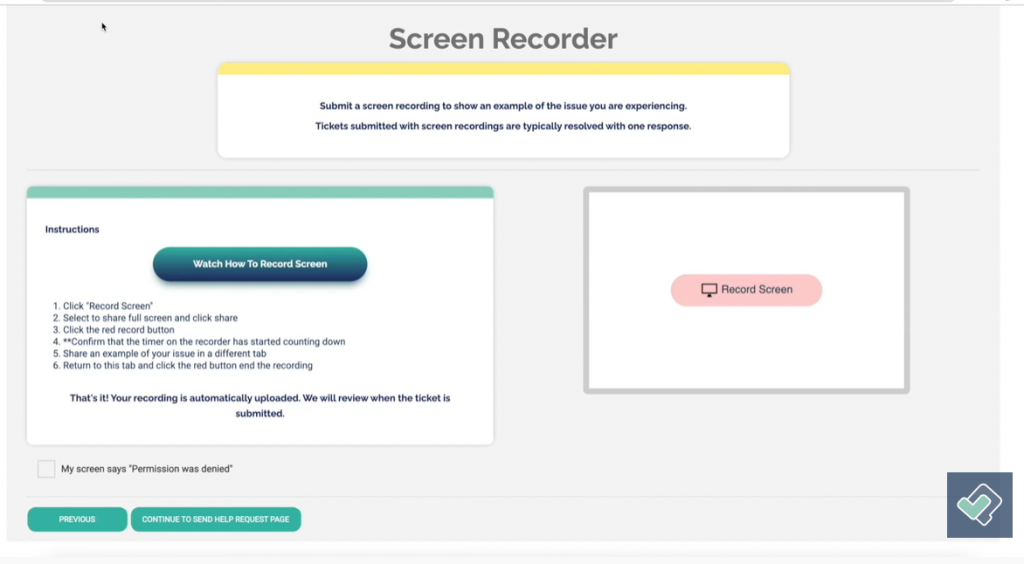 If you choose to narrate your video to begin recording your video, click the red Record button, then simply open a new tab on your browser and show whatever issue you've encountered.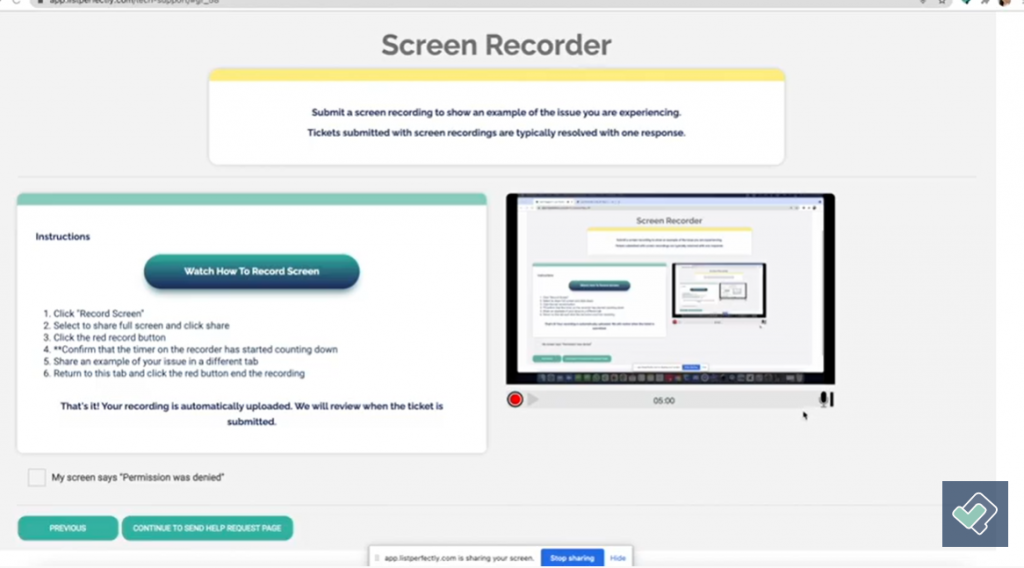 When you're finished recording, return to the screen recorder page, click the red button to stop recording and end your video. To see the video you've just recorded. Click the Play button. If at any point you'd like to start over, simply refresh the screen recorder page. You'll be returned to the beginning of the process with the screen recording wiped clean.
If you get a "Permission was denied" message or "Could not get screen stream", simply refresh your page for an easy fix or check the box and follow the instructions.
When you're finished with your screen recording, click Continue to Send Help Request to complete your help request.
The Help button
We have added a floating Help button for you to have quicker options on any page when using List Perfectly.

With the Help Button, you will be able to access: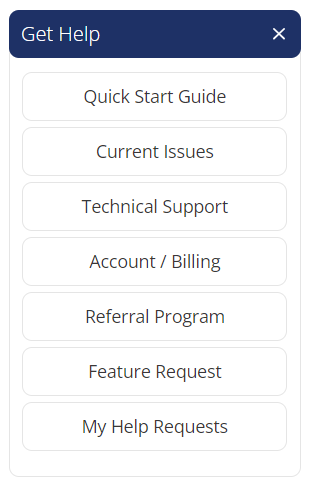 More information on List Perfectly Tech Support
We recently ran a blog post on all of the free seller resources List Perfectly has available.
Check out these videos on the List Perfectly YouTube channel for more information:
5 Ways to Contact List Perfectly
How to Use List Perfectly Screen Recorder for Tech Support
How To Get List Perfectly Help With Our 24 / 7 Technical Support Help Wizard