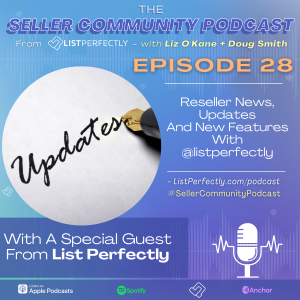 Overview
This week Liz and Doug bring you a special episode of the Seller Community Podcast for Episode 28. They discuss changes and updates across selling platforms, reseller news and more. A special guest from List Perfectly joins with a HUGE announcement and update for all users!
The Seller Community Podcast from List Perfectly is the #1 resource for the seller community across all platforms and hub for information on growing your business with List Perfectly. Find out more at listperfectly.com/podcast, leave a message or ask a question at https://anchor.fm/sellercommunitypodcast, or email us at podcast@listperfectly.com.
Listen on Apple Podcasts
Listen on Anchor
Listen on Spotify
Listen on Pocket Casts
Listen on Google Podcasts
Listen on Breaker
Listen on RadioPublic
Links
listperfectly.com/podcast
Listperfectly.com
Seller Community Podcast on Anchor
Listperfectly Facebook Group
coloradoreworn Instagram
coloradoreworn linktree
snoop.dougie Instagram
snoop.dougie linktree
listperfectly Instagram
Episode 28 Links
Consignment Chats podcast
Flippin' Hippos YouTube
Stephys_Kloset Instagram
PoshFest Virtual Party from List Perfectly
Price increases for holiday shipping
FEDEX price increases
UPS price increases
Transcript
Intro
Doug:
Welcome to episode 28 of the Seller Community Podcast. I'm Doug.
Liz:
And I'm Liz.
Doug:
So, what's been up with you, Liz?
Liz:
You know what? I'm sitting here thinking about this past week and it has gone by in a flash. Like, I don't even remember this week, really. I've done a lot, but not much. But the most exciting thing, Doug, is a podcast.
Doug:
That's right. It's always fun to do this.
Liz:
It is! This and today I'm also on the Consignment Chats podcast. So make sure to go check them out.
Doug:
Consignment Chats, friends of the show. What are you going to talk about?
Liz:
We just talked a little bit about me and my journey and the podcast and reselling and eBay Open and the grant. We fit a lot into this episode, so be sure to tune in and go check out Consignment Chats.
Doug:
And then you've got Flippin' Hippos coming up, right?
Liz:
So Flippin' Hippos, actually go check out Star's YouTube channel. Last night, I did a demo on the pro plan. Which we're going to talk about later in just a bit, but I did a demo on the pro plan on the Flipping Hippos YouTube channel. And we'll just throw a link in the show notes for that. So yeah, maybe it has been a busy week and I just forgot. So, how have you been Doug?
Doug:
Good. You know, crazy. You know, in a nutshell, work stuff, football injury, I announced a football game.
Liz:
Wait, you have a football injury? You play football?
Doug:
You know, I'm not athletic, Liz, which is a shock that my son is, I don't know where he gets it. Well, my wife was athletic. She was track and field in high school and a cheerleader by the way, I've got to throw that in. So maybe he gets it from her DNA, but certainly not from mine. But I announced the football game. It was fun. You know, I had to make it my own a bit.
Liz:
Of course!
Doug:
So I did throw in some obscure references. So let me think. I think I referenced Pulp Fiction. There was some Caddyshack in there. Obviously, there would always be some Fletch, and I've got some Anchorman stuff lined up for this week, so we'll see. Hopefully I don't get let go!
Liz:
(laughing) So the parents will be highly amused at this football game. Oh my gosh! Well, have a great time doing that! Doug, we have a ton of news this week and we may be trying out a special feature with a regular secret guest. What do you think about that?
Doug:
You know how I love mystery Liz?
Liz:
Yes!
Doug:
I'm excited because we have a seller shout out. And we got an email this week with a couple of questions. So we'll take a look at that and see what we can answer to help out.
Liz:
Perfect. And so everyone knows the Seller Community Podcast is brought to you by List Perfectly every week for your enjoyment. And the show notes are found at listperfectly.com/podcast.
Doug:
All right, well, let's get started with this action packed episode, Liz.
Liz:
Let's do it.
List Perfectly Updates
Liz:
So big List Perfectly news this week, right Doug?
Doug:
Yes. Big news. We're bringing in the big guns, right?
Liz:
Yes. So big that we have an important team member from List Perfectly joining us today. So the Willy Wonka of List Perfectly delivering golden tickets today.
Doug:
Oh, this is very exciting. Hopefully he will swim in a chocolate lake.
Liz:
This is better! This is better.
Doug:
Does he have Oompa Loompas? (Singing)"Oompa, loompa doopity-doo.I have got List Perfectly news for you."
Liz:
Yes, so thank you so much for joining us today. New, big List Perfectly news announced this morning. Welcome to the studio, a Willy Wonka and your golden tickets.
Doug:
Yes. Welcome! Thanks for coming in.
Willy:
Oh, thanks for having me. Thank you. This is, it's always fun to hop on and talk about exciting things that's for sure.
Liz:
And this is, so tell us about the new List Perfectly release from this morning.
Willy:
Image manager. That is the new release. You know, highly requested, excited to deliver, excited to get it released. And it's just packed full of features and updates and everything. So this is definitely, definitely a fun one to release. I've been a part of quite a few recent releases with List Perfectly and even dating back a few years ago, introducing bulk cross posting and things like that. But this one's been a lot of, a lot of fun going through development and getting it released for all the users. For sure.
Liz:
So, one of the questions that comes up often is that I'm just going to ask right out of the gate. Is this just for Pro Plan users?
Willy:
No. No. So this update, every List Perfectly customer will feel the effect of this update. So this image manager is going to be a total design change. It is an experience that changes all the way from uploading images, saving images. How it works, if you're accessing the image manager from the mobile devices, everything, there are a lot of features and some features are plan specific, but no plan, no member is left behind on this one. Everyone will notice the change.
Liz:
So would you mind taking us through the different plans? So what can Simple Plan, Business Plan and Pro Plan members receive with this awesome update?
Willy:
Let's kind of start where we came from. So previously, now that we've released this, you know, you would upload images and of course you can reorganize the order and things like that, but there were no real edit options or anything further past that. So now if we start with the Simple Plan, what we're doing is we're adding some to be able to rotate your images. So, you know, there's just lots of users out there using lots of different devices. Third-party sharing apps, you know, Dropbox, Google drive, everything. So in doing that, everybody's, you know, everyone's images can behave a little bit differently. So we had a firm understanding that rotating images is needed across all plans. That didn't matter where you are. That there's times that images could come in and be uploaded that need to be rotated. So starting out Simple Plan, aside from the design change and kind of the uploading flow, you're going to be looking at some features to be able to rotate images. Hopping into the Business Plan with a lot more features, you'll be able to apply filters to all of your images, be able to crop images, not only being able to crop images, but take it one step further and actually have a predetermined square mode. You know, we understand across marketplaces overall, most marketplaces like that square format. Let's say that you're taking your images and you don't have that predetermined setting to shoot in that one-to-one ratio. We have a crop setting that's going to go ahead and just automatically give you that predetermined square size to always keep that ratio. So that's a big one with crop. Rotate images, flip images vertically, adjust brightness, adjust contrast. So really be able to get in there and make some true edits. If you're taking an image and a dark room and everything, you'll be able to make these tweaks, but the, one of the biggest things is doing it inside of List Perfectly here. That's one of the biggest wins for sure.
Liz:
So, so many of our users now just use the mobile device. I know me, I talked to so many customers and they're taking their pictures on the phone and uploading them directly into List Perfectly, or just opening List Perfectly on their mobile device and taking their images directly from the site. So this is definitely, I mean, you have no reason to have to leave List Perfectly.
Willy:
Right. Exactly. Exactly. And so, you know, with List Perfectly, you know, the whole point of List Perfectly and every feature that comes out, every update, every change, the idea is to make it easier for the user. Accelerate, the speed, accelerate sales, that's the goal, that's how it was built. That's the whole idea behind it. So that's really what we're accomplishing here with these new image managers, to make this easier. Let's take a step out if you're adjusting brightness or contrast or anything on your mobile device already, just take your photo, import it right into us, List Perfectly, make the adjustments right there. You're not making the adjustments, saving, then getting that image and importing that. So, that's the whole goal here for sure.
Liz:
That's such a huge win for sellers, and we're not done!
Willy:
No, no. You hop up to the Pro Plan, you're going to get all of that, the filters, the cropping, the rotating, flipping, brightness and contrast changes. And then on top of that, we're looking at photo rooms, background removal integration. So yeah, this is exciting. This is very exciting. You know, photo room has an amazing product and this integration takes it one step further, for sure, making that process even easier. So if you're on our Pro Plan, you'll have access to this right away, there's no additional charge or anything like that. And then you're talking about being able to upload images and immediately be able to make these background removal edits right there inside of List Perfectly. And again, this is totally accessible from any device that you are using to upload images.
Doug:
Basically you take a picture, you upload it and you'll be able to use List Perfectly as a photo editor.
Willy:
Right. Yeah, exactly. Exactly.
Liz:
So yeah, what I love is, you know, Simple Plan is getting some love, and this is a much needed option for that plan. You come up to Business Plan and wow, you know, the filters, the contrasting, the brightness, the cropping, all of that is amazing. And then you come up to the Pro Plan, you get all of it plus the background remover. So that is super exciting news. Thank you so much for coming on and telling us about these super cool updates .What some users may have missed last week, there were also List Perfectly updates. Would you mind sharing a little bit about that also?
Willy:
Yeah, of course. I guess we're just going to have to make this a weekly segment. I'm just going to be a returning guest.
Liz:
We would love that.
Willy:
Yeah. I would love that. That'd be fun. I may push for more releases. We could do more often. We can talk more often.
Liz:
So, everybody listening, you need to leave a review in Apple podcasts and just say, 'we want Willy Wonka' and we'll see how that plays out.
Willy:
I'll be handing out golden tickets left and right. Last week, we did a little mini maintenance with some new updates, new features and everything. So, first off, starting with the Simple Plan again added for those users using the List Perfectly catalog, creating their products and really gaining all the value out of the List Perfectly catalog, added a new feature for the customized notes just for kind of an internal use. So that was one thing. Second thing is we released an update to the sales analytics page, and essentially what this was, is a more dynamic and useful experience, basically. We now have the ability, if you're accessing your sales analytics, to gain much more than just purely revenue. Now displayed right there is a really good snapshot of cost of goods, how much you're paying for shipping and you know, your total profit and things like that. So, and then to take it one step further, there's so many different filters that you can filter down your analytics now, and it's really good to get a good insight. You know, it's, it's really nice, it's dynamic. So anything, any filter you apply, it changes and gives you that feedback. So, let's say you made a big push a few weeks ago, a big listing weekend, and you wanted to see all those listings that you created on that weekend. What's going on with those at that point in your analytics. You can just simply filter a small date range and immediately get that feedback. You know, what it was, you know when you were doing it, who knows, maybe you scored a great deal and, you know, you were able to do a lot of listing that weekend or that week. And you just wanted some more insight on how that panned out for you or what marketplace it did. So you apply that filter and immediately get that feedback. So, yeah, it's really nice. And again, there's so many filters you can apply, you can apply what brands are doing well, and things like that, being that filtered really allows users to gain insights that they always had access to, but this has taken it a step further, making it easier, more user-friendly and getting the information right there.
Doug:
And then just to jump in real quick, so sellers, this is important. So you've got these insights. You want to take a look at them and maybe they're not all for you, but they're, you know, they're kind of to help you see what works and what doesn't and you want to look and see what's going to be actionable for you. So, you know, it's great to have this in there too. List Perfectly is just not a tool to cross list, but this is a great thing to have metrics and insights are great across the board, because again, it'll show you what's working, what's not, and then take what's actionable for you. And so it helps you track your costs of goods. You know what's selling, what's not, the brands that are selling. And like, for instance, if you have, let's say last week had a 40% off sale, you can see how that's doing and track those metrics. And then you can see stuff like, oh, well, a 40% off sale does really well for me, but a 10% sale does not, or this brand really sells for me across the board. And then just, you know, basically do more of what works. That's how actionable insights work with metrics.
Willy:
Yeah, yeah, for sure. And I mean, there's just, there's a lot of information there. And I think one of the really cool things as you work with more and more users and you listen to the community and you listen to the feedback, people actually get kind of surprised on how well they may do on certain marketplaces and these analytics and insights, these metrics really allow you to see that because you may think like if you're native to one marketplace and that's your favorite, that's your favorite. That's just how it is. You may be surprised how well you're doing somewhere else while still doing good on your main one. It just allows you to kind of get that, get that feedback.
Liz:
So here's a light bulb moment as you're both talking, I'm just thinking as a seller and I'm thinking, oh my gosh, you're right. So I can see, I can filter by brand and by each platform and see what brand is selling better on which platform. And I can even look at the specific date on top of that.
Willy:
Right.
Liz:
So the possibilities are endless. It's totally customizable. I played around with it a little bit, but not as much, but now that the two of you are talking, I'm thinking of all these possibilities that I could be using it for. I think that is amazing. And there's one more update on top of sales analytics.
Willy:
Yes, yes.
Liz:
Really quick, sales analytics was for business and Pro Plan, correct?
Willy:
Business and Pro. Yes, exactly. Exactly. All those insights are for both Business and Pro. So, yeah. So the last update that happened last week implemented a new feature for customizing your pro description layout. So this is exclusive to Pro Plan members only, but the Pro Plan has always, and continues to have a description builder feature. So it's an amazing feature that really helps as you're listing, as you're creating your listing, helps you to format your descriptions in an easy to read, you know, very SEO rich description layout. So that's always been there. This feature is taking it one step further and allowing you some of that customization. So for example, for those of you on the Pro Plan members, and you're creating your listing, you may notice that it kind of runs in a certain order each time. It's your short description followed by your features list, followed by measurements and things like that. But maybe you're selling products that measurements are more important than listing some features. Maybe you have some products that just, you find it more important to hit home on these. Cause you know, we all know that not everybody's reading every single word description. I think that's pretty fair to say. So maybe, so this is allowing you to take that to that next step and get that in there. And you know, the example I could use is if you were selling men's suits, all right, the measurements are very important. Obviously you need it. It's a fitted suit. It needs to be a certain way. So maybe you want to move those measurements up higher in the description. It doesn't need to be below. So you go on your List Perfectly, you can go to your, my account and then your settings area. And there's a new tab there for description. And from there, you can totally customize the order of how it's going to display. You can customize section headers to say something else. Maybe you don't want to say measurements. Maybe you want to say fit or you know, size or whatever it may be. Maybe it's not clothing, maybe it's video games and you need to change the title or something like that, the section title for it. So it's just allowing the options and allowing the users to kind of take that one step further on top of a feature that's always been built into the Pro Plan. Take it one step further.
Liz:
This is amazing. So I knew that it was customizable when it came out last week, I was like, oh, I can go in here into my account settings, into description and mix it up. I didn't even look so far as to realize that I could change those titles or those headers. That's amazing. I'm going to go in and play with it.
Doug:
Well, and just keep in mind that, so, you know, the goal here is obviously to make List Perfectly as valuable as we can, and we want you to come in and be able to do as much as you can in there. So again, photo options, again, more metrics, more insights, more ability to customize your descriptions. And it's going to make your listings better across the board. And sell more stuff.
Liz:
Yeah. So two things that I am thinking of as we're talking about all of this, first is a lot of these features that have rolled out in the last two weeks, I have heard members asking for. So, are some of these member-driven feature requests?
Willy:
Absolutely. Absolutely. No. We prioritize listening and working with the community. I mean, on top of it, you look at the CEO, the co-CEO, Amanda, and Clara, they were resellers. So they have that experience. They know it's needed, but, but you know what though, these are community driven requests and needs because especially as you branch out to other marketplaces, it's very dynamic, it's forever evolving and changing and things like that. So, List Perfectly continues to evolve and change to what is needed, not just, 'oh, here's a feature'. These are features that are needed. And we have an understanding of why they're needing to be out there for the community to use and how to implement them to fit into everyone's business. So yeah, I mean, we always encourage that. I mean, that's one thing I would love for every listener, List Perfectly members, if you have an idea, let us know about it because these, I always say this, I've worked with so many users that submit feature requests and everything. Even if your feature request directly isn't necessarily implemented immediately, you have no idea the kind of seed that could be planted that could turn into the feature you didn't know you need.
Doug:
Yeah. Yeah.
Willy:
It's just, that's the reality of it. So I always encourage people to submit those feature requests. Of course we can't guarantee everything's going to work, but on top of that, we can, sometimes feature requests will come in, which are all reviewed and there may be a work around right now that is already available that you could be using and that you're not. So, you know, it's always encouraged, people. Get those requests in and see how it can work for you. Yeah, you're a hundred percent right though, you nailed it on the head. These are features that are coming from the community and getting implemented.
Doug:
And so Willy remind us where people can give feedback or where they can request a feature.
Willy:
Yeah. So at literally any time at all, you can go while you're logged into List Perfectly, you can go to the help and news section at the top and then contact us. And right there in the middle of the screen, there's an option that's just specifically designed for feature requests. From there, you'll just submit that little form. And then, like I said, literally every single feature request is reviewed, and analyzed and see what can be done, for, you know, future integration. And that goes from how you're listing, how you're working with List Perfectly, marketplace integration requests, you know, all of that is very community driven and there's so much value in it. And I can think of tons of users that have submitted requests and they end up panning out. It's always fun to reach back out to those users and let them know, 'Hey, just wanted to let you know. We recently had maintenance. This has been implemented. Thanks a lot for your request' or whatever. Sometimes it's, you know, one request, sometimes it's a large amount of people requesting similar things. So, but the point being is that we're listening. We're always listening. We're never not. That goes from the amazing Facebook group, direct messages, you know, messages directly on the LP sites. So keep them coming.
Liz:
Yeah. It's amazing. I've been a part of List Perfectly for almost two years now, coming up on two years using List Perfectly and man, the way List Perfectly has grown. And I can tell you from experience that I see something in the Facebook group or on Instagram, or just in casual conversation with friends or I'll hear something and I'm like put in a feature request. And then the next thing you know, it's like, 'oh, there's going to be server maintenance.' actually, some people are like, 'oh, server maintenance. I'm not going to be able to list for an hour or whatever or overnight,' but the reward is, I know every time there's a server maintenance something's coming out. Like, this is amazing. Like I know this last server maintenance last night we get it. I mean, it stinks, but there's a reason List Perfectly has to do it. So now it's almost like Christmas night, like you have to go to bed early because when you wake up, you're going to get a prize. Right? Yeah. And that's kind of how I feel.
Willy:
Yeah. That's how, that's how we feel too, you know, to be able to release these features is always, always fun. And, always good because they're always needed and it's good for the community. So like you said, nobody, nobody wants to take this site down. You don't want to have users not being able to use it. We've fully understood that people use List Perfectly at all times of the day and night. So, unfortunately there are moments where we have to kind of cause an interruption. But just keep in mind, it's always with the best interest of the customer in mind to get features implemented. So that will cause a little interruption that will hopefully create a lot of time saving for you. And in the long run.
Doug:
I was going to say List Perfectly is the gift that gives all year long, Clark. (all laughing).
Willy:
Yeah, I like that!
Liz:
It really does. Let me, so, and with this, like I said, I've been using List Perfectly for a while now. And one thing that I can say, or I'll just ask you. How much is this going to cost users? Like what's the a la cart fees? What's the extra?
Willy:
Nothing. So $0 extra for all of these features that get implemented. List Perfectly has continued to stand by not changing subscription level plans. While some features come out for certain plans, there are, you know, maybe Simple Plan doesn't get a certain feature or Business Plan doesn't get a certain feature. The commitment has remained strong to keep the pricing structure the same while continuing to give, and beef up each subscription plan. So that is continuing to be the same here, no extra fees. No add-ons. Nothing. You don't need to do anything. You log in today and depending on your subscription level, you have access to these. And another, just like a quick note on these features that we've talked about, these are all just List Perfectly site upgrades. It doesn't matter if you have the current version, the beta version of List Perfectly extension. Any of that, these are the List Perfectly site upgrades. So the second you login you're good to go. You can start using it .
Doug:
In terms of what you get, obviously you get a cross listing tool, you get the metrics, you get image stuff, you get insights and you know, and much more, and there's a lot more coming. You're going to find that monthly, it's going to pay for itself in not only the sales you'll get, but the time you save, because it's going to free you up to do other stuff. You're going to have more time to source, more time to list because it's such an efficient tool. And, you know, frankly, it's easy to learn. Get in there a little bit, little bit of a learning curve, but it's easy to learn, but you'll find that it pays for itself in every month. It'll pay for itself at, even in the Pro Plan in like a couple of sales and, but balance that with the profits you're making and the time you're saving, you got to think of it that way too.
Liz:
Well, I always joke. I mean, you don't really save time because what's going to happen is you're going to make more sales and all that time is going to be spent packing up more items, which in turn is what we really all want. We want sales, right? Those are awesome problems to have. It's not really a problem!
Willy:
You're right. You're right. And that learning curve and everything, we're here to help with that. There's lots of content, support is always there. So we're always available here to help with that. Number one. Number two, just to kind of, I want to touch base on something for users that may, maybe they think that they don't need to do the analytics or they don't want to, or something like that. I would highly suggest just starting. Because if you start and it becomes a thing and you start using it and you use it to the fullest, you will be so thankful that in eight months you started that and doing it to really gain those insights versus not doing it, not using it to its fullest. And then looking back thinking, 'I can't go back and update everything now, or I really wish I could tell, like, why aren't I doing as well right now on this marketplace?' And maybe you can look back and just see how good you were doing, why you were doing good. And now with all these filters and everything, you'll be able to gain those insights, but you can only gain the insights if the data is there. So, I would highly suggest taking advantage of it and using it to its fullest.
Doug:
And then one quick thing to jump in on there. So these insights you get from List Perfectly, it's across all your listings across all the platforms. For instance, if you know, obviously eBay's got metrics, you can look at and all the platforms do, and you should also look at those, but you also it's really valuable to get this holistic view of your sales across all platforms. So, keep that in mind.
Willy:
Absolutely. Yeah, for sure. For sure.
Liz:
Oh my goodness. So thank you so much for coming on today and explaining all of these great new features. Is there anything else you would like to add today?
Willy:
Well thank you for having me. I'm just going to say, you know, I look forward to next time as if there's going to be a next time, for sure. So be sure to invite me back. The last thing I'll just leave it with is let us know if you have any issues. There's lots of tools. The tech support recently went through a revamp. It's very, very specific to each user's issue based on selections that are being made. Let us know if you have any issues. We're here to help and that's about it. Otherwise, you know, enjoy the updates, let us know if you have any problems and we'll see you around.
Doug:
Yeah. And then reach out, reach out to support, reach out to Willy Wonka in support. And then don't forget it. There's also the List Perfectly Facebook group, where there's tons of List Perfectly sellers that will help you with List Perfectly questions or platform specific questions as well.
Liz:
Thank you so much.
Willy:
Thank you.
Doug:
Thank you. We'll see you back soon.
Willy:
Yup, bye!
News, Updates, Seller Shoutout
Doug:
All right, Liz, that was a fun interview with our mystery guest who wants to be referred to as Willy Wonka, because he enjoys giving out golden tickets, making people happy, terrifyingly taking your children , no I'm just kidding.
Liz:
(laughing) Giving all the golden tickets and giving prizes, which is what this feels like. This image manager has been in the works for a while with List Perfectly. And I'll tell you. Okay, so here's the thing because of the podcast or just because it's, I don't know. I'm a long time user. I was able to test this before it came out and wow! I mean the whole time I'm thinking, I can see how this is going to benefit so many users. And the fact that it's included in your plan, and the fact that List Perfectly released features for all plans is a hit. And here's the thing, pro plan users, you're going to be able to remove the background right in your listing. Like click on it, remove background, and you're done. You can readjust the brightness, you can readjust the contrast, you can flip it, you know? And so you will get 500 background removals a month. So I get it, you know, like 500 that's with this. I think a lot of users just remove the background of the first picture to help boost your search on platforms and things like Google shopping, because that is what they lean towards. So, I mean, if you're doing 500 listings a month, you can easily just at the push of a button, remove the background and I've used it and it's slick and it's intuitive. And I love eBay. Let me tell you, I love you eBay to death, but this is 150 billion times. Okay. Maybe not billion. This is so much better than their background remover.
Doug:
Well, and just, you know, quickly, the background removal thing, people question it, you still see a lot of like old school, especially on eBay pictures that are on like a bad run of carpet. Here's the deal with this is obviously, like you said, it's more Google search friendly. So you want to show up in Google shopping. I think people expect to see quality images now. A lot of times, the first thing people see with your listing is the image. So they want to see something quality. And I've always said, they're going to extrapolate this out to the rest of the experience. So if you're selling, like let's say you're selling a Morrissey t-shirt, Liz, and people have a couple of different choices for the shirt. I mean, they may look at price, but the initial impression is they're going to look at that image. So white background really goes a long way. And it's just a clearer look for the image and List Perfectly is making it easier to do it. If you, especially, obviously if you're listing with List Perfectly anyway.
Liz:
And some users are already using the free version of Photo Room, which is great about this is there will be no Photo Room logo in your background. No watermarks, because when you do have that watermark in your picture, it can get suppressed in Google shopping.
Doug:
Basically you've got a robust image editor and a background removal tool straight within the List Perfectly flow.
Liz:
It's super slick. I've used it. I have my son doing some pictures for me, and now he's able to just do it all in app, instead of doing it three different times, you know, having those touch points, he can do it all in List Perfectly, which is great. Kind of like Sizely on my desktop, it's just right there and integrated.
Doug:
And when he does that, does he add any notes with the new notes, features, Liz?
Liz:
Simple plan users got access to the notes that we heard Willy Wonka talk about. I've always used notes. So what happens is when he is doing my listings for me, he has a special code that he puts in notes. And that's how I know how much I need to pay him at the end of the week. I just sort my catalog by notes. And then once it's paid, I just delete it. It's a really easy way to track that, to see what I owe at the end of the week, instead of having it written, it's just all right there. Those are some amazing, amazing, amazing updates. I know the community is super excited for this.
Doug:
Yeah. And that's cool. And it's just adding more bang to List Perfectly.
Liz:
And that List Perfectly keeps adding all of these features. And for me, this is the biggest one to date. I mean, there's been some, so you just look back at Sizely just a couple of weeks ago, right. And that's a total win. No fee increase. And then you get something this big and still no fee increase.
Doug:
There's going to be a lot more with Sizely. I mean, there's an interview coming up. Clara and Amanda are going to interview the Sizely CEO. And I think at some point we will have him on the show to talk about, you know, images and image optimization, things like that. So let's segue over into seller news. Cause we've got a lot of interesting seller news this week going into Q4 going into the holidays, but there was really, really big Posh Fest news this week. So let's talk about that.
Liz:
Posh Fest has canceled their in-person event. They have turned it all virtual.
Doug:
Yes. So you still have the option to go, but it's going to be virtual. Frankly, we're coming off of eBay Open online 2021, which was very cool and very successful for a virtual event. It had a lot of the feeling as much as you could have as an in-person event. And I got some more swag this weekend, I got a nice hat and a nice shirt. But you know, don't be too discouraged. It's like, it's still gonna be there. It's still gonna happen, just in our virtual world.
Liz:
Yes. I agree with you. And Open was so successful. I think at one point I looked up, there were like seven or 8,000 people signed in at one point. So speaking of virtual, now that Posh Fest in person has been canceled, List Perfectly has announced that they will be doing a mega Posh Fest virtual party.
Doug:
That's going to be pretty sweet too. Are you going to go Liz?
Liz:
I am. I'm going to make it. It's going to be October 8th. There will be special guest appearances. There will be community choice awards. There will be speakers and session recaps. Mega prizes sponsored by List Perfectly, Gucci bags, free List Perfectly subscriptions, Poshmark shopping credits, Dymo label printers, laptops, giveaways, and so many more. There's going to be 30 winners at those virtual Posh party. Tickets to attend is $5. However, that $5 will be a direct donation to womenagainstabuse.org. It was where your $5 is going. Go to @listperfectly on Instagram, click on the link tree. It's the very first link where you can buy your tickets directly there.
Doug:
Liz will be there. I'll be there. It's going to be awesome. And what do you, what will you be wearing Liz? Who will you be wearing?
Liz:
I think I'm going to take a moment and go through my inventory and see what I can find out. Just like I do on any special event.
Doug:
I'll likely be wearing Costco.
Liz:
So, black t-shirt?
Doug:
Black t-shirt, jeans.
Liz:
Yes. Yes. Well, if it's like me for, if I come as any day of the week, it will probably be some thrifted t-shirts and some yoga pants or something.
Doug:
Christmas sweater.
Liz:
Ooh. It will be a Halloween costume.
Doug:
There you go.
Liz:
Yeah. So that is the Posh Fest news. Oh my gosh. Doug, can we just do the seller shout out really quick because I'm super excited for this.
Doug:
Let's do that. This is a fun tidbit because this is a good one.
Liz:
It really is. So, like we just said at the virtual Posh Fest party, there's going to be community prizes. One of the things that List Perfectly does is they have the List Perfectly community spirit award, which is presented to members of our community that show community spirit. And this time around this award goes to Stephanie Guevara. She's extremely helpful in the Facebook group. (audio cheering)
Doug:
Liz is going to kill me cause I finally labeled the effects, so now…
Liz:
So we're going to be effect heavy in this episode. Is that what we're saying? okay. But yeah, Stephanie puts in a lot of time helping sellers in the List Perfectly Facebook group. Almost on a daily basis, helping out new members. And you know, a lot of people have congratulated her so far this past week. And she was like, I just don't want sellers to have to struggle through and learn from their mistakes like I did. Like why should we do that? We're here to help each other. And that really stands out. So you can find Stephanie in the List Perfectly Facebook group or on Instagram at Stephys_Kloset. And we'll just put that link in the show notes
Doug:
Closet with a K and Stephy with a Y. But the link will be in the show notes. Well, that's cool. Stephanie is a great member of the community. And again, the community spirit awards, it's a recognition type of thing just giving attention to people that are super helpful in the community. And it's just nice to kind of recognize those people, get them some attention, but yeah, just a great aspect of the seller community.
Liz:
It really is. And I know that we have talked about this on the show before and List Perfectly has talked about it. In order to be recognized, it's just on a rolling basis. It's not a set date. If you're doing something in the community, if you have a YouTube channel, if you have an Instagram, if you have a TikTok and you talk about List Perfectly tag them so that they can see that you're showing people how to use List Perfectly. And when you're doing this, I hope you are a referral number and that you're showing this education on how to use List Perfectly, that you're also sharing your referral code to give guests 30% off. And you also make a referral commission.
Doug:
Just keep doing what you're doing. And there's a lot of people that talk about List Perfectly out there and it doesn't get noticed, doesn't get recognized because maybe they're not using the hashtag, but there's always a lot of chat out there. We love sellers that are positive and sellers that are helpful.
Liz:
Yes.
Doug:
We've spread some good news. So we kind of get into some bummer-ish news that, you know, it's kind of been coming, but probably not a shocker.
Liz:
Yeah, you notice I….
Doug:
(Sad horn playing) You know, I had to do it…
Liz:
I know. I know. I know I should have been waiting for that one. Why do you think I wanted to save this till last?
Doug:
Yeah. I know. And I do have some thoughts on this. Obviously there's a lot of reasons that this stuff is happening. It's kind of been in the e-commerce news that this is coming. Coming into the fourth quarter, coming into the holidays. Well tell us what it is and then we can chat about it a bit.
Liz:
Oh my gosh, Doug, you're going to give me the honor.
Doug:
Yes! You can give us the bad news, Liz.
Liz:
Okay. I know. Well, thank you for letting me share Stephanie's community spirit award first! USPS has announced yet again, this is going to be the second year that they've done this, holiday shipping surcharges. So last year they saw such an uptick in packages. I, you know what? I can't even say that because I really don't know a hundred percent the true reason. But the thing is they were slammed with packages. There was a record high number of packages going through the fourth quarter and USPS and all mail carriers were suffering with employee shortages at the same time. So what they did last year, USPS, UPS, FedEx all had a holiday surcharge and that's happening again this year. So be prepared.
Doug:
I think that's the reason it's like last year, obviously we had the pandemic, we had the shutdown. Online sales were up. People being home, people ordering online, that was all up. And then frankly, the postal service had a resource challenge. And I think they've still got that resource challenge. So kind of a basic supply and demand thing. It's like, oh, all right, well, we're going to up your fees a little bit as a salary, you have to factor that in your listing, your costs, your shipping, it's gonna change things a little bit.
Liz:
It really is, you know? And you get people like my husband, he hates shopping online. Of people. Come on!
Doug:
What?!
Liz:
I know I am almost embarrassed to admit it, but he is. I mean, I swear he acts like a hundred year old man. When we need something, I'm like, I'll just order it online. It'll be here tomorrow. Or it'll be here by the end of the week. He's like, no, let's go to Best Buy. I'm like, that's why it doesn't even have anything on the shelves anymore. And there's people I have a wider variety or what really makes him mad is he's like, Hey, why don't we go to Best Buy and see if they have… I'm like, they don't have it. It's sold out in the four stores. We have to drive up to Inglewood to get it. And he's like, why do you have to ruin it? I'm like what? I'm just being efficient. But this past year has taught him and has kind of shown him the worldwide web and buying possibilities online. And he's actually, I probably am shooting myself in the foot for showing him how much you can buy on the internet. Because half the packages that arrive at this house are not mine.
Doug:
I see how it is. Maybe it's a bit different. But here's what I think it could be. Maybe he wants to have lunch with you maybe. Is it when you guys are out, is he like, we're out! Let's get lunch!
Liz:
Oh, absolutely.
Doug:
Well, there you go.
Liz:
Maybe that's it.
Doug:
It's a lunch thing. Lunch with Liz.
Liz:
No, you know what? He would just say, let's go. He knew he could get me out of the house. If he says, Hey, you want food? He knows I'm going.
Doug:
There you go.
Liz:
The biggest effect that a lot of resellers will see is the USPS announcement. So rates are going up and these will start October 23rd. So rates for USPS will run October 3rd through December 26th.
Doug:
Ha ha. There you go. The holiday rush.
Liz:
So the rate increase will be anywhere between 30 cents and $5 per package. Let me just give you some comparisons, Doug. So sellers brace yourself. First-class last year, it was 25 cents per package. So this is first class. This year, that's going to be 30 cents. Every first class package will have a 30 cent surcharge. Priority mail, now, and these are commercial rates. So you have to remember with priority mail, it goes by weight and zone.
Doug:
Yeah.
Liz:
It's how they're doing this. If you send something up to 10 pounds in zones one or two, that's going to be a quarter when you're sending to zone nine, anywhere from 21 to 70 pounds, that's going to be an additional $5 this year. Last year, it was 40 cents. It was a 40 cent flat fee. Most of my packages are like to zone six and they're under a pound. So it's a 75 cent surcharge. Priority flat rates, last year, the surcharge was 40 cents this year, it's 75 cents. So if you're sending 200 packages a month, your shipping bill is going to go up.
Doug:
Jeez. And let me jump in real quick here with a little eBay insider stuff. So when this happens, we always see, especially at eBay people asking, 'can't you negotiate better postal rates for us sellers?' Trust me, they're trying. It's not as easy as it sounds. And eBay has a government relations team led by our friend, Sharon McBride, who's been on the show, but that's what they do. Not just here and there. They do it constantly year round. There's a whole team that's focused on lobbying with all the platforms for things like this. And they try, I mean, they want you to be able to have affordable shipping too, right? They're trying the platforms and don't get a cut back from the postal service. You know, they make money if you sell, but there's no like little backend deal going on with the postal service. Just the postal service is overtaxed and under-resourced.
Liz:
Yep. Yeah. So, I mean, we could probably do a three hour show about what we think and why, and we could probably dig, but this is just the facts. Like this is just happening. So brace yourself. Here's the thing eBay has not come back and said what they will and will not charge surcharges on. Last year for their USPS labels, you had to pay the surcharge. FedEx will have a surcharge and UPS will have a surcharge, but last year, those surcharges were waived if you used eBay labels for UPS and FedEx. eBay has not come out and said what 2021 will hold for those two services.
Doug:
Hopefully they do that again. Couple of quick things, we will include the links in the show notes so you can see these charts and all this info. But Liz, I mean, do you have any like super high level tips? So what are you going to do to adjust to this? Like, what can we do as sellers to kind of ease this pain a little bit?
Liz:
Really, there's a lot. And I think it's going to go into what we'll talk about next. But multi-platform, right? So you have to keep that in mind. So this isn't just an eBay thing. This isn't a platform thing.
Doug:
Yeah.
Liz:
So I sell on eBay. I sell, I have listings on Grailed. I have listings on Depop. I have listings on Poshmark. I have listings on Mercari and Facebook Marketplace. eBay you buy your own labels. Right? Poshmark you're using Poshmark labels, Facebook you're using Facebook labels, or you can ship on your own through a third party shipping service. Last year, a lot of sellers used Pirate Ship. And last year you had to pay the surcharge on that too. Brace yourself sellers. I mean, if you're on eBay, if you're using business policies, you can set up a special holiday business policy if you want to add shipping. If you want to add tack on another 30, 40, 50 cents or whatever to your shipping, or if you're doing calculated shipping, or if you're offering free shipping, keep that in mind. Can your business afford to absorb the 30 cents to $4 to $5? Or I think that most of mine will probably be in the 30 to 75 cent range. That's most of what I sell. So you really have to look at your business model too. If you're selling, you know, sets of dishes, you're probably going to get a pretty hefty surcharge. Whether you go through USPS, FedEx, I mean, you're probably not using USPS actually. Now that I think about it, you can tell what I don't sell Doug!
Doug:
Which could go up in value, but not guaranteed to do so.
Liz:
Right. Go to the links, research it and see what's going to work best for your business model. Now, with that being said, I mean, and PayPal hasn't come out either and said, but they use commercial rates. They're not going to be immune to the surcharge. Chances are, if you're selling on platforms and you're accepting PayPal and you're shipping through PayPal, you'll likely get the surcharge also.
Doug:
And then, so what a lot of sellers do as a basic thing is, you kind of work your cost of shipping into your listing price. It's kind of an unspoken secret.
Liz:
Yeah. Last year I didn't do anything different. I just absorbed the cost. I'm fortunate to where I have enough ROI in my items to where I can just absorb that. I mean, instead of running a 25% off sale, you run a 20% off sale or whatever, you know, it's not going to be an exact science to the penny. I just don't have time to go through every single listing and get it down to a science, get it down to a penny. Now this might be a good time for sellers to look at going multi-platform simply for the shipping. Poshmark did not impose that fee. They have a negotiated rate through the post office. And the difference is with eBay and Poshmark, so sit back and think about it for a second. With eBay sellers are purchasing their own individual labels. With Poshmark, Poshmark purchases, all the labels, and they essentially send it to you. You're not buying your label through the post office. So that's how they have negotiated that single priority mail rate.
Doug:
And keep in mind, this is something too. And Liz said this earlier, this isn't just for online sellers. This is for everybody shipping during this period.
Liz:
Oh yeah.
Doug:
So if Grandma is going to ship you a stuffed animal for Christmas that smells like an ashtray, she's going to have to pay that increase too.
Liz:
Yes, yes. However, and I will say this, none of the platforms have come out and said that they will or will not yet. This is just kind of a 'brace yourself' podcast. And when more information comes out, of course, Doug and I will bring it to you. If you normally ship on your own and you're selling on Mercari, maybe it's a great time to check out Mercari labels or Facebook Marketplace.
Doug:
Yeah. Just look at your options. Do some research, look at your options.
Liz:
So this is just kind of a, 'hey start doing your research sellers' and you know what, Doug, we will start a discussion in the List Perfectly Facebook group on this, because I know there's going to be sellers out there that have a bunch of tips for newer sellers that have been through this before.
Doug:
Ask some questions, add some tips.
Liz:
I mean, I want to learn too. I want to see whatever my fellow sellers are doing because chances are I'll learn from them and maybe do something different this year.
Doug:
There you go. Anything else on that? Anything else on those rate increases?
Liz:
That's all I have for now, Doug. Hopefully next week or the week after, we'll have a little bit more news on that. Join us in the Facebook group and let's have a discussion on that. I want to see what everybody's plans are.
Doug:
Yeah, that'd be good. You know, we can all learn from each other.
Liz:
Yeah! Or we can commiserate together.
Doug:
That's right. Talk about your shipping.
Liz:
But only for a quick second, because we're going to be busy listing. We're coming into Q4. So anybody that doesn't know Q4 is the fourth quarter of the year, October, November, December, which is typically the busiest time for online sales. So if this is your first year, right now is the time to be stocking your store!
Doug:
Get on it!
Liz:
Get on it.
Doug:
Kids are back to school. Summer's winding down. Football's back. Q4 is coming up. It's going to be crazy. Start ramping up.
Liz:
Yes, so that's all we have for shipping. Doug, I hear you've got something exciting. You were super excited. You texted me this morning.
Doug:
This is very exciting, Liz. We got an email the other day. We actually don't get a ton of email. So, you know, you have that option to email us if you have a question. Podcast@ListPerfectly.com. You know, we say it every week and we got an email this week with a couple of questions. Maybe we can quickly answer their List Perfectly related questions.
Liz:
Awesome.
Doug:
We got an email from BYQ9989 Liz.
Liz:
8 6 7 5
Liz and Doug:
(singing) 3 0 9
Liz:
Okay. Anyway, sorry.
Doug:
Hi, there. Three questions for you to help me. First, can LP post one listing to many Mercari stores at one time?
Liz:
What do you think the answer is Doug?
Doug:
I think that's a no!
Liz:
That's true.
Doug:
Not multiple Mercari stores. It's like, you can use it to post to multiple Mercari accounts, but not all at one time.
Liz:
Correct. And why is that?
Doug:
Well, first of all, the main reason is because List Perfectly adheres to the rules of all the platforms. So you have it. It doesn't do this automatically for you. You have to go through and approve and click the listing. So List Perfectly will create, help you create the listings and help it so you can post across all the platforms, but you still have to go in and click submit or whatever it is to list that listing. And then it's also super highly recommended that you also review your listing before you submit it. And that's why that step is important. And the platforms don't allow third-party apps that do stuff automatically for you, because it's a violation of terms.
Liz:
So first and foremost, think about List Perfectly is not connected to your account. It uses whatever account you are signed into at the time. And on a single browser, you can only be signed into one account at a time. It's against Mercari's terms of service to have more than one account. So it's Mercari's terms of service currently limit accounts to one per person. Now, if this user is talking about maybe a husband and a wife sharing a List Perfectly account, but they have individual Mercari accounts, then yes. That's where we are giving this advice from.
Doug:
Yeah. And that answers the second question, which is, do I need to open a different Mercari platform when I post a listing? So if you've got like a husband and wife account, like my wife and I have different Mercari accounts, obviously. So if I want to use the List Perfectly to post to mine, I'm logged into that one. And then if I want to post to hers, we would log into hers and post there from List Perfectly.
Liz:
You can cross post, but only to one account at a time, even though you can cross post using List Perfectly to multiple accounts.
Doug:
Yes. And then, so the third question is I know different Mercari stores need different IP addresses. If I use List Perfectly, my stores will shut down by the platform because these stores use software. Is that true? It's an interesting question. Cause this kind of frankly, sounds like a workaround to me to get multiple Mercari stores. So like we said, it's a violation for a single person or address to have multiple Mercari stores. So you can have, you know, if it's different people, you can have different accounts, but this also goes back to List Perfectly is not a bot. It doesn't do it automatically for you. You have to go in and complete the process. List Perfectly is not a workaround, it's a tool. It's an efficiency tool that helps you be more efficient in your listings. But basically, you're not going to be shut down by Mercari for using List Perfectly.
Liz:
Right. If you are using different IP addresses, if you have multiple accounts, that's something I would highly suggest you talk to Mercari about because that is going to be a Mercari issue and their terms of service.
Doug:
You don't want to violate these terms of service because you could get shut down and lose your account.
Liz:
Right, this is how we make our money. Keep your accounts in good standing everybody.
Doug:
So using List Perfectly, isn't going to get your account shut down. But if you're trying to work around having multiple accounts that could get you shut down.
Liz:
Right. So hopefully that answers the three questions that came in about using List Perfectly with Mercari.
Doug:
All right. Well, it was exciting to get an email this week. And again, if you want to email us, it's podcast@listperfectly.com. If you have a question, comment, or something like that, you can also post in the List Perfectly group with questions. You can, if hearing your voices is your thing, you can go to anchor.fm/sellercommunitypodcast, and you can actually record a question and maybe you'll get on the air and get to hear yourself.
Liz:
Ooh, what an exciting episode! Lots of news and huge announcements from List Perfectly.
Doug:
Yes, it was a good episode.
Liz:
Yes. I'm super excited. I feel like I want to hurry up and rush off of here so I can go list and use this new image manager.
Speaker 1:
So you can get ready for Q4.
Speaker 2:
But yes, I need to go stock my store for Q4 so I can make all the sales.
Outro
Liz:
Thanks for joining us this week on the Seller Community Podcast from List Perfectly. We caught you up on some news, some List Perfectly announcements, and had a seller shout out and answered some questions.
Doug:
You can find us at listperfectly.com/podcast. You can leave a message or ask a question at anchor.FM/sellercommunitypodcast. Or again, you can email us@podcastatlistperfect.com. And don't forget, you can also post a question or get help in the List Perfectly Facebook group, which is at facebook.com/groups/listperfectly. If you want us to see you, I mean, we'll likely see it if you post it in there. We're both in there, but you can use the hashtag seller community podcast, or you can mention Liz or Doug.
Liz:
And you can listen to us anywhere that you listen to podcasts and be sure to subscribe and tell your friends. Please leave a review on Apple podcasts if this is where you're listening. You can also follow us on Instagram. I am at ColoradoReworn. Doug is at Snoop.Dougie and of course follow @ListPerfectly.
Doug:
All right.
Liz:
Doug?
Doug:
Yes?
Liz:
We will…
Liz and Doug:
See you next week!