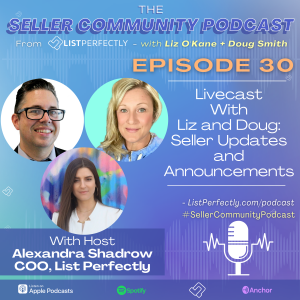 Overview
We celebrate Episode 30 with the launch of our monthly livecast! List Perfectly COO Alexandra Shadrow talks to Liz and Doug about the Seller Community Podcast, the new monthly livecast sessions, seller community news and a recap of this month's amazing podcast guests.
The Seller Community Podcast from List Perfectly is the #1 resource for the seller community across all platforms and hub for information on growing your business with List Perfectly. Find out more at listperfectly.com/podcast, leave a message or ask a question at https://anchor.fm/sellercommunitypodcast, or email us at podcast@listperfectly.com.
Listen on Apple Podcasts
Listen on Anchor
Listen on Spotify
Listen on Pocket Casts
Listen on Google Podcasts
Listen on Breaker
Listen on RadioPublic
Links
listperfectly.com/podcast
Listperfectly.com
Seller Community Podcast on Anchor
Listperfectly Facebook Group
coloradoreworn Instagram
coloradoreworn linktree
snoop.dougie Instagram
snoop.dougie linktree
listperfectly Instagram
Episode 30 Links

LIVECAST of the List Perfectly Seller Community Podcast
Transcript
Intro
Liz:
Welcome to the seller community podcast from List Perfectly. This is episode 30. I'm Liz.
Doug:
And I'm Doug. Wait, Liz, Liz, stop the show. Stop the show. I have an urgent announcement. So remember, last time I was griping about not being on anybody's show?
Liz:
Yeah.
Doug:
So Liz, you were on, obviously eBay Open. You interviewed Jamie Iannone. You were on with, because I track all your stuff, obviously. You were on with Flipping Hippos. You were on with Consignment Chats. And I was like, nobody wants Snoop Dougie anymore. It's all Liz, Liz, Liz. Well, Liz, somebody had me on their show.
Liz:
They sure did. I think that they heard you.
Doug:
That's right. I was obviously heard. Somebody listens. All right. Technically you were there too, Liz.
Liz:
Technically it was a podcast.
Doug:
Yes.
Liz:
But it was more than a podcast, Doug.
Doug:
That's right! It was the launch of our seller community podcast live stream. What do you like to call it? Live cast? Live stream? I go back and forth.
Liz:
Yeah, I don't know. Does it, does it matter? I don't really know what it's called.
Doug:
I dunno kids, but monthly Liz and I are going to go live and we will talk about the previous months' episodes, any other questions that have come in, any other stuff we might've missed, any other ex post facto stuff. And then we would love to do like the AMA take your live questions thing.
Liz:
Yeah, we did our first live cast.
Doug:
And people showed up!
Liz:
And people showed up and we answered questions and we had, I had a great time. Did you have a great time?
Doug:
I had a good time. It was good.
Liz:
And I like podcasting for a reason because I feel more comfortable. I was very hesitant to livecast, but I felt totally comfortable and at home with my friends.
Doug:
Took Liz a while to agree to do a podcast. Took Liz a while to agree to do video because I wear her down. I'll try and then I'll wait and then I'll try again and then I'll wait and then she'll show interest. She'll be like, "no, I don't want to do video." And then she'll be like, "you know, Doug, I'm thinking of starting to do some more video stuff like reels or TikToks." And I would be like, "all right, Liz, what about live stream?" And then she'll say no, but then eventually she gives in.
Liz:
It takes me a while to warm up to new ideas. I just really have to think about it. I'm not over thinking it, but I do maybe over analyze. I don't know.
Doug:
Maybe. I'm pretty convincing.
Liz:
It's just calculated decisions. That's what I like to say.
Doug:
So though, the good news is if you miss the live cast, that's what this week's podcast episode is. You can listen to the live cast. And revisit if you were there for the live cast. But this is for those of you that might've missed it. Of course you're going to want to re-listen to this.
Liz:
Of course!
Doug:
Yes. And it was fabulous. And Alex from List Perfectly facilitated, mediated, ran questions by us. We had a little mini interview upfront kind of to set things up and see where things are going. And then we took your questions. And there were questions. I was surprised that there weren't any music or movie questions, but there's next time.
Liz:
Okay. So before we get into it, keep this in mind, at the end of the show, we will announce our next live cast. What do you say, Doug?
Doug:
Very exciting!
Liz:
Listen to the end to listen to our next live cast and get your paper and pencil ready to ask Doug some questions. Maybe music, maybe movies.
Doug:
Maybe.
Liz:
Ask me about selling. (laughing)
Doug:
Ask Liz about selling. And I will answer one huge, outstanding question that was imparted to me. Our friend, Theresa Cox wanted to know where I got the chandelier that's above my head.
Liz:
Oh yes.
Doug:
So basically, as you know, we moved into a new house and there's a giant closet here. I'm in this giant closet because it's enclosed. It's got good sound. But oddly, there is a chandelier in here, like a crystal chandelier. So that's what you see above my head. And at some point I think I'm going to get a room divider and I'm going to do some stupid thing like tape eighties albums covers to it, something like that. But that will happen soon-ish.
Liz:
So what do you say, Doug, let's go ahead and get into our live cast.
Doug:
In case you hadn't heard, we broke 10,000 plays this week, which is a huge milestone. Based on our weekly downloads we are in the top 10% of podcasts across the board, across the universe.
Liz:
That is amazing! That's awesome.
Doug:
Aliens may be listening. Maybe they will hear us and make the decision to invade or not to invade. They're like "we were going to destroy the human race, but Liz convinced us not to."
Liz:
Instead they're going to start selling on eBay.
Doug:
Yes.
Liz:
The seller community podcast is brought to you by List Perfectly every week for your enjoyment and show notes are found at listperfectly.com/podcast. Thank you everyone for the support and let's get on to our podcast livecast.
Doug:
Podcast livecast.
Podcast Recaps and Questions With Liz and Doug, and Alex Shadrow from List Perfectly
Alex:
Hi, everyone. It is officially the live cast of the seller community podcast. Thank you all so much for joining us. And we can't wait to kind of dive into all things seller community podcast today. My name is Alexandra Shadrow. I'm the chief operations officer at List Perfectly, and I'm joined by the amazing co-hosts of the seller community podcast, Liz and Doug. And I really love these two humans, but for anyone that listens to the podcast, you probably know them in and out just as well as I do at this point, since we are at what, are we at our 30th episode almost now?
Liz:
30.
Alex:
30 episodes now, and with over 10,000 downloads of the podcast, we are so excited to do this live cast, answer your questions. So please do drop them into the comments and also to enter you to win a podcast T-shirt signature t-shirt that even our hosts don't have yet. So you'll be the first to get it with them. And of course, a month free of List Perfectly. So thank you guys so much for joining us. And Liz ,Doug, could you guys just introduce yourselves, tell us a bit about yourselves and how you got involved with List Perfectly?
Liz:
I'm Liz. I am a full-time seller, I guess you could say. I'm a community member in the List Perfectly group and co-host of the seller community podcast. I started selling part time in 2002, retired from the air force, started selling full time in about 2016. And it feels like yesterday, so that's Liz in a nutshell.
Alex:
Liz, I have to give you this amazing part of your bio that I see. You know, it's always hard to give yourself all the love and the bio, but just interviewed the CEO of eBay at eBay Open. So Liz, oh my God. We're so excited that you got that opportunity.
Liz:
Thank you. I am too. It came as an absolute shock, but of course like, "Hey, would you like to"? And I said yes, before I could get to the end. I'm like," yes, yes!"
Alex:
Well Liz, I said excited, but not surprised. Really not surprised at all. This is an amazing seller. And of course was asked to interview the CEO of eBay at eBay Open. Alright, Doug, I know Doug's roots with eBay also run very deep. So yes, please. Doug. Tell us about yourself.
Doug:
Yes. So I'm Doug Smith also known as Snoop Dougie, also known as Dougie Fresh. I worked at eBay for four years and I was on the seller engagement team and on the seller community team. So I met tons of sellers over the years. I did tons of seller events, eBay events, seller events, traveled the country. You know, that's how I met Liz at eBay Open. Really enjoyed that work and getting connected with the seller community. I didn't start selling until I left eBay, but I'm an active seller now with Liz's help. Liz is my seller mentor, and then my wife also sells. So she sells more than I do. Big into social media, big into podcasting. And that's kind of how I got started into all this.
Alex:
I love it, Doug, thank you so much. And I think it's just so funny that you and Liz ended up doing this podcast because I heard from Liz, and Liz, I'm kind of you on blast right now, that your podcast is essentially just a shared version of what you and Doug talk about as mentor-mentee. But I think since it began, that's kind of where the inspiration began. And we're about to talk about that. And cause I know you guys will tell us, you know, the whole story, but from what I gathered, basically Liz and Doug were having these amazing dialogues that they wanted to share with the community and what an incredible, incredibly far away it's come with interviews with executives and top resellers, and it's just really gotten into such an amazing place. So let's get into our first question. So Liz, since this is our first live cast, can you please tell us what we do here on live cast each month and what the community can expect?
Liz:
Doug and I kind of came up with this idea of a live cast because we were in a live chat with another seller and we had to laugh at the end. I was like, "oh my gosh, this felt exactly like a podcast, right?" So really what sellers can expect from these live casts just to let you know, we're going to start doing these live casts, Doug and I for the podcast every month. So what we can expect is really we're going to do a recap of previous episodes, reconnect with our listeners to give them a chance to ask questions live. Doug and I will be able to follow up with maybe some of the news or maybe somebody that we interviewed, something great happened after the interview and the podcast dropped and really just a time for Doug and I to connect with our listeners.
Alex:
I love that. That sounds great. And so yes, everyone, we will, well, not me, but Liz and Doug will be here doing the live cast every single month and hopefully I'll get to join more often than not. But thank you so much, Liz for the recap. And I'm so excited that we're taking the podcast to a visual place, at least just once a month. But for every other week and you can get a new episode of the seller community podcast, every single Wednesday. Now, Doug, this month we had some incredible guests, as everyone knows, we do release that episode every Wednesday. So Doug, if you could just run through who the guests were this month and what each episode was about?
Doug:
Obviously we have awesome guests on. The nice thing about what we do is we, the whole seller community that we get to speak with. So it's not just, it's not just eBay, it's not just Etsy, it's not just Mercari. This month started out a little eBay heavy, Liz and I did our eBay Open recap, which was a very popular episode. And we just went through some of the stuff you might've missed. And there was some stuff that I missed that Liz and I covered. And then obviously we talked about Liz interviewing Jamie Iannone, which was huge. She did a great job! And you know, we always add some seller news, some seller events, but we did our eBay Open recap to start out the month. And then we talked about another, this is exciting for us, the Boss Reseller Remix event is coming up. That's coming up in October in Las Vegas and that's sponsored and run by the Boss Reseller Facebook group and friends of ours, Katie Zilverberg, Vikki Egan, Theresa Cox. That's literally going to be the largest in-person seller event this year. And the cool thing about that too, is, well, Liz and I will be there, but List Perfectly is heavily involved, too. Alex is going to be there. I'm going to take Alex out. Alex, I'm going to take you on the Snoop Dougie run. Actually I can't do the original Snoop Dougie nineties Vegas run because some of those places are gone, but we'll do as close as we can get.
Alex:
Okay, Doug, I am so much more excited for Vegas. If I already wasn't so excited, I'm holding you to that. We're going out Snoop Dougie Vegas style, anything you want to do, I'm game for. So get ready for that. And for everyone else, we are having an amazing List Perfectly sponsored closing party at the end of the Reseller Remix, it's going to be a ton of fun. So definitely grab your ticket to the Boss Reseller Remix. I'm going to go ahead and link the link to get your tickets in the banner right now so that everyone can go and get it.
Doug:
That's just, that's going to be a huge event. eBay will be represented there, but you're going to get a lot of information from across all the marketplaces, valuable stuff straight from sellers though. It's also probably the biggest seller led and the biggest event with so many seller panels. You know, you're not going to see that at most other events. There was a lot of reseller news that came out this month. So we did a reseller news episode and we did a lot of List Perfectly updates. And we tried out a new feature with a mystery guest from List Perfectly. (mysterious music playing)
Liz:
Oh, Doug, you finally marked them.
Doug:
I did!
Liz:
You got it right. The first time!
Doug:
I used to have to go through, re-edit the episode so I would have to go through four times. And now I've got a little key here that shows me which sound bank button it is.
Liz:
It only took 30 episodes. But I got you to mark them.
Doug:
That's right. It was on a list. So we had a special guest from List Perfectly who likes to be referred to as Willy Wonka because he or she enjoys handing out golden tickets to sellers and lots of great news.
Alex:
That was my favorite episode this month. I just have to say what an incredible episode if you didn't hear it. What is the number so that everyone can know?
Doug:
That's episode 28,
Alex:
Okay. Episode 28 is a must listen. You're getting really just the Intel of List Perfectly from someone on the team that Mr. Willy Wonka, as we'll say, or Mrs. Willy Wonka. I think the voice might give it away. So we'll say Mr. Willy Wonka has been interviewed and it's definitely my favorite episode. Maybe of the podcast so far, but then again, I do love my episodes.
Liz:
I was going to say we do have two sustainabae episodes.
Alex:
Yes. Our Earth Day episode with me was a fantastic episode. If anyone is interested, I'm going to promo myself. If anyone is interested in the sustainability of the resell market and really all the amazing things we do for the planet as resellers, go ahead and listen to the Earth Day special episode of the podcast. It's really, really informative. Lots of great facts about how reselling makes a difference for our planet.
Doug:
Alex was our very first guest and she talked about a lot of again, what sellers do, and that was amazing. I had no idea. Especially clothing sellers, it's insane. And then, you know, little facts like using a recyclable water bottle saves like thousands of plastic water bottles.
Alex:
Yeah. It saves like 120,000 plastic water bottles per year. It's crazy just for one person to use it.
Doug:
And then today, this morning's episode was a very special episode to me. Mertini Mercantile was on and she talked about relaunching, relaunching her business, relaunching her handcrafted business. And she has a great story. And she's also married to me. So she's a lucky lady obviously. But it's a great story and she talks about launching her business and leaving the corporate world and kind of following her dream, but the interesting types of things that she makes. So you have kind of have to listen to see what those things are, wink, wink, nudge, nudge,
Liz:
And I'll go off script and just say, we kind of talked about it, that this podcast. So it's called the seller community podcast from List Perfectly. So we know that List Perfectly has the biggest hand in this podcast. It comes to you free. It comes to the community to talk about all things reselling, not just about seller stories, not just about seller news, not just about List Perfectly, not just about any one platform we're talking about sustainability. We're having executives from marketplaces on, we're having seller success stories. We're having sellers that have just started, or that are just relaunching and just exploding their business and kind of following their story. So this is what I love about the seller community podcast, right? It's for all sellers. And we cover a wide variety. We're not put into a corner of, we have to talk about this one subject. So anyway, that's just a plug for all of the other episodes that we've done up to this point. And I think this is why I truly love doing it.
Alex:
Absolutely. So I will say this podcast, you know, I don't want people to get confused. Yes, it's from List Perfectly, but the topics are reseller related. So if you're a reseller, if you're thinking about getting into reselling, if you're taking a break from reselling, you need a little motivation to get back into it, whatever reason you listen, this is for really everyone and for the community. And I think that's beautiful and it really does speak to List Perfectly and just how much we, as a company, put the community first. And that just, it shines so bright in this podcast.
Doug:
And Liz and I have an awesome rapport. We've known each other for a couple of years now and you know, that was a big part of it. And I think that's a big part of the success of the podcast too. People seem to like the episodes that we do ourselves. So we're going to feature some more of that.
Liz:
Well Doug we're just like reselling nerds. So I mean, you know, it's like when you get to book nerds together to talk about books, we're like, "oh, did you see this with selling news?" We were like pinging each other news articles all the time. And it's like sending each other memes, but they're news articles about reselling. We're just reseller nerds.
Doug:
That's true. Yeah. Liz sent me a TikTok, a little TikTok video. About 20 minutes before we started. And selling on TikTok.
Alex:
I have to say we just started the List Perfectly TikTok. So a little plug for us and to get on TikTok and we'll be also featuring some clips from this live cast on our TikTok as well. So that's exciting.
Liz:
Oh! I didn't have my TikTok shirt on. Yeah. I'm going to have to learn. I don't know. I don't know. I go down the rabbit hole. So, and that ties into List Perfectly is this is the kind of news that we just saw is an ad where Shopify is integrated with TikTok and List Perfectly supports Shopify. So it's one more, it's kind of that piece of the puzzle and maybe a way that you're not used to selling and it just kind of is creative open up ideas. Will I do it? I have no idea, but, but it's just pretty amazing. So we'll be talking about it more on next week's podcast, because that's part of our news.
Alex:
So you just saw that in an ad recently, Liz?
Liz:
Yeah. Well, we talked about it a little bit, but it had just came out when we recorded the last podcast and I just saw the video of how it works like 20 minutes before we went live. So yeah, I'll probably share it in the Facebook group tonight, maybe tomorrow. I'm going to go out to dinner later, but probably tomorrow.
Alex:
All right. Awesome. Well, moving onto our next question, Liz
Liz:
I slightly get off track, sorry.
Alex:
Oh no, that's what this is all about. That's what the live cast is. Right. It's just kind of our…it's unedited. Yeah. That's the live cast so Liz, I feel like you're so deeply involved in the reseller community and being a full-time reseller yourself, what was something that surprised you or that you learned from an episode of the podcast?
Liz:
So this is a hard one. So I'll tell you, like I just said, we are such reselling nerds. We're pinging each other. Like we do a lot of research for this podcast. We could easily make every podcast three hours, but we have to cut it down to an hour. Or else you guys will just get bored of hearing us. Like I will get bored of hearing us. But so first, I learn something new every single podcast. At this point, after selling for almost 20 years, nothing really shocks me, but really it's about the bigger e-commerce world. So, you know, e-commerce isn't static. You know, we get set in our ways as a seller, we get static in our ways. We learn one way and that's what we do in three years . When it doesn't work, you're like, 'why isn't this working anymore?' Well, the world around you has outgrown you. And I learned that a lot from doing this podcast. So, e-commerce isn't static, there's constant changes. So I learned that through the news, but with being able to tap into guests with so many talents, whether it be from Poshmark or Mercari, or handcrafted, or just guests on the show, like Dave Snyder from List, Rank, Sell, there are three eBay SEO episodes. And let me tell you, when we interview, I'm like this, when I'm recording, like if you could see me, I just sit there and I'm like in awe of our guests. And I think that it comes through, it really came through on this last episode, I get so excited talking and learning from people. I tend to over-talk and I'm really working on that. I'm sorry, Doug. So I learned that I'm hyper and I love to learn from people and I love to learn from the news and that e-commerce is 10 times faster than I ever thought it was, if that makes sense.
Alex:
So true. It's always changing. And that makes the need for the sellers, you know, what we need to do as sellers to change as well. But that's why we have this great podcast. And, you know, what's so funny as I'm sure some of the advice that maybe we started on episode one, may even become outdated in the next year. You know what I mean? You'll just have to listen to the next episode of the podcast and kind of keep up with it. But thank God for Liz and Doug who are on top of it for you and you really can get that advice straight from the podcast.
Doug:
Yeah. And just real quick, it's interesting for me to come from like an online content, social media background, and then get into selling and then now see the growth of like social commerce and how like Facebook and TikTok and Instagram and Snapchat, they're all getting into social commerce and it's kind of that merging of social media content and selling. And then just how people are adapting to that by participating in it, but also making it their own. Because we know sellers that sell on Instagram and they've been selling on Instagram. They do their own live auctions. They sell via DMs. There's people that do it across the board and they've kind of molded things to their own way, and some of the marketplaces are a bit behind, but they're still adjusting. But that's what's so cool to me right now. I'm super into social commerce and, you know, things that specifically TikTok is doing and you know, some of the other platforms. So it's cool to see that merge.
Alex:
Okay. So I do want to remind everyone in the chat that you can drop your questions in for when we're done. We just have two more questions for Liz and Doug, and then we're taking your questions. Also, you are entered to win a signature podcast t-shirt and a month free of List Perfectly just for being here. And you will be the first with Liz and Doug to receive this t-shirt so just know you are going to have one of the original three t-shirts by winning this. It's a specialty t-shirt. Okay. So since this is our first live cast, again, let's talk about the podcast a bit more. I know we've already dived in so much, but what inspired both of you to create this podcast?
Doug:
You know, we've kind of touched on, this is the big part of it is it's addressing the entire seller community. I was a little bit outside of it at first, seeing List Perfectly from the outside, but then starting to see that List Perfectly has such a great seller community and so many sellers of different types. And you know, a lot of it is in the Facebook group coming in and getting help. Help with List Perfectly, help with platforms. But when I was at eBay, I was at eBay for four years. And when I was there, obviously the focus I worked with a lot of sellers and did a lot of events, but the focus was on eBay. We obviously didn't really talk about other platforms. That was the big part of it. In 2020, I left eBay, eBay and I parted ways I had some side work I was doing. And that's when I really started to ramp up the selling. Liz started working with me and helping me out. And then I had been involved at eBay with the eBay for Business podcast. And I really enjoyed doing that. And I wanted to start a podcast. And initially I wanted to start an e-commerce podcast and Liz and I talked about it early on. And then it was like, well, you know, do we have the time? It's going to be a big commitment and we kind of shelved it for a bit. And then I launched a music podcast called Albums That Saved Us. And I launched it from scratch because I wanted to learn how to do it myself and be able to do everything myself from recording, producing, editing, and just learn it from scratch. And I love music, that's one of my passions. So, some of my early music episodes are a little rough, but it was fun. And that's kind of how I learned to do this. I ramped up my selling. I sold for a bit. My wife really ramped up her selling, too. And Liz and I were talking here and there. And then we came up with this idea and we wanted to do it. And I became aware of List Perfectly via Liz tagging me in posts early on when you guys were doing the giveaways. So I would get tagged, and then I would see List Perfectly. So kind of, that was my start with List Perfectly. Liz talked to Clara, the CEO of List Perfectly and told her about the idea that we had. And I think, and Liz can jump in on this, I think it was just a casual conversation like, oh yeah. "Oh, this guy, Doug Smith and I are starting up a podcast" and Clara stopped her. And Clara was like, "I want it. I want it to be part of List Perfectly. How can we make this happen?" And I think it was something like, they talked the night before, and then at 7:00 AM that next morning, Liz was like, "I need to talk to you and get you on the phone. I want you to meet with Clara of List Perfectly." We had a conversation and it all went down in like an hour. It's like, "what's it going to take to make this happen?" And then we told Clara and she's like "done." It was like, okay! We had the idea and we were kind of shopping it around a little bit. And then it was a casual conversation. Liz mentioned it to Clara and then it all went down and I got up, you know, six or seven that next morning. And Liz is like, "are you up?" I'm like, "yea." "I got to talk to you. It's important!" And we got on the call with Clara a little bit after that. And then Liz I actually did some experimentation for a couple of months. We had our first Guinea pig was Theresa Cox. You know, Alex helped us set this up. List Perfectly helped us set it up. And we did a bunch of experimentation. We did a bunch of test recordings. Finally figured out what we were going to do, set a launch date and then we launched and Alex was our very first guest. We've just cracked 10,000 downloads in 29 episodes. And we are within the top 10% of podcasts. Not just e-commerce podcasts, all podcasts worldwide based on our weekly downloads.
Alex:
Incredible!
Liz:
So we do have to back up for a second because in the mix here, Doug's like, pinging me. He's like, "Hey, I don't know how to ship. Hey, how do you do this? Or, Hey, what's the best way to do this? Or how do you set up variation listings?" Right? And so, you know, he would be like, "Hey, I need some help." And that's fine. I mean, that's cool. That's what resellers do with each other. Right? Like you find a mentor and you're like, Hey, can I get your number in case I have any questions? And you say, "yeah, sure." This happens all the time. You know, I was listening to podcasts and really following some people that I really enjoyed. And Doug had just launched his podcast. I knew he worked on the eBay for Business podcasts. I was like, "Hey, can I grab your ear? I'm thinking about starting a podcast". He's like," let's talk." At the end of an hour I was like," Doug, thank you so much for your time. But that is too much work for me. Like that's a lot of work!" So a lot of work goes into podcasting. A lot more than I thought. When this idea came around, he's like, "okay, we can do this together. I'll do this part. You do this part. We'll do it about reselling." And I was like, "yeah, that's great!" So just casually, I mean, Clara is a friend of mine and I was like, "Oh, Hey. Yeah. Do you remember Doug? Yeah, we're going to start a reselling podcast. It's going to be pretty cool." And she's like, "List Perfectly needs this. Our community needs this. I want List Perfectly to be able to bring the two of you and everything you have to say to our community." And it was literally the next morning. After I told her, she was like, "Oh, I'm so happy for you two. That's a great idea!" And she's like, "No, List Perfectly, really needs this for our community." And I think that that truly speaks for List Perfectly. They're always wanting to give more. And that's why I'm always such an outspoken and vocal advocate of List Perfectly. It's more than just, I need a cross posting tool or I need something to manage my inventory. I need to excel my business. I need a cross posting tool. I need an inventory management and I need the community to back me. Because if you know me, if anybody knows my story, I don't think that it's any secret. I think I've said it a hundred times. I don't think without a community, I wouldn't have been able to do what I do, because that's me. But anyways, yeah. That's how we got started.
Alex:
I love that story.
Liz:
Good thing we podcast, because we both really like to talk. Sorry.
Doug:
Two quick ads that are very important. So I wanted to do this specifically with Liz. When we first talked about it, she was kind of like, "I don't know." And then I would bug her about it and I'd joke and be like, "Oh, we could start a podcast. Waka, waka, waka." And then at some point when she got interested, she's asking me, "Hey, I know you've got the music podcasts. Can you give me some tips?" And I'm like, "MmmmHmm!" All working into my clever plan. Liz and I met, people know the story, the legendary story we met at eBay Open 2019. Liz was going to start a meetup with some other sellers in Colorado Springs. And I went out there a couple of times and I sat or lounged on the floor on the fainting couch behind Liz, and she instructed me in certain things and taught me things and did some video. And we did some video and some podcast interviews and it was great. And we just got along well and then just kind of chatting on and off over the months. And then when she kind of helped me ramp up to selling, it would be like "Liz, I've got all these Depeche mode live CDs on sale. And I have this guy in Poland and he wants to buy a bunch of them, but they're different listings. What do I do?" And then she helped me out with that. So I learned from there.
Alex:
Your questions actually essentially propelled this podcast forward because we can, you know, make Liz's answers, just answer to you, or we could share them with the whole community. So really Doug, you have a big hand in this and I think the community really needs to thank you for your just, you know, all the questions you had for Liz.
Doug:
So I came on initially, I was attracted to List Perfectly because of the community aspect and such a great, broad community. And then I started using List Perfectly. And so I wouldn't endorse something that I don't use myself. And like I've said in a couple episodes, I AM a cheerleader for List Perfectly. Hopefully like I say, the punk rock, goth cheerleader, but I am a cheerleader for List Perfectly because I use it and I don't sell anywhere near what Liz sells, but it's changed the way that I do my business. And it's such a great tool. That's why I endorse it. And that's why I will do something that is sponsored by List Perfectly.
Alex:
I love that. Okay. So for both of you, this is our last question. Before we dive into some questions from the audience and everyone joining us. Thank you so much. Please drop your questions in the chat and we'll be answering them shortly. We have a few questions coming in already. Okay. So Liz and Doug, last question from us. What can we expect from the podcast moving forward?
Liz:
Really, it's just continued news. Like I said, it's not going to get static. We're constantly going to have updated news. We try really hard to get the most up-to-date information. We're going to continue to have amazing guests on the show, reseller stories, keep you up to date with what's going on with List Perfectly and all of the great features that they add.
Doug:
High level, just like Liz said, we record and then we edit it down. We try to get the episodes to about an hour, but there's a ton of extra stuff. And I used to record outtakes of funny stuff, and then it just got to take up too much time, but we have a ton. So I think at some point we'll have to do an outtakes episode.
Alex:
Oh my God, please! We want a bloopers episode!
Doug:
A bloopers episode would be good. I'd love to do that.
Liz:
That's going to be all Liz, Come on! That's not fair. (all laughing)
Doug:
I was thinking I'd love to do like a raw one time, maybe just a raw unedited episode so you can see what it really sounds like. And then again, we'll have Willy Wonka back. We're going to have amazing guests back. We're going to do more Liz and Doug episodes because people like those to see how it goes. We're going to cover the news. We've got somebody from the eBay Vero team coming on. We are in talks with a ton of other great guests. We're going to be at the Reseller Remix. And so we'll be there covering it. We'll livecast from there. We're going to interview a ton of sellers. We'll interview everybody.
Liz:
But the biggest thing that listeners can expect is that they can now turn into viewers because Doug and I will be doing these live casts once a month.
Doug:
Oh yeah.
Alex:
I love that.
Doug:
And that's going to be a cool thing.
Alex:
It is, and this is really fun. So just so everyone knows, this is our first live cast. If you're just joining us, you can get every single week, the seller community podcast, anywhere that you stream, which you can find all of those different streaming platforms on listperfectly.com/podcast. And as we were saying earlier, The Seller Community Podcast is a podcast for everyone. It has over 10,000 downloads and what the live cast will be moving forward is more exactly what you get on the podcast, just in video form. Today is just a special edition to share with everyone what it's about and get everyone excited for our monthly live casts. So we're ready to dive into questions from the audience. Okay. I think I have a great question here from, hopefully I'm saying it right. Tell me if I am. con shy Consignment, LLC, they want to know what is your favorite List Perfectly feature? Photo room! It just launched!
Doug:
Yea, that's good!
Alex:
Remove that background on the pro plan. Okay. Back to Liz and Doug, sorry guys. I'm getting too excited.
Liz:
Well, that just reminded me. I'm like, oh, the new stuff too, because I'm like, what's this, you know? I had never used Size.ly before, because I didn't want to take the time to like, do the graphics, save the picture, move it over and then upload it. So that's what was stopping me before. So all this last week, week and a half, you know, I finally, I was like, yes, I can do like this. Isn't taking me any extra time, now. It's actually saving me time. So that's my cool new feature. But other than the inventory management and my catalog, because I love having everything in one place.
Doug:
Liz knows this, I'm terrified of selling clothing. I have some, but I'm terrified of it. The fact that List Perfectly has this partnership with Size.ly that is probably going to be the push that gets me into selling clothing. So, there's that. I love bulk cross-posting. I love that because when my son and I, when we do our drafts, we go back and forth between mobile and desktop. So we start on mobile and save the draft and then we go into the desktop and I finish it up. So there's that. And then just using it as an inventory control system. I used to have this gigantic, insane spreadsheet that I would miss fields and updating and it cost me some money here and there when I'd miss something. But, I've kind of converted over to using List Perfectly as my inventory control tool.
Alex:
I'm going to share from Theresa AKA, the numbers geek, that she loves the sales analytics. So that's her favorite. I love that. Liz was like, what is my favorite feature? Because if you follow Liz, pretty much every feature is her favorite feature. She loves it all. And she will tell you features. And on the podcast, of course, of List Perfectly, that I don't think like most of us know exists. I think at this point, I probably know they exist, but you really know the ins and outs of every feature on List Perfectly. So just another reason to listen to the podcast. Liz will literally walk you through every feature on List Perfectly.
Doug:
And she'll do a video. She will come out and she'll be, "oh, I just did a video. It's okay."
Alex:
So, I have another question here. It's a very specific question. And if you guys want, I can take it, but it's up to you. I'm not sure what your experience is, or if you do have experience with this, but we have Ran Marin, "I'm a new user. I like your app. Do you know when you're going to support, offer up?" So I can just take this quickly Hey Ran, thanks so much for being a part of List Perfectly. We are consistently adding new platforms and offer up is currently a mobile only upload form. They don't have an offerup.com way to add listings at this point. So we're waiting for that to happen. Offer up, if you're watching, please do that. And we again are consistently adding new platforms. So you just have more to be excited about and definitely watch our interviews with Clara and Amanda, because they're always dropping those golden tickets, as we say here, on what's coming next. So I had a question here about Snapchat. Do either of you guys? Yes. Here it is. It's from Cheryl. "What do you think about Snapchat for reselling? Did you see an increase in sales?"
Doug:
So, I'm a big fan of Snapchat and I think it's been really under-utilized across the board by brands. They're starting to get in there a little bit, and Snapchat is starting to move into a lot more into offering selling features. So they just did a partnership where you can take a picture of yourself and try stuff on. So there's that integration. And it's just part of that social commerce thing. They're really starting to lean more into sellers. And what I like about it, it's got that direct interaction via video messages or a photo or even text. Kids love it because there's no barrier to communication. It's not like when you're texting or using WhatsApp, it's like kids nowadays are so like, so short term.
Liz:
Doug says kids. He's talking about 20 somethings.
New Speaker:
And me.
Liz:
Come on, man!
Doug:
I'm a gen X-ennial. And so they don't want multiple steps to send a picture, to send a photo, to send a video.
Liz:
It's efficiency.
Doug:
It's efficiency. Yeah. Because they're used to their fast little cartoons and games.
Alex:
Remembering the audience on Snapchat is going to be a younger audience. So it's great for those items that you have that appeal to that audience. And just the same thing, like the reason you diversify to different marketplaces is the same reason you diversify to different social media platforms.
Liz:
So I haven't sold on snap, but Doug, we did an episode. Was it posh-mini? Who took on the posh-mini? It was Snapchat, right? They integrated with Poshmark. I'll have to go back and look at the episode.
Alex:
They did integrate with Poshmark.
Liz:
Yeah, that's the one. Yeah. So I mean, so they're definitely leaning into that. I don't have any experience with it though.
Doug:
But the high level takeaway there is, so I would definitely keep an eye on Snapchat and really, TikTok. But you're seeing social commerce is integrating content and live content with selling. That's part of the thing you've got to think about. If you're going to sell on TikTok, or if you're going to sell on Snapchat, you have to be putting out content on there. So you have to be active. You have to be putting out cool content where like Alex does stuff where you had your water bottle video where you've got the water bottle that you love. But at some point, Alex can do that and talk about this water bottle she loves and talk about how it's sustainable, how it helps the environment. And then you can click on that water bottle and seamlessly buy it. That's where things are going.
Alex:
For sure.
Doug:
Yeah. It's going to be crazy. So that's the thing I would say, keep an eye on all of this. And if you're going to sell on Snapchat, if you're going to sell on TikTok, you're going to have to be active on there. And you're going to have to be putting out the kind of content that's going to attract that audience like Alex said, and think about the stuff that's going to sell to that younger audience.
Alex:
And Cheryl, thank you very much for your answers. I have some really great questions coming in. I think Liz, this is for you bonafide pickers says "well after a very frustrating day listing," we all have been there, "I think I might sign up in the morning. How much time on average do you think it saves per listing?" Oh my God. We're about to change your life. Let's go Liz!
Liz:
Yeah. So when I started with List Perfectly, I was only eBay. Okay? And then I tried Poshmark and I gave up total fail, gave up. This is stupid. I'm not doing it because it took too much time. So I save a lot of time because I'm now doing eBay, Poshmark, Mercari, some Facebook marketplace and I'm eyeballing Shopify. Don't hold me to it Doug. That's not going to be episode 30, by the way. So don't even get that in your mind. So what it saves me time on is I'm not copying my pictures. I'm not having to copy and paste the title. I probably save a couple of hours a week. Now, if it was just eBay, I would probably save more. But what I'm doing is I'm getting my items. So I'm basically quadrupling my work, but only working 1.25 times. All those extra platforms are just a little bit of work. And I think what really saves my sanity is having everything in my List Perfectly catalog, because I can go and I can see exactly where all of my items are listed so I can be like, "oh, let me do an inventory check and make sure that I really do have five of those shirts." I can go to List Perfectly click on Poshmark and make sure that that quantity is correct. Let's say I just had just like an ADD day, right? Like Liz was everywhere on Tuesday, Wednesday, Thursday. So Friday comes along and I'm like, "oh my gosh, that was a hot mess. Let me see what I missed on Poshmark." I can go to my List Perfectly catalog and say, "let's see, what's not sold and not Poshmark." My catalog will tell me every inventory item I have that I have not listed to Poshmark yet. So if I have 15 minutes of free time, I'll just go to my catalog and see what's not listed on Mercari. I'll take 15 minutes and just cross post there. So I'm making more sales, but I'm only using a quarter of the time that it would have taken me per platform.
Alex:
We have a bunch of videos on our YouTube. I think this question. Yes, it's from our YouTube. So go ahead and check it out. If you just search List Perfectly on YouTube, there's so many people that have timed themselves, like literally have their phone timer running as they're listing. And what we've seen across the board is in the time it takes you to do one listing, you do five. So whether you're posting on two platforms or five platforms, doesn't matter. That one listing on the two platforms, you're now getting five on two platforms. That one listing on five platforms, you're now getting five on five platforms. And so obviously that's a lot of time saved, but I really like to tell people think about these five items, how long it would take you. You're doing 25. Now we're really talking in terms of how much time you're saving. And we have a great comment from TIF coral. "It is such a time saver to not have to end my listings on every platform." So not only are you listing, you're also able to remove sold listings. You're able to delist-relist. As Liz said, you're able to manage inventory. It's really just such a great time saver. And in the time alone, you're making back the money of your subscription. So I think all of us kind of value our time. Let's just say at least $20 an hour, I know that I'm worth a million an hour, but we'll say 20 for now. And Liz and Doug, oh! Don't even get me started on how much Doug is.
Liz:
And that's exactly it. I value my time more than anything like, yeah. Okay. I can hustle. I can hustle, but I like to save my time for me and not so I can hustle more. And if you're that person, that's great. You're going to see that great increase. What I found for myself is I just have more time, which is the whole, I'm retired, you know, come on. That's what I value the most. And that's what List Perfectly gives me. I'm not, you know, really I'm just doing less work.
Alex:
Absolutely. And like I was saying, Liz, you're so right. If you just think about, you know, the time it takes you to do one listing, and now you're doing five, you're saving hours of time, way more than three hours of time. And those three hours at $20 to $60. So you've already more than paid for your business plan just in the time saved, not to mention all of the new sales that you'll be making.
Doug:
Your time's freed up. Obviously you can spend more time with family or those other things that you want to do, but it also frees you up to source more, to ship, you know, to kind of modify your business schedule. If you're on eBay, you want to import all your stuff from eBay to List Perfectly into your catalog. eBay's the most comprehensive with the listings and it's going to pull over most of the stuff. And then you want to add new stuff to your List Perfectly catalog, because you always want to cross list directly from your catalog. You've got all the stuff in there. That's going to help you list. It's going to help you do all the stuff you've got to do. And it's going to help you track and manage your inventory. Import from eBay, if you can, but upload your stuff and list straight from the catalog.
Alex:
Well, Doug, perfect segue way into the next question, which is, "how many listings can I have in LP?" And by in LP, we mean in the LP catalog, but Doug was just saying, he's importing his listings from eBay into the LP catalog, then cross posting to his other platforms. Now I do want to just let you know Sicily that you can have limited listings in your LP catalog at zero extra costs. Whether you have five listings, 50 listings, 500 listings or 50,000 listings, you pay $0 extra for the items in your LP catalog.
Liz:
And that's for all plans.
Alex:
All plans.
Liz:
All plans, you get unlimited. It makes sense to manage your inventory. I remember when List Perfectly came out with that, it was not, "Oh, we can do this." It's "Why are we limiting our customers?" No, go! Grow! Everybody's unlimited. We want to see you shine. We want to see you grow. And I think I've seen that. I think that came out like what? Maybe six months ago?
Alex:
Yeah, it was recent. It was recent. Not so recent, like about six months ago, Liz. Yeah, you're right.
Liz:
That seems like a lifetime ago.
Alex:
I want to say it was a year ago. I don't know. Somewhere it happened. That's all that matters. It's unlimited now. I have a really great question here and it's really not a question, but I was hoping that we could give some positive reinforcement here and I have a comment from the audience I'll share after, just you can get the community perspective too. So we have Lisa, she says, "I'm scared to just think about cross posting. Having trouble leaving my comfort zone." Liz, what would you say to this?
Liz:
You and every person that has ever started cross posting. I didn't want to do it either. Seriously, I started cross posting just to Poshmark and I gave up and then I tried another one and I gave up. And then I upgraded from the simple plan to the business plan. I'm like, I'm doing it. And I felt like I had to do it all. I learned that was a mistake. My advice to anyone that is afraid to start cross posting, because there's a lot of things to be afraid of, okay? So this is very common. I don't want to oversell. I don't want to double sell. I don't want to forget that my things are on other platforms. I don't have time to cross post. I don't know the rules of all 12 platforms. Pick one platform and pick one category. Seriously. If you are on Poshmark and you want to get on Mercari, do just your shoes and just do a couple a day until you're comfortable. So you do not have to throw yourself into being a single platform seller, posting to 12 platforms, all 3000 of your items. Can you? Yes. Should you? That's up to you. The thing that I found is List Perfectly is not going anywhere. They're going to be here in three years. In five years when I grow and when I can grow. So really like when I first started off, I was gangbusters. I was like, I'm 10 platforms, all 1200 of my items. And I was like, I couldn't remember the rules of all the platforms. I'm like, let me step back. Let me readjust. And let me do just Poshmark. And then just Poshmark and Mercari. And then Poshmark, Mercari, and I added another platform. And I found that that was a very easy transition for me.
Alex:
That's such great advice to just add one platform. And we have seen increases in sales from one platform. I want to just share this amazing comment from Cheryl, which says "So many times I have 10 items going to three platforms." So she's taking 10 items at a time and cross posting on three different platforms. "Before I can go through all the tabs and get them all listed, I already have to go and end some because they're already sold." So I do want to just remind people, cross posting means more sales. More platforms, more sales. No matter what, that's how it works. So congratulations to everyone that's using cross posting. And one other comment for Lisa, I would recommend using your LP catalog. If you feel scared to cross posts, that LP catalog is going to be your centralized dashboard for your two platforms. If you're going to just expand to one more and you can take the listings from your current single platform, import them to List Perfectly, which is so easy to do. You literally select the items and then click copy and you press the List Perfectly button, and it just all gets imported for you. And then you cross-post to your second platform. So you have everything in one place.
Doug:
One quick thing for Lisa, Lisa, keep in mind, you're going to make mistakes. It's trial and error. Just do it. But specifically for List Perfectly, there is the List Perfectly Facebook group, where you can get help. The List Perfectly customer support is great. So if you have questions, if you need help, or I encourage you to go in there and post that you're nervous, "give me some tips." There's people in there 24 hours a day, seven days a week, that will help you and answer your question. Liz, Alex, I'm in there now and again. I add little random musical. So you'll say something. I'll talk about some mid-seventies Pink Floyd albums. But speaking of music, GalaxyCDsrocks.
Alex:
Solid advice. When I started cross posting I only did one platform and it's been great. We'll just share this comment in the meantime, "I'm still learning LP, but I made enough from cross posting my first month to pay for my subscription." Congratulations.
Liz:
Good job, Kelly! I remember you reaching out to me going, "I don't know. I don't know." And I remember telling you "when you're ready you'll know" and you're like, "okay, I'm ready." And I'm so glad to see that.
Alex:
That's awesome. We have Theresa Cox here, clubred97 in the comments and she is an amazing community leader of List Perfectly and admin of the Facebook group. And I just wanted to share that Theresa and Emily, who is one of the people on our team, will be hosting, live, Ask List Perfectly office hours every Tuesday, starting September 14th, from 5:00 PM to 6:00 PM. PST. Every single Tuesday, you can go on zoom, share your extremely specific questions with Theresa and Emily and whoever else from the LP team will be joining. And they're going to be answering your questions. If you need to, you can share your screen. They can share their screen. This is really where you can go to ask your super specific questions and get help. So, I just wanted to shout out to Theresa and to Emily and to the whole List Perfectly team for putting together this amazing new initiative office hours, which just went out in the List Perfectly email newsletter that I sent out today for September. So if you want more information on that, just open up your email. It went to every List Perfectly customer
Doug:
Theresa is a legend in online selling. She was, outside of Clara and Amanda, the first LP super-user. So she really does know her stuff. So that's a cool feature.
Alex:
Absolutely. Okay. Well, we're going to announce our winner. If you guys are ready for who won their List Perfectly podcast t-shirt and also the one month of free List Perfectly. And I'm actually really excited for who won, because I think it's really going to help you. So drum roll please. Oh, Doug, you have a drum roll.
Liz:
Oh my gosh. Come on, Doug.
Doug:
(Drum sound) I have a "ba-dump".
Alex:
Okay. Well Lisa Krontz you won the one month and the podcast t-shirt. So I'm so sorry to say that Liz was saying when, you know, you know, but it's official, you are going to be getting List Perfectly one month for free. So, and now there's no, there's no time like the present, I guess. So we're ready to get you started and just, don't worry about it. We'll take it one platform at a time and we'll be there every step of the way in the Facebook group as well.
Liz:
Congratulations. I'll see you in the Facebook group and you get the very first ever podcast shirt. You might get yours before I get mine and I'm a little bit jealous.
Alex:
Oh, Liz, do you see Lisa in the podcast? In the Facebook group? You know who she is like, you know?
Liz:
No.
Alex:
Okay. So Lisa, I'm going to go ahead and just ask you to please email alex@listperfectly.com. I just put it in the chat, and we'll get connected. Just send your Facebook link and we'll figure it out and we'll get you all set up for your free month of List Perfectly, and your t-shirt.
Doug:
Don't sell that shirt on eBay.
Alex:
It is one of the first featured, so it might be worth more than you think. Mr. 10% top podcasts in the world. I love it.
Liz:
It might be me buying it. Are you kidding me? No, I'm just kidding. (all laughing) Alex, thank you so much for hosting our very first live cast. This has been fun. If people don't know, I podcast for a reason. I have this very unnatural fear of being on camera, but I also have the chat open and there are so many people in here that I feel, I know everyone in here, even though we may have only met online. So having that chat there was very comforting. Thank you guys for weighing in and thank you for hosting.
Alex:
Oh, thank you so much, Liz. It's my pleasure.
Doug:
Thank you. It was fun.
Alex:
It really was fun. So we're going to have this live cast every single month and you can just tune into our YouTube for it. Of course we'll be announcing it on all of our social channels. Thank you so much Liz and Doug for really creating this thing. This podcast that we never knew was going to become what it has become. I think we always knew it was destined for greatness, but just how quickly it's been just 10,000 downloads, such amazing guys! It's covered every marketplace under the sun, and there's just so much there in just 30 episodes. So congratulations to the two of you. And everyone please subscribe, leave positive reviews, share it with friends, share your favorite episodes and just get in touch with us and keep on listening. Thank you so much for all of your support so far!
Doug:
Yeah. And thanks everyone. And thanks Alex and List Perfectly for the support. And I'm very lucky to do this with Liz. Wouldn't do with anybody else. We have a lot of fun.
Liz:
Yeah. Thanks Doug. Thanks Alex.
Alex:
Of course. Bye everyone. Thank you.
Doug:
Thanks everybody!
Outro
Doug:
Thanks for joining us this week on the seller community podcast from List Perfectly. This week, episode 30, we had our livecast cast stream. That is the launch of our monthly live thing Liz and I are going to do. We're going to do another one. You want to drop the news like it's hot?
Liz:
So as promised, we are announcing our next live cast to be Wednesday, September 29th at 4:00 PM PST. You can find us streaming live on YouTube on the List Perfectly YouTube channel. You can also catch us on the List Perfectly Facebook group. (applause sounds) I hope some of you can come and hang out with us. We'll just kind of recap everything that happened over the month and just take it from there, really. You can find us at listperfectly.com/podcast. Leave a message or ask a question at anchor.fm/sellercommunitypodcast. You can email us at podcast@listperfectly.com and you can also post a question in the List Perfectly Facebook group, use the hashtag seller community podcast and mention me or Doug.
Doug:
And remember, you can listen to us anywhere you listen to podcasts and be sure and subscribe and we'd love it if you would share the love. If you like us, tell your friends and please leave a review if you listen to us on apple podcasts. We would love for you to follow us on Instagram. Liz is at Coloradoreworn. I'm at Snoop.dougie, and then of course our friends at List Perfectly
Liz:
Doug, I think that's a wrap this week!
Doug:
Another exciting episode in the can.
Liz:
Oh my goodness, Doug, this was such a great episode. I had a great time. I cannot wait until next week's episode and our next live cast, but until then…
Doug:
We will…
Liz and Doug:
See you next week!