When I hear sellers question if they should use Instagram for their reselling business, I always want to tell them that Instagram is a great way to reach potential buyers who will feel a connection and be drawn to their items if they crosspost their listings to Instagram. It's a missed opportunity to promote your listings on a platform that is free if you are not doing this already.
Leslie in Paris
Last year at this time, I had been thinking a lot about my grandma because the 20th anniversary of her passing was upon me, as well as it being the 20th anniversary that I had made a major life-changing decision to move to Paris, France and start my own Emily in Paris experience working in a foreign country in my mid-20s and learning to speak French for the first time. Unlike the TV show, I worked in a microbiology lab at the time, so it wasn't a glamorous job by any means, but I didn't care about that.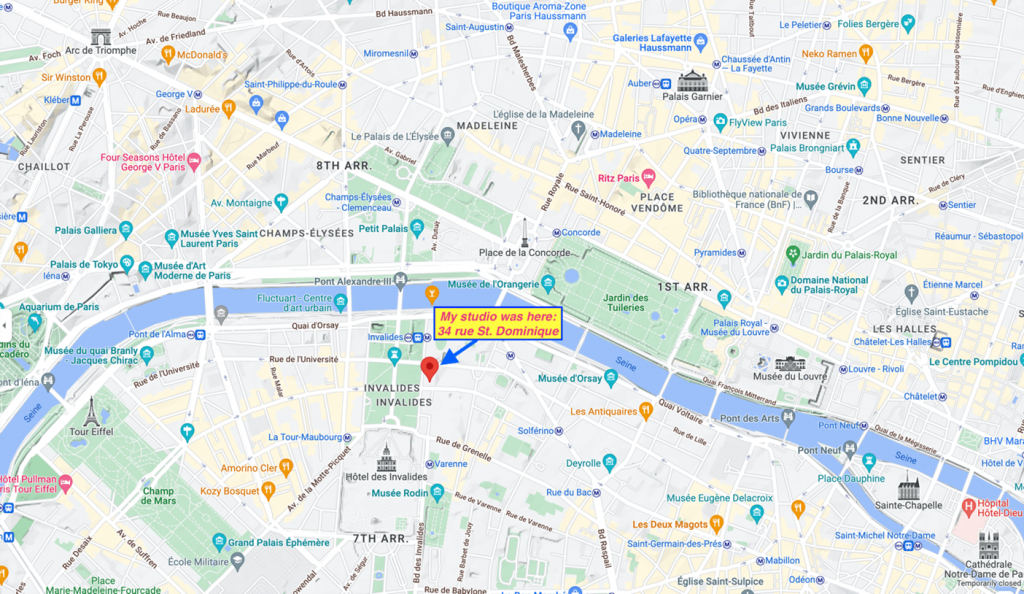 My grandma passed away in late January of 2002, just 18 days after I had moved from Milwaukee, WI to Paris. Not being there for her funeral was probably one of the hardest things I've ever endured. She was my mom's mom, and we were very close. But what gives me comfort, even to this day, is knowing I was living her dream and I know she was so proud of me. I was just 25 and fearless as ever, determined to make something of my life and find my own path, even if it meant leaving everyone I loved behind for a year. I had no idea though that I would never see my Grandma Helen again.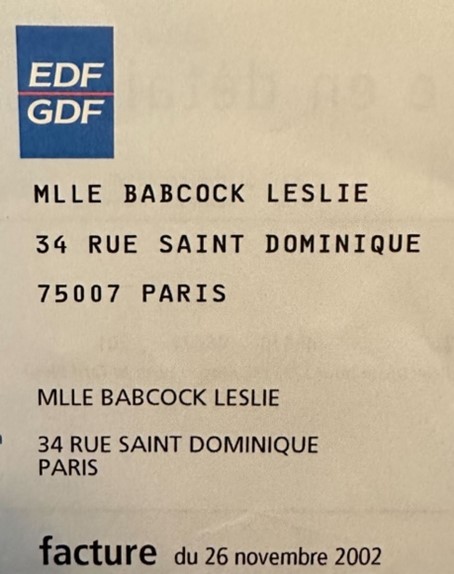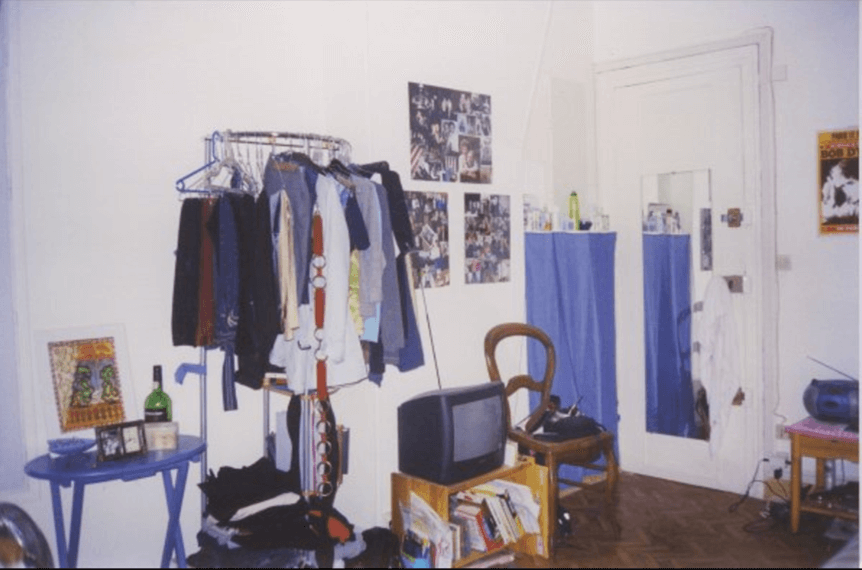 Missing my grandma
That entire last week of January 2022, I just had this feeling that my grandma was trying to make her presence with me. I was thinking about her nonstop. During this time, I was scrolling through Instagram while out and about and I saw a post in my feed from Franklin Hill Ventures (FHV) selling a beautiful hand painted teapot from Japan that looked very familiar to me, like something my grandmother had. I had met Stewart White of FHV at the BOSS Reseller Remix in 2021 and started following his Instagram profile back then. He always has interesting things for sale, but this particular teapot had me looking, and looking, and looking! Could it be?! It really looked like identical to the artwork and details that I loved on a salt and pepper shaker set I had of my grandparents back at my home.
Side note: My family is from Upstate NY and I live on the West Coast, so the family treasures I have with me are all small items I can take home with me on a plane.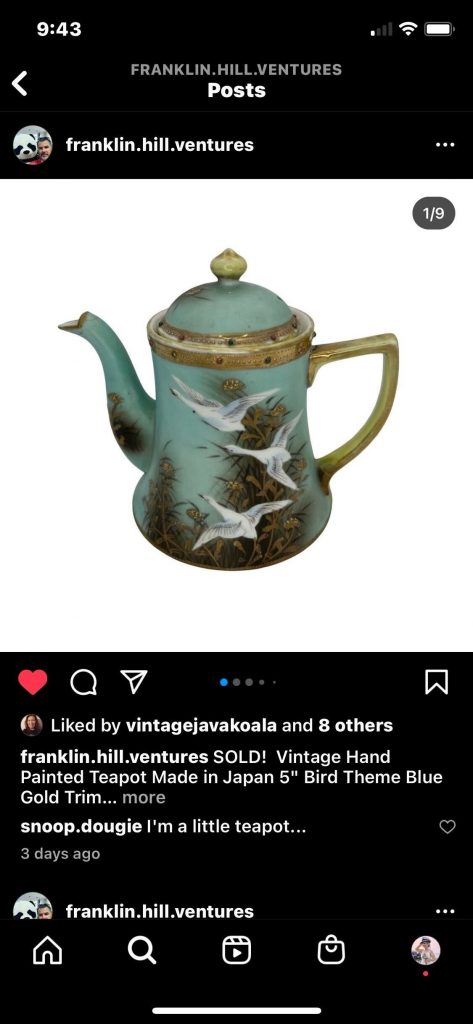 An amazing Instagram find!
I reached out to FHV right away on Instagram Messenger and told Stewart that this teapot looked so similar in design to my grandparents' salt and pepper shaker set, and I wanted to buy it if it was available. I was so happy he hadn't sold it yet and I had seen the post in time!
Because I saw his item on Instagram, he was able to email me an invoice and the buying process was so smooth. So, to the sellers reading this blog, I highly recommend this method of advertising your inventory and reaching new customers and getting your friends to take notice of what you have to sell!
I went home right away to compare the items and I was right; they were a perfect match! Not that salt and pepper shakers and teapots normally go together as a set, but that didn't matter! It was as if my grandma was talking to me in this post. Surprising me in my Instagram feed during the week that I was so overcome with emotion of missing her and knowing it was 20 years since losing her.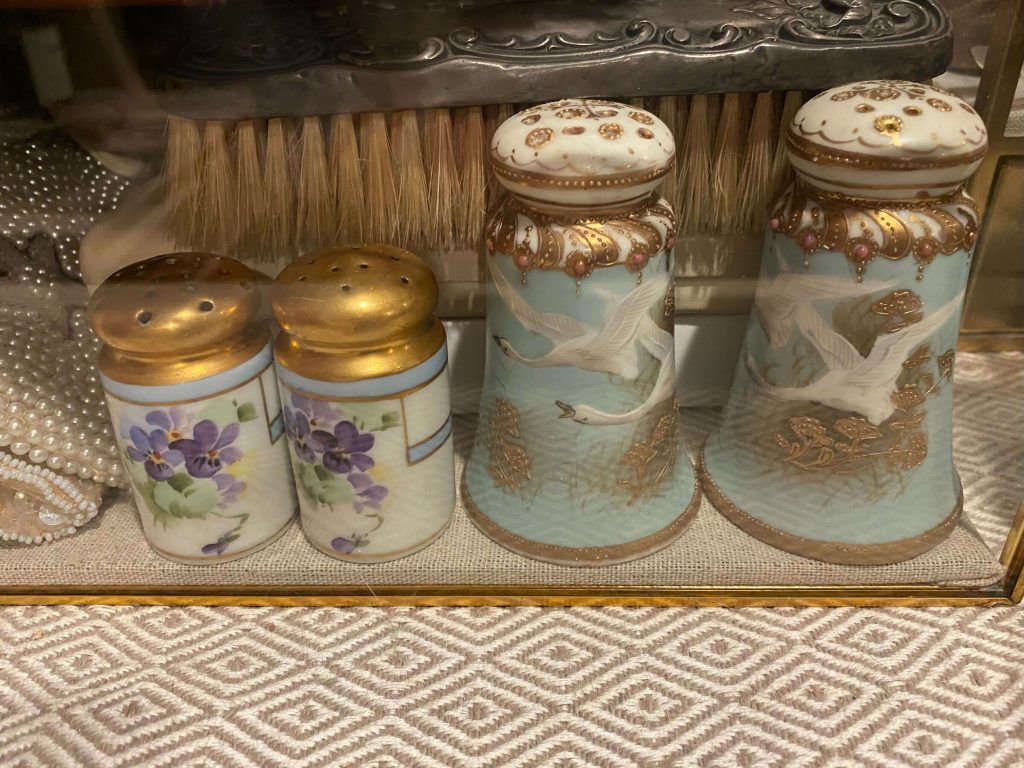 Now I have something that makes me think of my grandma that I get to keep in my dining room and look at every day. It's a beautiful addition to all my favorite special things I keep on display. I know it did not belong to her, but it is symbolic and precious to me all the same. Most of my small family keepsakes are protected in a glass display case in my bedroom, where they are safe from my young cat Dolly who still likes to be wild and go where she's not supposed to and mess with items she shouldn't. I love that I can have something visible to me downstairs that represents my grandma, while I keep everything breakable from her safe upstairs.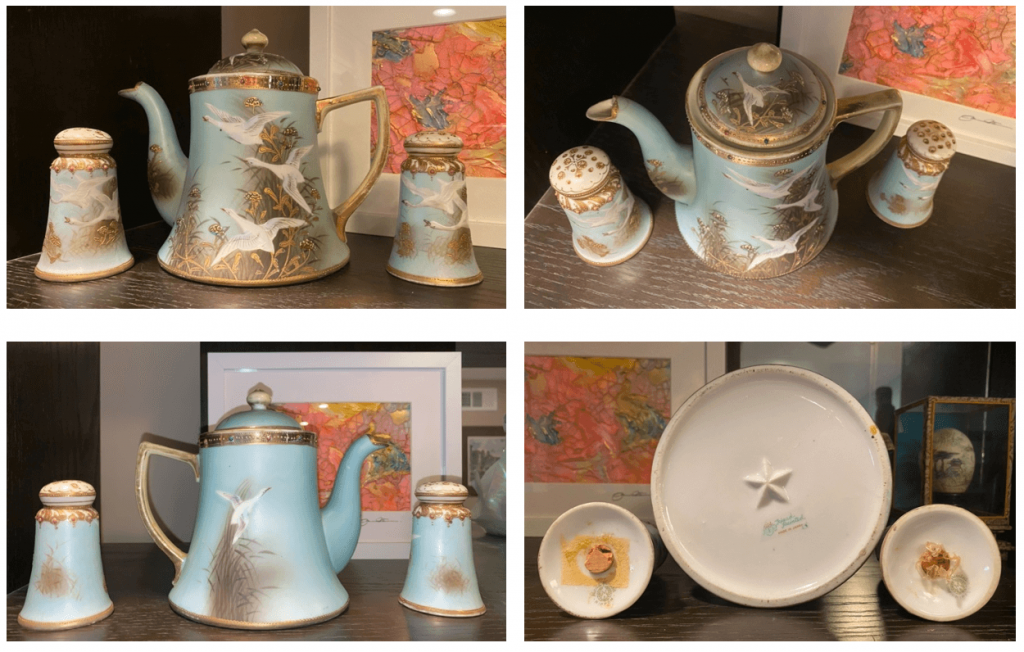 Crosspost to Instagram!
I've heard that a lot of vintage items are sentimental and emotional purchases, based on memories. Instagram gives you the advantage of reaching so many buyers, like myself, who will make a purchase because of the sentiment and meaning behind the item. So, what do you have to lose, but a missed opportunity? If you haven't done so yet, you can start using List Perfectly now to crosspost to Instagram while you're crossposting to all the other marketplaces you sell on!