Free eBay branded shipping supplies
If you have an eBay store that is at the Basic Level or higher, you are eligible for a quarterly coupon code to receive free eBay branded shipping supplies.
You can use the credit towards purchases from the eBay Shipping Supplies Store and each coupon is limited to one use per quarter.
If you have a Basic Store, you will receive a $25 coupon code towards eBay branded shipping supplies. For the Premium Store, you will receive a $50 coupon. For the Anchor or Enterprise Store, you will receive a $150 coupon.
How to find your coupon code
To find your coupon code, navigate to eBay.com and ensure that you are logged into your account.
Next, you will hover over "My eBay" in the upper right corner of eBay's site and select "Selling."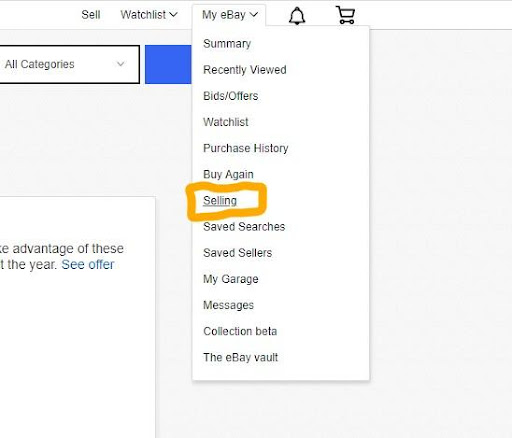 This will take you to your Seller Hub. If you don't currently have access to Seller Hub, you can visit this link to opt into Seller Hub: https://www.ebay.com/help/selling/selling-tools/seller-hub?id=4095
Once you are in Seller Hub, hover over "Store" and select "Subscriber discounts."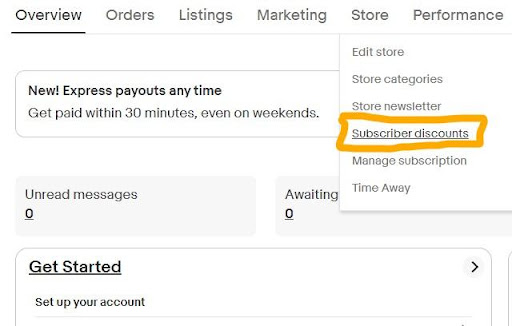 You will then click on the "See details" button as pictured below and follow the instructions given on the next page.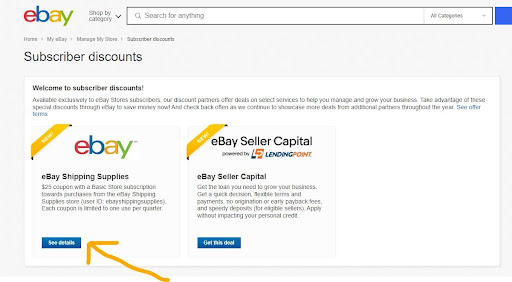 Only registered eBay Store sellers can receive this discount and any unused difference between the amount of the shipping supplies and the coupon value will be forfeited. For example, if your total amount of shipping supplies is $15 and your coupon value is $25, you will forfeit the unused $10 so be sure to use the total amount in one transaction. Now, let's get to redeeming!