My first swap!
Clothing swaps are a great way to get your community together, catch up with friends, recycle old clothing and find some new-to-you cute pieces. For resellers, they are also a great opportunity to ditch some stale inventory while talking up your small business.
I just completed my first clothing swap, and I can't wait to start planning my next one!
Here's everything I learned to make your swap a success for all involved.
Pick a location
If your swap is between friends, you might want to host it at one of your houses. My swap was open to everyone in my neighborhood, so I reserved our community center. Because the event was meant for everyone, I wasn't charged a cent, and a member of our board even volunteered to help me set up! She also brought some of her son's old clothing to declutter her house.
After years of quarantine and isolation, a lot of places (and people) are happy to take part in any event that brings people together. If you don't want to host a swap at home, reach out to your local schools and churches. An event that advertises their space and involves little to no planning on their part, will probably be welcome.
Set expectations

Let your guests know what type of clothing to bring, and how many pieces. Swaps can be whatever you want them to be. You can trade only shoes, jewelry or business casual clothing, or you can open it up to any kind of clothing, accessory, and even children's toys.
As a reseller, I have access to a lot of clothing in a variety of different sizes. I brought at least ten pieces in each size from XXS to 3XL because I wanted every guest to feel included, and to be able to find new pieces.
I was also really clear that no money was going to be exchanged; every item was donated and free to swap. I didn't want anyone to get our event confused with a yard sale and expect to make money. I wanted my swap, and my life, to be as drama-free as possible.
Snacks
I will never not advise you to have snacks on-hand, but during a community event, they are especially important. Clothing swaps can move slowly, so having a snack table where people can mingle and chat can help pass the time. You don't have to bear the total financial brunt of snacks, cups, plates, drinks, etc. These types of events are meant for a community and people are surprisingly supportive to that.
Ask your guests to bring something small. That not only takes work off of your hands, it will also increase the variety of items present. Some people buy chips and dip and call it a day, but that's perfect for kids and picky eaters. Other people love to cook, bake, and generally show off their kitchen skills.
I wish I had asked my friends to get involved. I felt awful when one of them told me that her family was vegan, and all I had to offer them was bottled water.
Display your clothing
If you have clothing racks and enough hangers to display every piece of clothing like it's in a boutique, wonderful! If not, there's nothing wrong with folding or laying pieces out by size on tables, or across the furniture in your living room. The point of a clothing swap is to meet up, have fun, and get some new stuff. You're not trying to sell to your customers, so you can be a little more relaxed.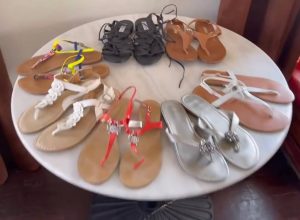 I simply laid items out by gender and size. I used blank picture frames and erasable markers and wrote out the gender and alphabetical size. I usually try to use glass frames and markers for two reasons; one, if I need to make some kind of adjustment, I just erase and rewrite. A few minutes into the swap, I realized I had made a mistake. As a reseller, I keep all the sizing in my head, but not everyone knows the sizing rules. Some women didn't know if size 14 was considered large or extra large. Is 6 a small or medium? So, I quickly added the numeric sizing to my signs.
Two, they're free! I just take photos off the wall at my house, use the frame for the day, then put them back up. People always think they're cute, and more than one person usually steals the idea.
Bring nice pieces
It can be tempting to use a clothing swap to get rid of your lowest quality or flawed clothing, but that could leave your guests very unhappy. If you ever want to have another swap, make sure to leave a great impression on your guests by bringing desirable pieces.
I don't know if it's just because my neighbors are awesome but a lot of the things they brought still had the tags on them! They were also freshly laundered, that's important too!
Draw numbers
You don't want your friends elbowing each other out of the way at the shoe table, so I suggest drawing lots. Have everyone choose a number out of a hat, and limit the number of pieces someone can select each turn. It might take a little longer, but it will give people the chance to mingle, and no one will feel like they were treated unfairly. As a former thrift store employee, I can tell you exactly how vicious some people can get over a pair of jeans.
Talk yourself up
My clothing swap had a very specific focus. All of the leftover children's clothing was being sent to Sanctuary Village to be sold as a fundraiser in their kids summer market. Leftover women's clothing went home with me to benefit Sanctuary Village in another way. I will spend the next few days (weeks) listing it on my website (www.RebelGirlThrift.com) where a percentage of each sale is donated to SV. The money they raise will be used to build a tiny house community for those experiencing homelessness in Philadelphia.
I love that my business supports such an important cause, and I'm proud to talk about it. Every single person who buys clothing from me, knows that their purchase made a real difference for someone in need. That feeling makes people want to buy more clothing, and attend more events in the future!
You don't have to support a charity to do good work; reselling already does that! Reselling and clothing swaps are pure forms of recycling. Every swapped piece is given a second life, saved from a landfill, an incinerator, or thousands of years swimming around in the ocean. They foster community and spread awareness about your business. People love supporting small businesses run by people they know. Just like supporting a charity, they feel good about their purchases, and they are more likely to share them with their friends.
Be prepared to leave with more
At my swap, I expected people to grab as much of the high-end stuff as possible, as quickly as possible, then leave. I thought I would have to break up fist fights between women holding armloads of clothing and footwear. Instead, the complete opposite happened!
Most of the people who came stayed less than 10 minutes. They dropped off clothing as a donation, wished us luck, grabbed a cookie and left. I came home with twice the amount of clothing that I had brought. I assumed women would come to my swap to shop, but most of them were motivated by getting rid of old pieces, not picking out new ones.
As a reseller, this made me so happy. Who doesn't love free inventory?! But it was also an important lesson. If you decided to host a swap, make sure you have a plan for the unwanted items left at the end, you might have a lot more than you thought.
Have somewhere to change
Because my swap was in our community center, there were bathrooms right down the hall. I thought we could try on clothing in there for fit issues, but no one wanted to do that. Next time, I'm definitely going to bring a fold screen and a full-length mirror so women can quickly try on prospective pieces. There's a big difference between trying on a dress in a bathroom stall, and trying it on behind a privacy screen, then stepping out and getting opinions. I wish I had thought about that a little more before my swap.
Thank everyone
I've spent almost a decade organizing volunteers and let me tell you, you can never thank someone too much. Everyone likes to be thanked. Everyone likes to feel appreciated, and feel that they have made a meaningful contribution. It doesn't matter how many times you thank them, do it again. Let them know specifically what their involvement meant to you, and how it will affect others.
You have the opportunity to make friends and customers everywhere you go. Expressing your heartfelt gratitude can convert a stranger with a one time donation into a lifelong contributor and buyer.
I'm already planning my next swap for December! This time, we are doing a children's toy swap to kick off the holiday season, declutter our houses and maybe even save some money when it comes to gifts. I still have most of my daughter's baby toys, and I'm so excited to send them to a more age-appropriate home.
If you try a swap, let me know how it goes!