Est reading time 2 mins
Ground Advantage is a new shipping service that has been implemented by USPS. With the launch of this new service, USPS has combined several services into one. The services being retired are USPS Parcel Select Ground, USPS First-Class Package Service, and USPS Retail Ground, as well as Ground Returns and First-Class Package Return Service. USPS Ground Advantage will feature a 2 to 5-day delivery window.



USPS Ground Advantage prices are based on weight and zone (distance between ZIP Codes). Weight ranges are: up to 4 ounces, up to 8 ounces, up to 12 ounces, up to 15.999 ounces, and then each 1-pound increment up to 70 pounds. Included with USPS Ground Advantage is $100 insurance for your shipment and free package pick-up service from your home or office.
What does this mean for the eBay seller?
It means that, if you haven't already, you should set up your business policies to include shipping policies. This is something that makes things so much faster and easier, especially when shipping services change, are discontinued, or are added. If you would like to learn how to set up your shipping policies with eBay, click here.

If you already have your business and shipping policies in place, it's an easy process to edit your shipping policies to reflect the new USPS Ground Advantage service.

First, you'll navigate to your Business Policies on eBay. Next, you will locate any policies that include First-Class shipping in the policy name or in the description of the policy. The example given below shows the name given to this policy, which can be anything you choose. Then, you click the word "Edit" to the far left.





You will then edit the policy name to anything you'd like, just be sure to choose something that is easily recognizable to you for the shipping method it is describing (for this example, I renamed the policy Free Ground Advantage-1 Pound International). This tells me it's to be shipped using USPS Ground Advantage and my international rate will be the 1 pound rate. Then, edit the shipping method from the drop-down under "Services" to "USPS Parcel Select/Ground Advantage (2 to 5 business days)."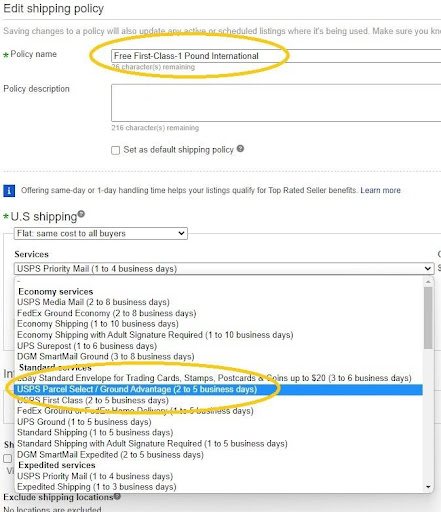 Once you have done this, click the "Save" button at the bottom of the page. The page will then automatically navigate back to your Business Policies page where you can see your newly edited shipping policy.



Just repeat this process for any of your policies that include First-Class shipping. If you have any policies that include USPS Retail Ground or USPS Parcel Select Ground, you can also edit any of those policies using the method described above.

As you can see, it's an easy process to edit your shipping policies to include the new Ground Advantage service. If you don't already have your shipping policies in place, now would be a great time to get those established. Having those policies at the ready saves so much time and will save you many headaches in the future.