Est reading time 6 minutes
The List Perfectly Catalog is a robust, all-in-one central dashboard for all of your listings. The catalog is the central hub of List Perfectly's inventory management system, where you manage your inventory and images. From there, List Perfectly offers 12 marketplaces and platforms for you to crosspost your listings to, with more always being added.
List Perfectly's Inventory Management System
As long as you crosspost from your List Perfectly catalog, you can utilize this powerful inventory management system. While crosslisting from marketplace to marketplace is fast and convenient, this method doesn't provide the ability to take advantage of the inventory management capabilities that List Perfectly provides.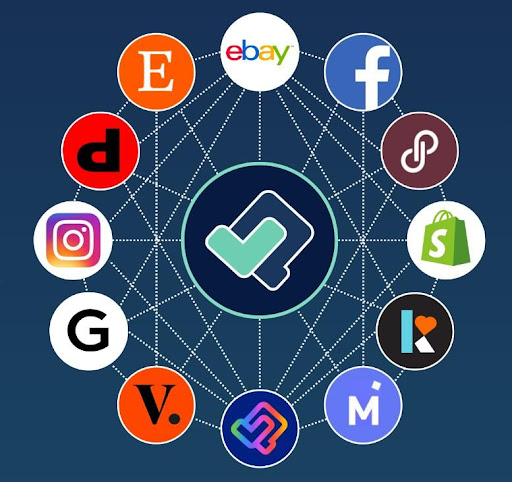 But, List Perfectly is the ONLY service that can crosspost marketplace-to-marketplace and this is a great option for those that choose not to use the inventory management tools that List Perfectly provides. However, if you prefer to manage and keep track of your inventory with List Perfectly, you have access to the most powerful inventory management system available to resellers.
By utilizing List Perfectly's flexible inventory management system, you can:
Import unlimited listings

Delist/relist

Remove and mark items as sold

Get powerful analytics

Create unlimited new listings

Manage and edit images

Download unlimited inventory spreadsheets

End listings

Track quantity

Use the

update button

to update all listing details on active listings or choose to edit specific listing details, like price, quantity, description, title, images, and SKU (

NO delist and relist steps required in order to edit an active listing!

)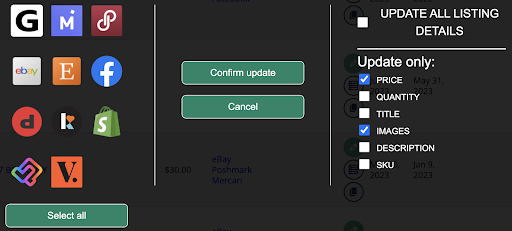 Crosspost to multiple accounts with List Perfectly
With List Perfectly, you can crosspost to multiple accounts on the same marketplace and keep track of all of this in your catalog, as well as create custom titles for different marketplaces. You can also crosspost to Listing Party and List Perfectly will keep track of that as well.
Since List Perfectly is a desktop app that is mobile-friendly, LP Mobile allows you to create and manage your inventory on the go. You can create and edit listings; take, edit, and store photos; add and edit drafts and templates; mark sold, and more.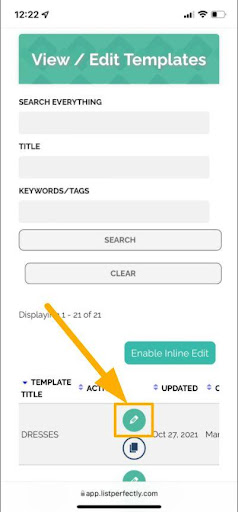 List Perfectly allows for 30 high-resolution photos
When creating listings for your inventory, List Perfectly allows for 30 high-resolution photos for each listing. Since PhotoRoom's background remover is integrated with List Perfectly's image manager, you can quickly and easily remove the backgrounds from your photos. List Perfectly even added the option of customizable colored backgrounds if you decide you would like to change your photo's background color.
You can also utilize many different fields for your inventory details such as brand, color, size, quantity, keywords and tags, retail price, UPC, SKU, condition, shipping weight, shipping dimensions, and more.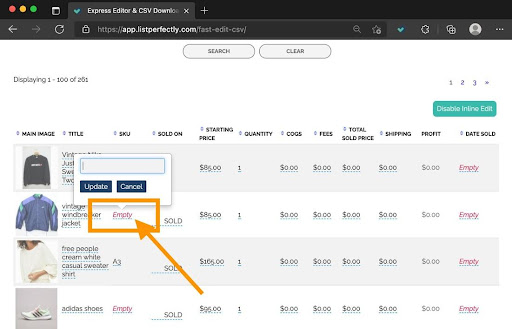 List Perfectly's Express Editor
Another great feature of List Perfectly's inventory management system is the Express Editor. You can make quick, express edits to your inventory details using the Inline Edit feature, and even do it in bulk which makes catalog edits even faster. You can quickly edit titles, SKUs, which platforms it sold on, price, quantity, COGS (cost of goods sold), selling fees, sold price, shipping cost, date sold, seller notes, zip code, keywords, and item ID numbers for each marketplace. You also have the option of using filters in your Express Editor in case you only want to view or edit certain listings.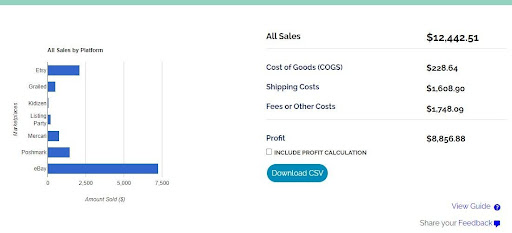 List Perfectly's sales analytics
With List Perfectly's powerful sales analytics, you can view a bar graph of all of your sales for each platform, and view your total sales, the total cost of goods, total shipping costs, and total dollar amount for any fees or other costs all on one page. Additionally, on this same page, you can see your total profit at a glance.

List Perfectly provides the option to filter your analytics reports with several parameters including title, SKU, marketplaces, and more. You can even enter a date range for the date sold and the date added. This allows you to see where and how your business is growing and monitor trends and tweak areas you feel might need a boost.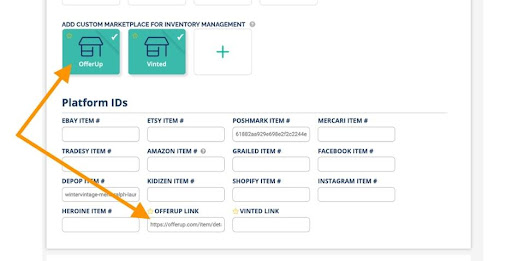 List Perfectly's
Custom Marketplace feature
Another great feature of List Perfectly's inventory management system is the Custom Marketplace feature. Adding custom marketplaces for inventory management allows you to add marketplaces or other selling options (and their corresponding, linked active listings) to your LP listing to be able to track inventory in areas that LP does not currently support. For example, you can track your inventory on other online marketplaces like WhatNot or OfferUp, your own website, or even local consignment shops.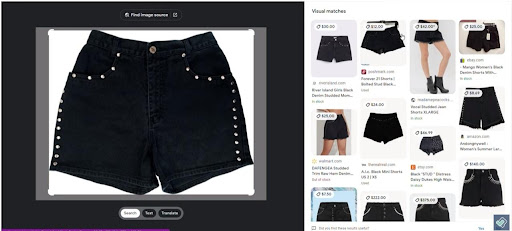 Google Lens Pricing Suggestion Tool
To help with pricing your inventory, List Perfectly offers the Google Lens Pricing Suggestion Tool. This tool helps you find comparable prices for your item and can also help you with keywords and title ideas.
List Perfectly's user-friendly listing form and interface makes it quick and easy to create listings and navigate from one area to another. This saves you time and frustration and makes the listing process seamless and efficient.
No add-on fees or extra charges
Another great thing about List Perfectly is you get all of this, including the best inventory management system in the reseller industry, with no add-on fees or extra charges. You will never be charged extra for crossposting more, importing more or for delisting and relisting more.
List Perfectly is truly unlimited and there are NEVER any surprise charges or fees. There are also no limits on how many supported marketplaces you can crosspost to or import from, or how many listings you can post to each. List Perfectly also offers unlimited drafts and you can duplicate unlimited listings at NO EXTRA COST.
List Perfectly is truly unlimited

List Perfectly wants to help you grow your business, not hinder your business by imposing limits and then charging extra if you go over a certain number on your "item counter." Other services penalize users if they go over a certain number of crossposted items per billing cycle and they charge you extra if you list an item to more than 3 marketplaces at once. With List Perfectly, truly unlimited really means TRULY UNLIMITED.
Since List Perfectly is unlimited, you also never have to worry about "losing" listings at the end of each month. You have the freedom to create, crosspost, import, draft, and duplicate as many listings as you'd like at any time and you don't have to be concerned that any remaining, unused items from your monthly plan are lost at the end of your billing cycle because these are UNLIMITED with List Perfectly.
List Perfectly Support
If you have questions or need support, List Perfectly provides live technical support every day, including weekends and holidays, 24 hours a day, so they can get you back on track quickly. No need to wait for answers or delay your productivity because List Perfectly support is available anytime to assist you and keep your inventory moving.
As you can see, List Perfectly's inventory management system is extensive and robust. It keeps everything in order and makes it convenient and easy to keep track of your items and sales, and gives you the tools to analyze and monitor your business so your business can continue to grow without limits!