Are you interested in making money by just telling your friends and family about List Perfectly? If so, then the List Perfectly Referral Program is for you. The only requirement to apply is that you need to be a List Perfectly subscriber with an active subscription. It doesn't matter which plan level of List Perfectly you are on; you are eligible to apply for the Referral Program. It is absolutely free to sign up and become a member. With List Perfectly's referral program, you don't spend money, you make money.
Connecting with the community
List Perfectly created the referral program so they could connect with those that use List Perfectly. The main foundation of List Perfectly is the community and List Perfectly doesn't see people as customers. They are more like family members who are part of the community and List Perfectly loves to have this opportunity to connect with the community.

List Perfectly doesn't have a sales team and they don't pay for advertising. Instead, List Perfectly prefers to invest in its members. This way, List Perfectly can pass that income on to its referral members instead of a sales team. The referral program is a great opportunity for List Perfectly users to spread the word, while also making money at the same time. List Perfectly would much rather invest in its users than put that money toward advertising. There is no limit to the number of people you can sign up and there's no cap on the amount of commission you can make!
Diversify and increase your income
List Perfectly's Referral Program is a great way to diversify your income and an easy way to increase your income. If you have friends or family who are interested in signing up with List Perfectly but they just haven't taken the plunge yet, you can share your referral link with them and they can get 30% off their first month. Another great perk is that you can share your referral link with someone who wants to upgrade their plan and they can save 30% off the first month of their upgraded plan.
It's amazing enough when someone signs up for List Perfectly using your referral link that they get 30% off their first month of List Perfectly. Going a step further, you, as a referral member, will earn a commission each month for as long as your sign-up stays with List Perfectly. You receive an income each month for all of your referrals and that income continues for as long as they are subscribed.
You can sign up just a few people and make enough to pay for your subscription or you can sign up several people and make hundreds, or even thousands, of dollars per month. It's all up to you. List Perfectly wants to reach people in an organic way and referral members play a huge part in this. Again, List Perfectly doesn't pay for advertising. They count on organic word-of-mouth and on their referral members spreading the word.
Perks of being a referral member
Industry High Commission

– Earn 10% of your friend's first month and 15% of subsequent months in perpetuity (as long as your friend is subscribed, you earn a commission). Once you reach more than 50 friends, the commission rates go UP by 5%!

Referral Area Dashboard

– Includes your stats, payments, progress, and more.

Referral Link Generator

– Create unique links to share with friends. C

ustom campaign links are also available. Custom referral links can be created and shared as a marketing tool that allows you to track the success of specific campaigns. For example, you can generate a link, then assign a campaign name ("Holiday Instagram Post") to track how many referrals were generated from that specific post.

Creatives Section

– Includes ready-to-share resources that make it easy for you to spread the word!

Giveaways and so much more!

– Exclusively for referral members. You will also get the opportunity to be the first to test new features of List Perfectly.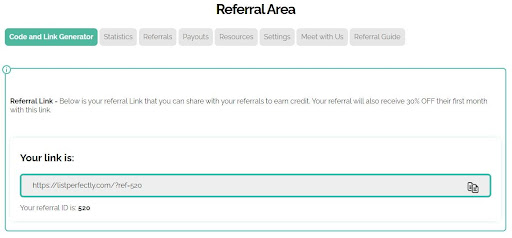 So, if you are interested in a perpetual, ongoing income, head on over and register for the List Perfectly Referral Program!