Est reading time 4 minutes
If you haven't filled out your profile on Listing Party yet, I highly recommend it. You can then access all of what Listing Party has to offer. You can set goals, track your goals, message other members, shop other sellers' listings, post your own listings, find assistants, get inspired, connect with other sellers, attend and host Listing Parties and so much more.
Different types of Listing Parties
A Listing Party can either be a virtual live event or an actual live event that you can attend in person. There are virtual live parties almost every day at all different times of the day that you can access from Listingparty.com. The listing parties you can attend in person are great events where you can network, enjoy presentations, meet other sellers, exchange tips, ask questions, share ideas, and just enjoy the company of like-minded people.
Virtual live events are ones that you can attend from home, in your car, or even while running errands. You don't even have to be on camera and you can mute your microphone too if you'd like. It's all up to you. You can participate at any level you are comfortable with.

You can join the live virtual parties to connect, inspire, share, and learn. If you are interested in attending upcoming listing parties, you can go to the Events section of Listing Party and see which parties are scheduled and when. The possibilities of live parties are endless! They can consist of discussions, sharing tips, asking questions, covering trends, unboxing items, learning, teaching, and more.
Host a Listing Party
You can also host your own listing party. To host your own party, just go to Listingparty.com/events and click on the link at the top of the page to sign up as a host. Listing Party is very relaxed and casual, and everyone is there to have fun, learn and help each other. You can host a party with just about any topic you would like. It can even be a party where there is no topic and everyone discusses whatever might come up.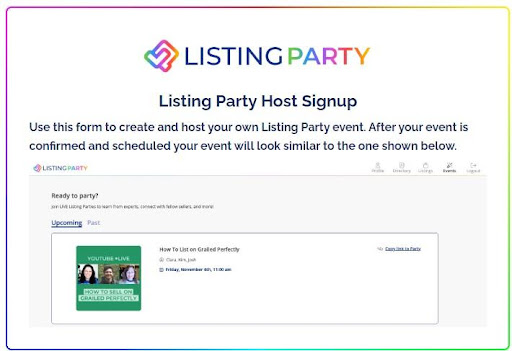 All kinds of listing parties!
There are so many topics that are covered at Listing Parties. Consignment, video games, motivational topics, topics on how to list certain items, tools that we can use as resellers, tips, and tricks for selling on certain platforms, and even how to obtain inventory.
There are parties that include tips on selling books, identifying and selling jewelry, List Perfectly tips and tricks, inventory management, listing optimization, selling toys, sports card box breaks, sustainable giving or even parties about VHS tapes.
Want to know what to do with your money piles? Want to learn more about antique and vintage items or how to establish a booth at a flea market or antique mall? Come to a listing party.
Topics can also include electronics, various trends, selling different music formats such as cassettes, 8-track tapes, and vinyl records, sourcing, listing, and selling trading cards, strategies to cope with anxiety, upcycling and recycling, finding virtual assistants and the environmental effects of reselling.
There are even daily accountability parties and some parties with no agenda where almost anything is discussed. Are you interested in listing while you talk about true crime? Yes, there is a weekly listing party for that.
If you want to host a party but you see that the topic has been covered previously, that's okay! Every party will be different, even if it's the same topic. You will have a different viewpoint and will be able to bring a new and fresh perspective to each topic. You could host a listing party on how to take better photos, make a living by buying and selling, financial growth, bulk selling, tips for live selling, how to source at thrift stores, or just about any other topic you can think of.
Live in-person events
The live in-person events are a bit different because you aren't attending remotely. You are actually there! Great examples of these types of parties are the ones being held around the country during the Listing Party In The USA Tour. These include presentations, good food, meeting fellow sellers, visiting with List Perfectly team members, networking, gaining knowledge, and getting swag and there are even giveaways!

As you can see, there are endless possibilities when it comes to attending a listing party. Whether it be in-person or virtual, Listing Parties are a fun way to connect, learn and gain a new perspective.