Estimated reading time: 6 minutes
Poshmark is like a family
Poshmark has been my main reselling platform for as long as I can remember. I fell in love with the app because of the super user-friendly nature of it all and then became obsessed, and I don't use that word lightly, with the beautiful community (both with my fellow resellers and my customers alike). It's like a family. A fun bunch of weirdos all gathered together with one mission: make a little money if you're a side hustler or a full career seller and we all share the common goal of reducing our landfill by sustainably finding new homes for clothes, wares, and a million other things.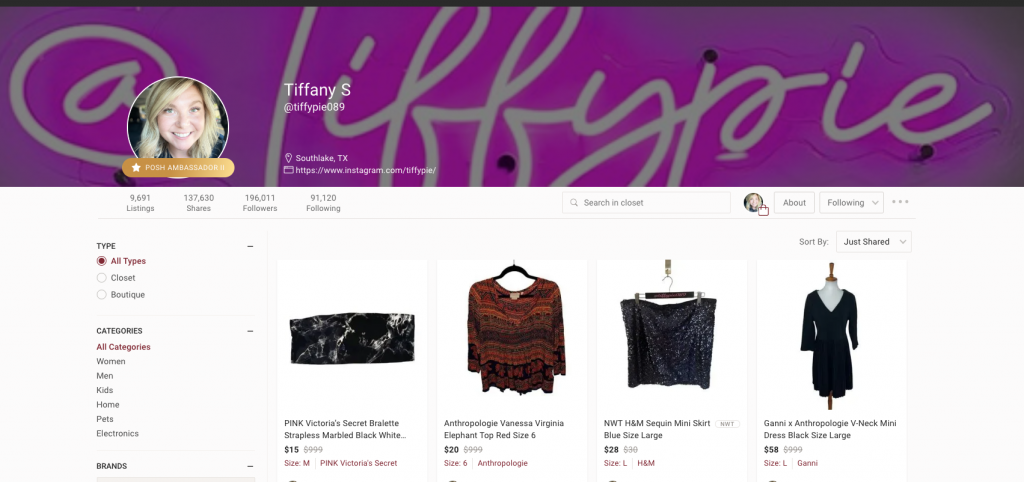 Poshmark launches Posh Shows
But September 2022 brought a game changer for me and many other resellers. Something that flipped what the platform was doing on its head and leveled it up to an even bigger, broader, and better experience: Posh Shows. Posh Shows are the Poshmark version of a live sale. It's like being at Christie's auction house, BUT, as a shopper, you're experiencing it from the comfort of your own home and protected by a screen where you can be cozied up in bed in a comfy pair of PJs. It's modern-day QVC and Home Shopping Network but with the added twist of instant communication through on-demand chat. No more calling in and hoping you get picked to ask your question or chat with the host, you're there, in the moment, a part of the entire experience. You hop into the auction, ask your question, and get instant answers and gratification. It is, in essence, a hit of dopamine like no other. And bidding and winning? Pure shopping ecstasy.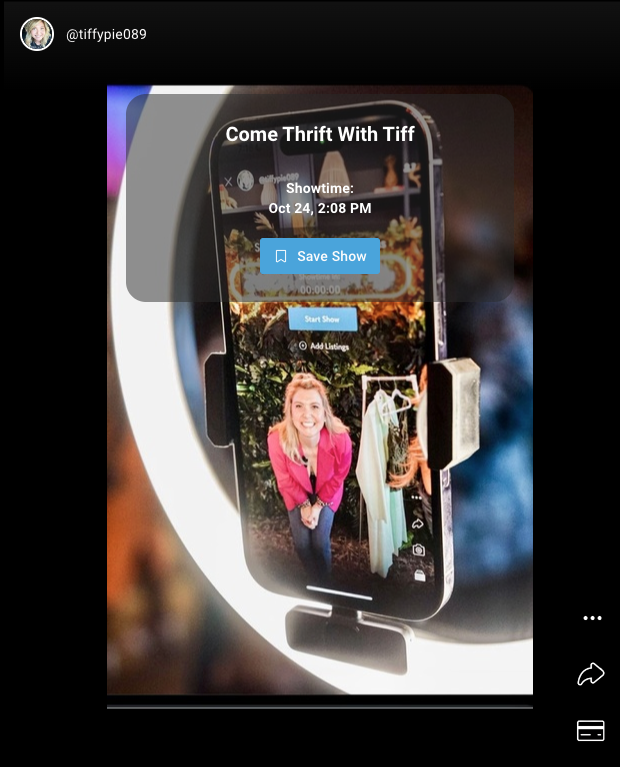 Posh Shows allow for a unique experience
Posh Shows allow users a truly unique experience. Want to see a texture up close? The host/seller can show the item close to the camera. Have an on-demand request for sizing? Get an instant answer for the length or inseam. No waiting for the back and forth of comments or for the next time the seller goes into the app. The camaraderie of the chat is unlike anything I have experienced in a shopping environment. People in the chat who have never met, will potentially never speak again, and who live ten states apart are all sharing the same moment, the same show, and living in the moment. And as I said, once a bidding war begins, the adrenaline hits, and you'll do whatever you can to win that coveted item. It gives a vibe that cannot be replicated with a static listing. No offer to liker, no price drop, no Closet Clearout Offer is going to hit like the feeling of knowing you "won" in a live show.
First ever Posh Show!
I personally began going live with Posh Shows the day it first began at Poshmark HQ in Redwood City. My small and mighty claim to fame is that I am the first ever Posher to go live on Posh Shows, and the feeling I had when I sold that first item, a Good American denim jacket, was unlike anything I can describe. From there, I was hooked. Today, I host a couple of shows a month, and I love the freedom to sell unlisted inventory as well as open the show up to every item in my available static inventory/closet. There is freedom in knowing I can be as curated as I want, sometimes hosting last-minute pop-ups and sometimes having guest hosts join the party.
Poshmark Sell Together
Recently, Poshmark opened the option to "Sell Together," where we can actually ask other sellers to join our show live with us and it's a picture-in-picture experience of two sellers going live together, interacting with one another, and helping the crowd get excited about the items being shared from both closets. This helps pump up the chat and engages more buyers by allowing the experience to include even more items and options to buy. It hones in on the hook that Poshmark has had since the day it launched in 2011, community over everything. We are better together, and that is so clear when the Sell Together option is engaged. We can show items from other closets and feature them as was made possible earlier this year, but getting to see the item in its glory, see the joy and fun from the second host, and know that you're a part of the action just makes the Posh Shows that much more fun.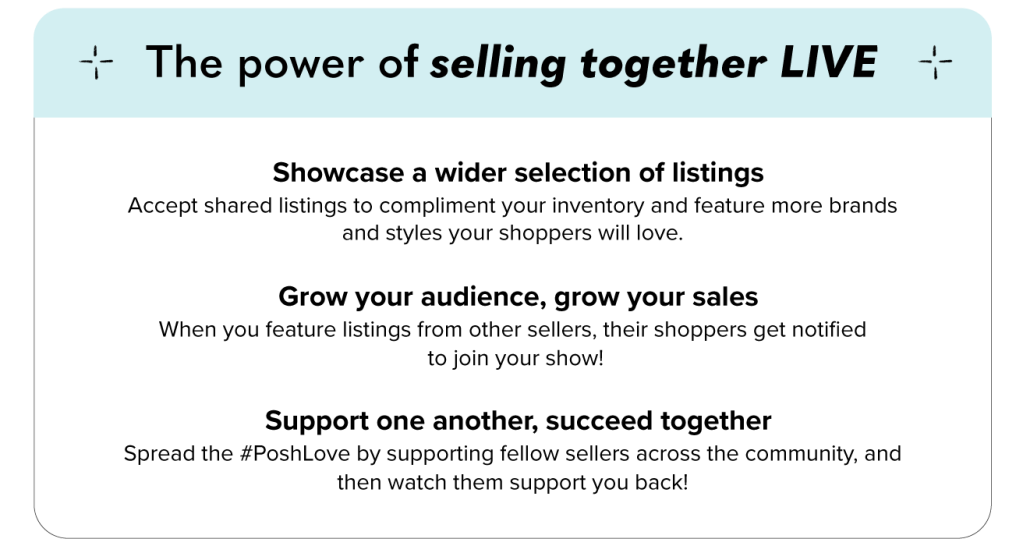 It's the community!
I was lucky to be a part of the launch of Posh Shows and grateful to be a Beta user of the tool and will forever be grateful to Poshmark for helping me grow my sales and expand my business. But, I would be remiss if I didn't mention the thing that defines Posh Shows from any other live auction platform, and I will say it one more time for the people in the back: it's the community. During the last 10 years that I have been on the Poshmark app, I have been through a lot. Ups, downs, wins, and losses, and the reselling community, the buyers and the sellers have been with me throughout the journey. So here's to celebrating one year of getting the opportunity to sell live with Poshmark. September 2022 changed my life in so many ways and bad Posh Shows were without a doubt a silver lining and a win.
Posh Shows: just do it!
If you're not selling live on Posh Shows, or you're scared because it seems intimidating or hard, I'll tell you this: it's both. But the cheesy lines are true, and all the best things are hard, and nothing worth having comes easy. Consistency, dedication, interaction with your buyers in the chat, and just DOING it and hosting a show will help make you successful. My name is @tiffypie089 on the app and you can catch me on Instagram as @tiffypie. DM me, reach out, or send a carrier pigeon and let me know you want help and I'll be there.
Let's do this thing and let's do it together. We can keep more clothing out of the landfill, AND we can laugh and be ridiculous together on camera. I don't know about you, but it sure sounds like a good time to me! Thank you Poshmark for Posh Shows, it means a lot to me and to my business and it challenges me and pushes me to level up in my reselling journey.