Est reading time 6 minutes
What is the Poshmark Promoted Closet?
Poshmark just launched a brand-new beta designed to "empower sellers with more tools to make sales and grow their businesses." They say that promoted listings will be placed in "prominent" places in search results and brand pages leading to increased visibility and therefore increasing your chances of making a sale.
Poshmark also says the new program will offer performance insights. Personally, I would love it if Poshmark let us see how many views and clicks our items get in addition to the number of likes. The more information we have, the better we can refine our selling strategies.

Just like they did with Posh Shows when they rolled it out in beta, they will be receiving feedback and making changes from their users. I can tell you from personal experience that a lot changed during the Posh Shows beta. The biggest one for me was rolling out automatic bundling. The hours that saved…
The promotion is free right now, but the fact that they are saying that leads me to believe that it will require payment at some point, probably an increased percentage of your sale's price. One YouTuber who was admitted into the beta said that in order to be a part of the beta, you have to agree to their payment terms and input your payment info, simply for later use. Sorry, no details right now on what those payment terms are, or the amount you might expect to pay, but trust me, I'll be keeping my eyes and ears open!
Who is Welcome?
Right now, Poshmark is inviting people with Ambassador II status, but say they will be opening it up to non-top tier people soon. They plan to offer invitations on a rolling basis starting with the biggest closets offering the most listings. Oh, and one more thing, the beta test is currently being offered only to those users selling in the US.
Poshmark doesn't want this program to only be used by big sellers and private brands. You might not qualify right now, but if you want to join the waiting list early, you can apply here: https://forms.gle/pRKPRYNUrKmyX8Ty5
It's worth applying even if you're unsure about the program. I was an early adopter of WhatNot and Poshmark Shows even though I didn't know if I was going to use them. I'm so glad I tried them because they really changed my business. My advice is to sign up, get more details, and make your decision later.
Oh, and if you do sign up, make sure that the email associated with your account is accurate, that's how they will be contacting you!
So…Why Promoted Listings?
Remember that Poshmark was a publicly traded company with shareholders, but only for a short time. They were acquired by South Korean giant Naver for $1.2 billion (that's 9 zeros people) so it's no surprise that they want to make some of that investment back. I love Poshmark, they are the basis of my money-making scheme, but it's important to remember that they are a company, too.
When you open eBay, you will see banner ads at the top. When you scroll through available listings, you will see ads on either side. When you open Poshmark, you don't. I appreciate that.
Right now, Poshmark's only way to make money is through their selling fees; they make money when you do. Starting a promoted listing program is a great way for them to earn additional funds without relying on clunky things like outside advertisers. The question remains how it will affect sellers across the board?
Possible Downsides
The possible upsides are obvious, increased visibility and greater sales, so, sorry Poshmark, I'm skipping that section. But it's important to consider the possible cons of a program like this.
One big question I have is if it will still be possible for the average seller to compete with bigger closets. What about the brands that Poshmark now allows to have their own closets? Small and part-time sellers already struggle with Poshmark's relatively high selling fee. We are also forbidden to use bots to share listings and follow other sellers. That means that you need to devote a few hours a day or hire a VA to stay competitive. But how will we compete with big brands like Free People and Alice + Olivia when they have a fleet of employees and reserves of cash, while I have a local Goodwill and a toddler in tow?
My last big question is how this will affect the whole social aspect of Poshmark. They want to be seen as different from other platforms, they are the social one. That's why we share our own listings and other people's listings. I feel like this might undo that. Are we seeing the end of sharing?
Compared to eBay's Promoted Listings
I think it's important to mention here that Poshmark is not alone in offering promoted listings. Some of you might be familiar with eBay's program, so I wanted to do a basic breakdown comparison of the two.
With eBay, you only have to pay if a buyer clicks on your promoted listing and purchases your item. The program is only available to sellers rated Above Standard or Top Seller. As I said above, Poshmark can be a little stingy with details, so I'm not sure if their program will require payment upfront, or only if something sells. I assume Poshmark will open their program to every seller, because, you know, money.
With eBay, you can choose the percentage you pay between 2% to 100% of your sales price. The higher the amount, the more visibility your item receives. Just as Poshmark is promising, you receive more detailed metrics to inform and refine your promotion strategy.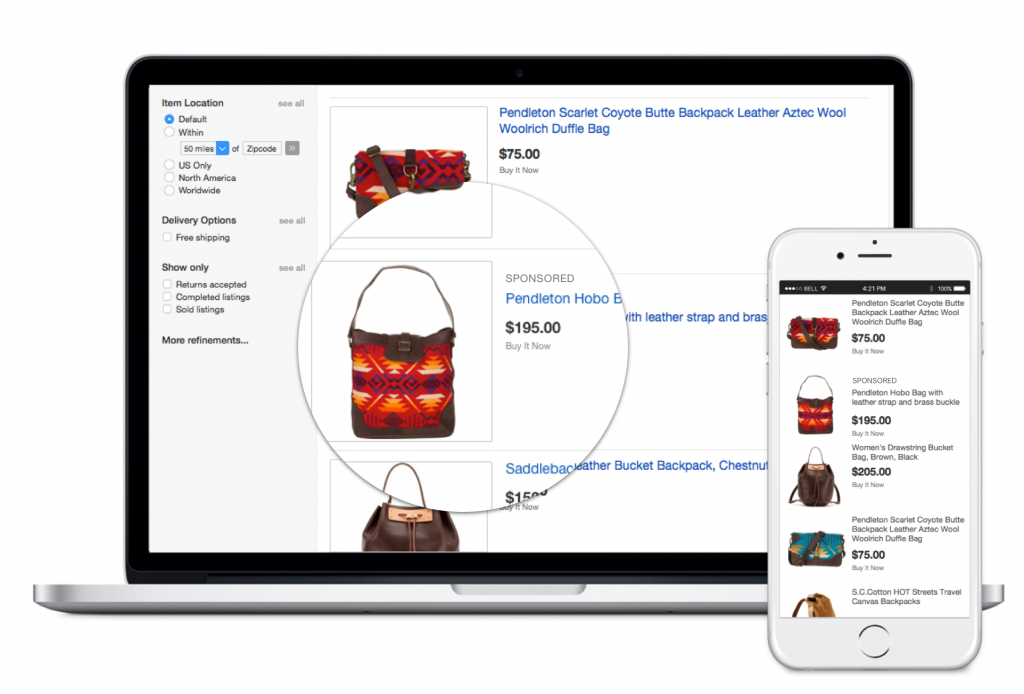 One major benefit of eBay's program as compared to Poshmark's, at least for now, is that eBay's is well established. If you want to get started with promoted listings, eBay has been set up for years, and they have a very easy-to-follow guide to get you started. Poshmark, obviously, is just getting started so their program might be a little harder to navigate.
Plus, while Poshmark is working things out, eBay is pretty clear about its program. To learn more about it, you can check out this page: https://export.ebay.com/en/marketing/promote-listings/promoted-listings/
So, what do you think? Do you plan on signing up?