As a seller, you have to be constantly sourcing. You may already have your sources, your spots, and your secret spots, but you might also be surprised of the other potential sources of inventory to sell, some without even leaving your house. We all have our go-to's, and I even know some sellers who won't reveal their "secret spots." We all have some lessons we've learned too.
Maggie Weber, refashionedhippie, offers some interesting ideas in her book "The Clothing Resellers' Handbook" including:
Church thrift stores

Dry cleaners and shoe repair shops sell items that people don't pick up

Those are interesting options, but here are some quick and easy inventory sourcing options I've had some experience with or some sellers I know have had some experience with. Some you'll know, but maybe there's something you haven't considered.
Your house and garage
Most sellers start in their own house, garage, or storage. Some would say if you're storing stuff, you've got stuff to sell. I've been selling on and off for about two years now, and I'm still largely sourcing from my own stuff. Let's just say, too, when you reach a certain age, your concept of "stuff" changes, and you realize you don't need so much stuff. That's stuff you can sell! Or, just come to my garage or storage and sell my stuff for me. We'll figure something out.
Friends and neighbors
When you source from friends and neighbors and relatives, make sure you know what the agreement is. Are you getting the stuff for free? Are they expecting a cut? As an online seller, there will be plenty of people willing to give you stuff for free, but also plenty wanting a cut for selling their stuff, so be prepared! One person's junk is another person's treasure.

When Libby, Molly and Tiffany from @ConsignmentChats were on Episode 31 of The Seller Community Podcast, they told Liz and me that your friends and neighbors will try to get you to sell their stuff when they find out you sell, so get ready to be a consignor if you're a reseller.
Libby from Consignment Chats says, "We think every reseller should be consignment ready. So whether you're doing consignment now, or whether you're just a reseller, at some point in time, somebody is going to ask you to sell their stuff for them. Right? Probably many, many people."
I still have about 12 boxes of books from my oldest friend that are stored and waiting to be listed. We've got some deal worked out…I'll list them some day…
Garage sales
Garage sales go on in neighborhoods all year long. Again, one man's junk… Think of it this way, a lot of times with garage sales, people are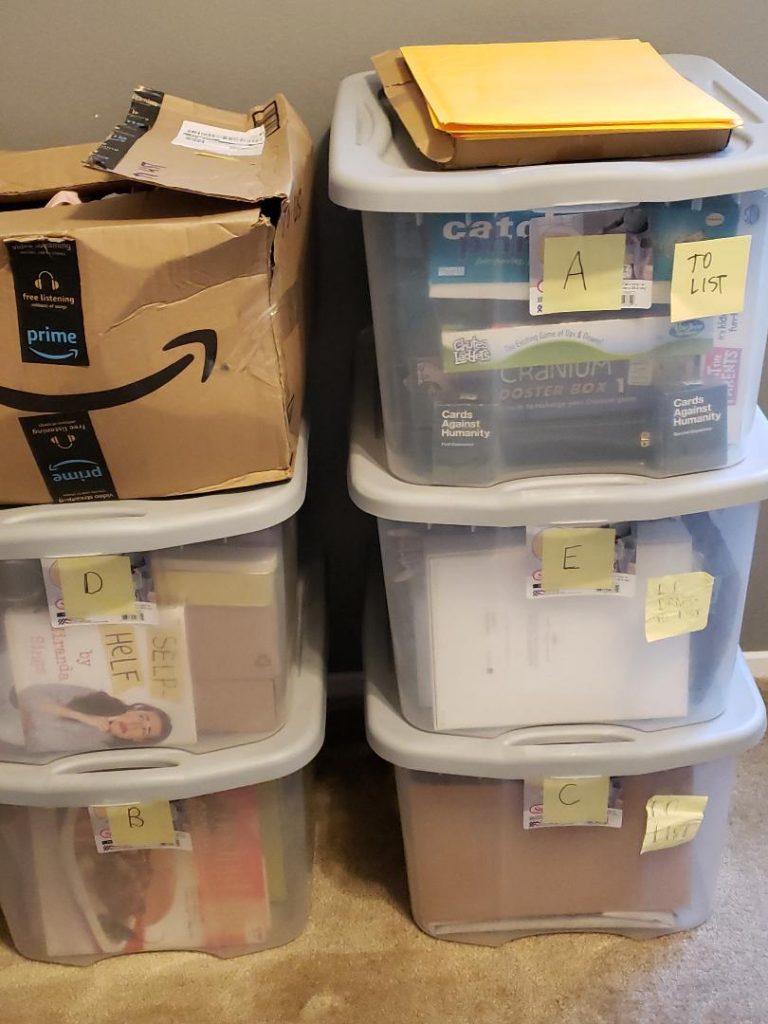 looking to get rid of stuff quickly and cheaply, and just need the cash. Bargains are to be had. A family could be moving, or they could be getting rid of the kid's video games as they've gone off to college. You see what I'm saying? This is a sourcing option I definitely want to explore.
Antique stores
I live in an area with a lot of antique stores. Not everyone does. You'd be surprised at the deals you can find there if you look hard enough. I live close to a Granny's Attic, (but don't we all) and I've picked up some DVDs there I was able to resell for a little profit. TV show boxsets for $5? Not bad. Let me just say that I've seen some wacky stuff in antique stores.
Goodwill, Salvation Army, thrift shops
Goodwill, Salvation Army, and thrift shops used to be the main source of inventory for sellers, and for many sellers, this is where they still get their stuff. Thrift shops have adjusted over the years, and some sell online themselves or have even raised prices due to online seller sourcing. A lot of clothing sellers shop at these spots, and they're good for books, movies, and items like CDs and records if that's what you sell. Here's a tip: my friend Don garbsafari says to always look out for tiki mugs. They are often limited runs.
Maggie, therefashionedhippie, has a ton of thrift shop experience and goes into detail on thrift shop sourcing in her book. "One surprising way you can get the best prices at a thrift store: volunteer there! Thrift stores, especially the smaller ones, always welcome volunteers. For them, you're free labor."
The bins
If you don't know what "the bins" are, they should be experienced at least once. I'm honestly not sure if this is just a Goodwill thing, but basically, there are these big warehouses where they roll-out bins of stuff that buyers can go through. I've heard of many treasures being found, and dirty diapers as well. The nice thing is that you can dig deep, hopefully find something good, and pay by the pound!
Discount stores (Kohl's, Marshalls, TJ Maxx, Ross. etc)
The discount stores like Kohl's, Marshalls, and TJ Maxx are basically retail arbitrage plays. That's where you buy something from a store, and resell it online, hopefully for a profit. Different areas have different discount stores, but basically, these stores get outdated or discontinued stuff from other stores. Brilliant! The sales are often discounted, and some of the chains offer coupons and discounts for using their credit cards. I know a lot of retail arbitrage sellers that do well, including some sneaker sellers that LOVE sourcing at Ross stores across the country.
Dollar stores
I've had good and not-so-good experiences sourcing from dollar stores. Most cities have some version of the "dollar store" where all kinds of merchandise is usually a dollar, or right in that range. I've done OK with kid's activity books and coloring books, and small toys.
Factory stores and outlets
I know some sellers that source from the factory stores and outlets, but in my experience, the prices are not low enough to clear that great of a profit, unless you get some sort of discount deal.
Library sales
If you're a bookseller, library sales are a great option. You'll regularly see great discounts in the library stores, sales on things like hardback books or paperbacks, or even sales where you can fill a bag for a very low cost. Great way to source books!
Hopefully, the above options help you with some sourcing opportunities you might not have previously considered!
Hear more from Maggie Weber, @therefashionedhippie on The Seller Community Podcast episode Episode 22: Heart & Hustle Of A Self Made Entrepreneur with Maggie Weber from @refashionedhippie and on episode Season 2: Episode 15: Maggie Weber, @refashionedhippie: Mom, Environmentalist, Small Business Owner, Author
Hear more from Libby, Molly, and Tiffany @consignmentchats on The Seller Community Podcast Episode 31: Consignment For Your Reselling Business With @ConsignmentChats