Listing Party is a new platform from List Perfectly where you can participate in live events, connect and share with sellers, find assistants, get inspired, and so much more.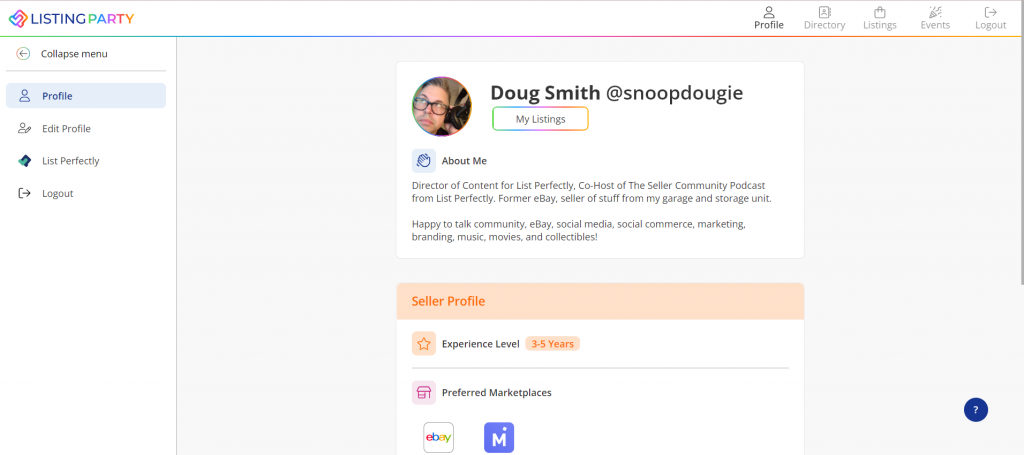 Searchable profiles
All List Perfectly members can sign in and create a profile and once that is complete, you can access the directory, search for other sellers, find assistants or even consigners. Your profile will be searchable in Listing Party so others can find you as well.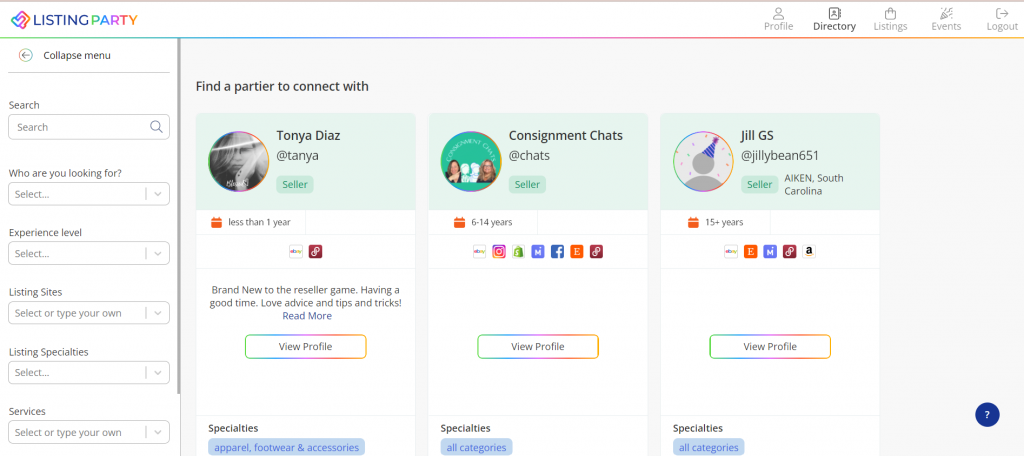 Listings in Listing Party
All Listing Party members will be able to access listings from other members right in Listing Party. It's a great feature because sellers can support other sellers within the Listing Party platform by clicking on the listing links and purchasing their items from their listed platforms. You can shop for yourself or even shop for inventory to resell.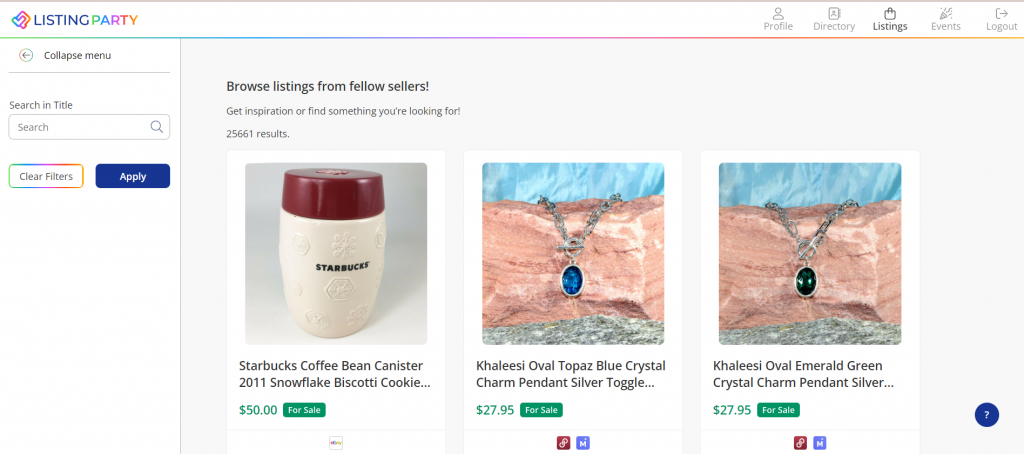 Import listings into Listing Party
If you use the Business or Pro Plan of List Perfectly, you can import listings from List Perfectly into Listing Party. This allows others to see your items and they can go to the listing on any marketplace platform you have it listed on and purchase your item. On the listings page, you will be able to see "for sale" and "sold" statuses, price, photo, title, and marketplace availability. When you are viewing the items that are listed, there's an option within Listing Party to search and filter the listings as well.
Live events in Listing Party
Listing Party offers live events too. You can join the live parties to connect, inspire, share and learn. You can participate in the live events, view past events and the events section of Listing Party will also show you when upcoming events are scheduled. The possibilities of the live parties are endless!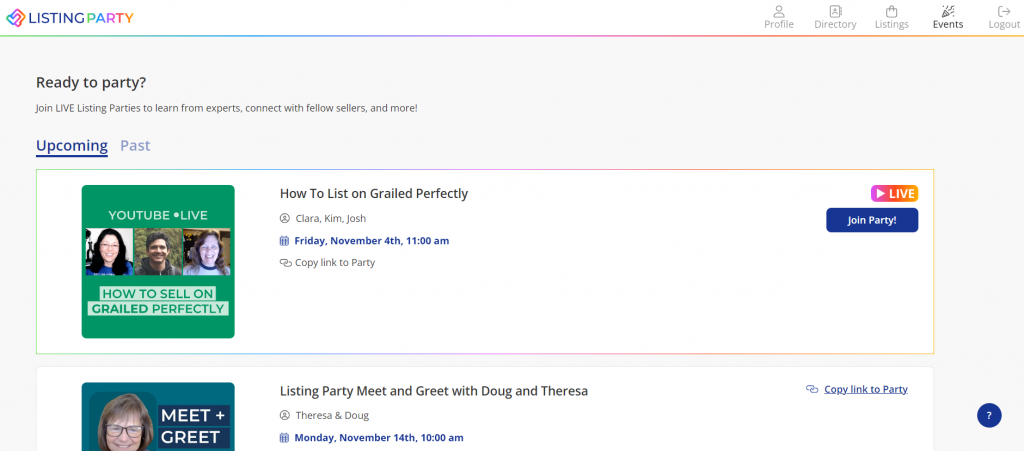 Live parties can consist of discussions, sharing tips, asking questions, covering trends, unboxing items, learning, teaching and just about any other topic you could dream up. Speaking of that, you will be able to dream up a topic and eventually host your own listing party. Listing Party is very relaxed and casual, and everyone is there to have fun, learn and help each other.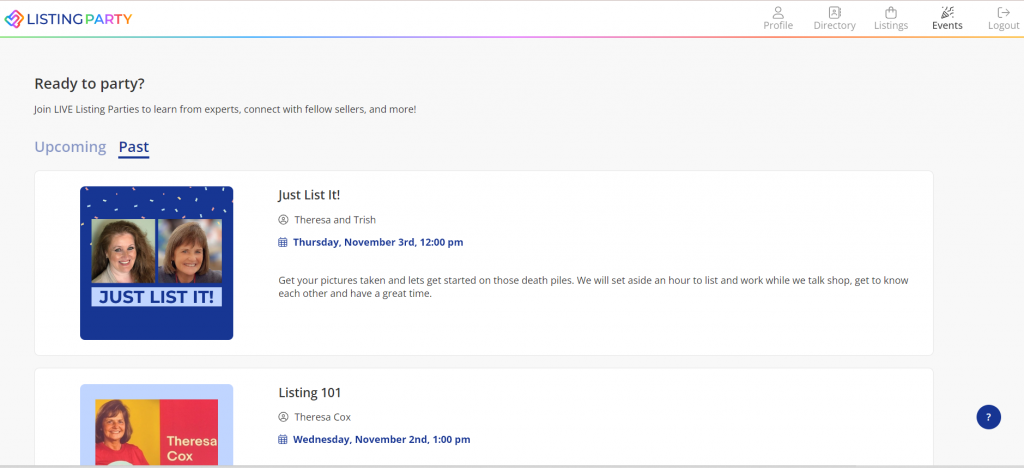 The Listing Party directory
The Listing Party platform also contains a very comprehensive directory. The directory is where you can search and locate other party members. From there, you will be able to filter the directory to find assistants, consignors and more. Furthermore, you will have the option to search for assistants that are on site or virtual. So, if you'd prefer to have a local assistant, you'll be able to use filters to search for people that are local to you.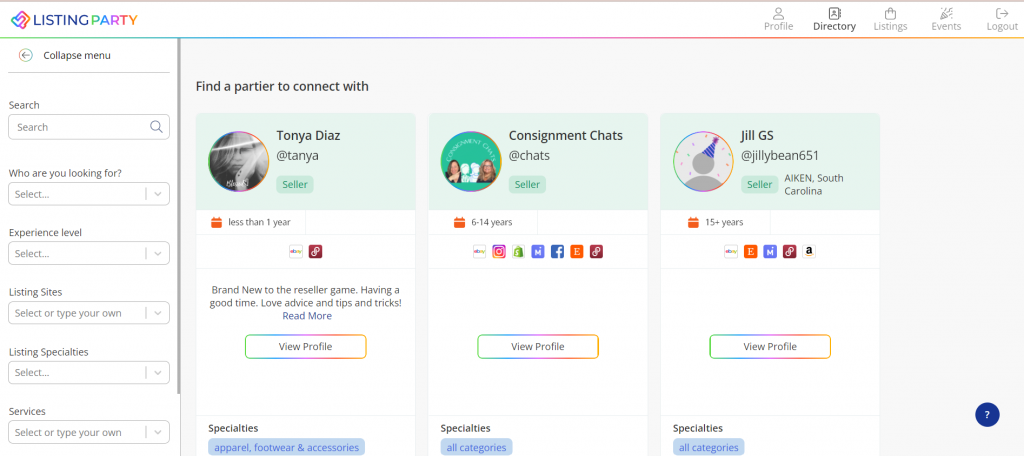 Listing Party messaging
Listing Party even provides a way for you to message other members within the platform. All messages will be sent via email to the recipient and when they choose to reply, you will receive an email to your List Perfectly email address on file.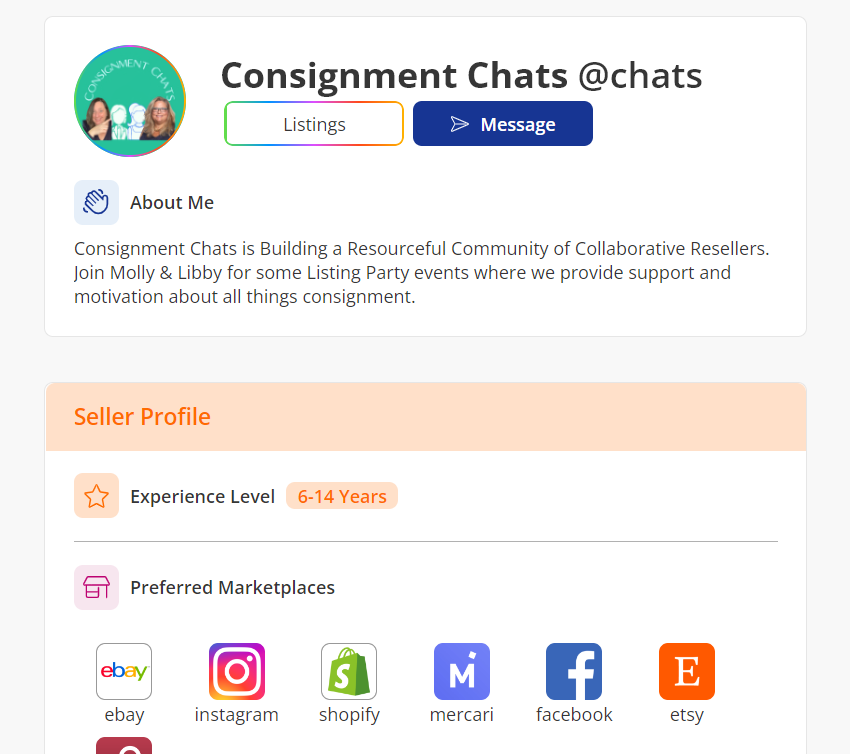 Listing Party goals and tasks
On Listing Party, you can now add goals and tasks with checkable boxes to help you stay organized and remain accountable to what your goals might be. If you need help staying accountable to your goals, you can share them with other members to help you stay on track.
There's so much more to come for Listing Party. It is an ever evolving and ever-growing platform with so many amazing features already in place and many more coming your way. Come on over and become part of this growth and be part of what Listing Party is and what it is to become. You can help shape the future and be part of the most innovative and groundbreaking resource to ever be developed for the seller community.
Listing PARTY!!!!!!!!!!!!!!!!!!!!!!!!