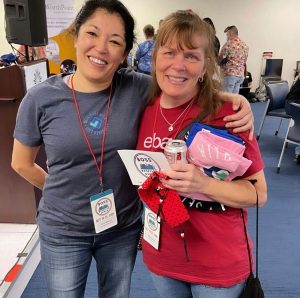 Kim Rose is a microbiologist. Well, she was one for 22 years, and once a microbiologist, always a microbiologist, right? Kim loved her job, but over the last several years things changed. Her work environment changed, and she began looking for, and dreaming for, more. She had an idea, but was scared to give it a try. And then she did. After 22 years, Kim made the jump from part-time seller to full-time seller.
Kim worked as a microbiologist for a food company, testing ingredients and food products for bacteria and pathogens, and tracking data from her testing. Part of her job was data entry, data compilation, reporting, and more. So why did Kim leave after so long?
Resignation day
"It actually got to be a very toxic workplace. The environment got to where it was really negative and just not where I wanted to be anymore," Kim explains. "I enjoyed my actual job, but the last seven years I was there, it just went downhill. I finally just got to the point where it's like, you know what, I've got to figure something else out because this isn't healthy for me."
Kim was coming up on her 22nd work anniversary and waited until then to make the move, giving notice on the date of her anniversary. Kim says, "It really wasn't that difficult to go in and give my notice because to be honest, that whole thing had died for me a long time ago. I already went through the whole grieving process of the loss. There's so much when you're somewhere that long. I talked to my manager and gave her my letter of resignation and nobody was happy at all about it."
Following her parents' footsteps
Her parents were early sellers on eBay so Kim was already familiar with online selling. Her dad in particular, who was retired military and didn't want to work "for the man," sold on eBay as a side gig. "My dad would go out and mom would go too. My dad would be the finder of the things to put on eBay and my mom was the one to list it and they made a really great team," Kim says.
After learning from her parents and being a buyer for some time, Kim began to dabble in selling as well. The first real sale she remembers was a pair of garage door remotes. Kim was excited for her first sale, and offered excellent customer service when the buyer reached out saying he didn't know how to program the remotes. Kim didn't know how to program them either, but she went to Google, found the instructions and sent them to the buyer, who was thrilled with the extra help.
YouTube learning and finding a community
Kim also began to learn from other online sellers, first on YouTube. Kim explains, "I was watching YouTube and I came upon this guy on there that was a collector. He would buy shoes, but he would buy an extra couple of pairs, so then he could flip them." Kim followed Franchise Kicks' journey with his wife on YouTube, learning more with each viewing. Eventually they started selling Amazon return pallets and doing unboxings on their YouTube. Kim couldn't stop watching.
From there, Kim discovered the Katy and Vikki show, with sellers Katy Zilverberg and Vikki Eagan. "I fell in love with 'em. I was like, 'they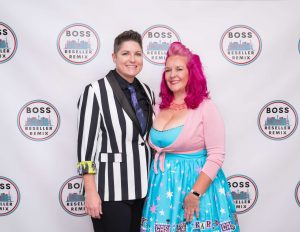 are just so cool,' and they have been just amazing influences and role models. And I have learned so much from them and from so many other people, too; but since they were one of my first YouTuber channels that I watched and really got into, I just adore them."
Kim kept watching YouTube, learning and going into research mode, researching online and learning about selling. She would get home from work and stay up for hours, absorbed in her research and learning all that she could.
Las Vegas calling
While following Katy and Vikki, Kim discovered in 2021 that they, along with Theresa Cox, were launching their own event for online sellers, the BOSS Reseller Remix. Not only was this a new seller event put on by sellers, but this was the first and largest in-person seller event of 2021.
After another horrible day at work and reading comments online about the BOSS Reseller Remix, Kim tried to convince herself to go. Kim says, "I took a breath and it was like something in my head said, 'Why don't you, why can't you?' I don't know where that voice came from, but I was like, 'Oh my goodness, why can't I do this? Why can't I?' And literally five minutes later, I signed up and I was like, 'Oh, I guess I'm going to Vegas!'"
Boss Reseller Remix: A life-changing event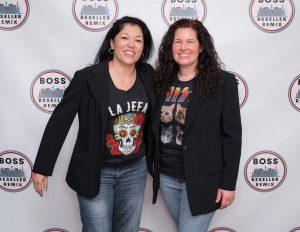 While attending BOSS Reseller Remix, Kim was really at a crossroads. She'd been doing her research, and had been thinking about whether or not she could make the move to become a full-time reseller. At BOSS, she met Vikki, Katy and Theresa, and many other sellers she already knew online. She also met Clara Albornoz and Amanda Morse, the co-founders and co-CEOs of List Perfectly. She found her community and found her inspiration, encouragement and support.
BOSS Reseller Remix turned out to be a life-changing event for Kim, right from the start. Kim explains, "Eventually you have an 'aha' moment and you go, 'Okay, it's time. I get it now,' and that half happened at the BOSS Reseller Remix. It literally happened at the meet-and-greet. And I thought, 'Okay, Kim, it's time to start preparing in your head now, what's your next step, because you know that it's time.' It was just very emotional, it was an amazing experience, and I credit so much to Katy and Vikki, Clara and Amanda, and everybody that was involved in bringing that together. It changed my life."
Walking away from a 22-year career into something brand new
The BOSS Reseller Remix was in October of 2021, and by November, Kim had made the decision to go full-time as a reseller. Again, November 2021 coincided with her 22-year work anniversary, she had a bonus coming, and four weeks of vacation accrued. Everything was aligned for Kim to leave the job she was no longer happy with and pursue her dream. Kim was proud of her decision.

"It was really, really difficult, but on the other hand, I'm so glad that I did it because I can walk away from there going, 'I did it.' And I was able to walk out with my head high and I didn't compromise. I was also able to walk away without any regrets," Kim says.
Life as a full-time reseller
At this point, Kim has only been a full-time reseller for a few months. Currently, she sells on Etsy, eBay, Mercari, Grailed, Kidizen and
Poshmark. She says so far, her biggest challenge has been learning to take help and open up to others, something she couldn't do in her previous career.

"I'm still working on it- just being able to take the help and ask questions and not feel like I'm taking and not giving. I don't wanna take, take, take. You will learn as you go and you're gonna be able to give right back to the community."

Kim is already giving back and spreading her knowledge and what she's learning in the List Perfectly Facebook group, on Instagram, and in multiple other seller groups. Kim's biggest selling tips are, "Be consistent. If you have a bad day, don't let that rule the rest of your life," and, "Follow your gut. I say, if you truly feel something in your gut, you need to follow your gut."
We will be following Kim on her seller journey, with regular weekly touch bases and updates. So check here each week and follow along!
Kim Rose can be found at:

KoalaTradingCo Instagram
KoalaTradingCo eBay
KoalaTradingCo etsy
KoalaTradingCo Poshmark
KoalaTradingCo Mercari
KoalaTradingCo Grailed
Listen to Kim on The Seller Community Podcast: Season 2: Episode 7: Turning Your Side Hustle Into a Full-Time Business with Kim Rose