Everyone who knows Theresa Cox, and many who don't, know that Theresa loves three things: the color red, numbers, and eBay. She is the "eBay Girl" and the license plate on her red car says so. Some of us know Theresa as the "shut up and list" lady from eBay Open. Theresa is more than red, numbers, eBay, and shutting up and listing. She's a very experienced seller, and well-known in the seller community for her kindness, knowledge, and willingness to help other sellers.

Theresa started selling on eBay under her current ID, ClubRed97 in 1997. Born and raised in Southern California, she moved to Phoenix, Arizona when she designed her dream home with red shutters, red kitchen accents, a poolside oasis, and more. Her friends would visit and dubbed her backyard oasis "Club Red" which stuck and became her online brand and eBay username.
The pre-eBay years
Theresa spent over 30 years in higher education doing Finance and Operations. She started out at a local community college in Torrance, California, eventually moving on to the University of Southern California where she worked in the Engineering department around a lot of "computer geeks."

"I was hired in December, and I didn't have any vacation time. So, everybody's gone for the holidays and I'm sitting there and I'm searching what they called Archie servers and Veronica servers," Theresa recalls. "And I remember the poor guy in the office next to mine. I was bored, he was busy, but he showed me a few things about HTML, and I spent my two weeks playing around on the internet."
Theresa was turning into a bit of a computer geek herself. In the Fall of 1995, she was tasked with getting rid of a bunch of computers and equipment and a co-worker suggested that Theresa check out this new online selling site called eBay. Maybe she could unload those old computers there. One person's junk is another person's treasure, right?

Theresa says, "I was listing and selling the computers on eBay and putting the money into the department's surplus fund and that's how I got started. Back then your eBay ID was your email address and when I started selling personal stuff, I didn't want people at work to type in my work address and see all the stuff I was selling from home,' so I created my clubred97 account."
The eBay seller event that changed Theresa's direction
"I will always be an eBay girl because that's where I started and because of the fabulous eBay community. The eBay community is what differentiates eBay from all the other online selling platforms," says Theresa.
For years, Theresa sold on eBay as a part-time hobby seller, happy with just 500 listings and making $800-$1,000 a month in "play money." Like so many other sellers, Theresa's course was changed by a seller event when she attended eBay's seller event, "eBay On Location" in Denver, Colorado in 2012.
Theresa thinks back, "I went by myself. I didn't know how to connect with anybody in the eBay community. I didn't have any expectations. I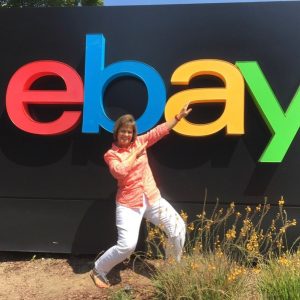 was at dinner one night with nine other sellers. There was a husband-and-wife team talking about how they were making $30,000 a month selling military surplus. Sitting at that table, talking to these strangers, that's when the light bulb went off."

Theresa's focus shifted from making "play money" to making "money." This also, of course, was Theresa's first encounter with the seller community at large, its influence, and how welcoming and inspiring that community can be. This was also a community Theresa would become an influential player in as a seller with sellers, and with influence at eBay.
"I think that the seller community is the backbone for every platform. I think it's important for every platform to reach out to their sellers, to get feedback and information on what works and what doesn't," explains Theresa.
List Perfectly helps Theresa expand her business
Theresa was successful selling on eBay and became very well-known at eBay Headquarters. She was submerged into the eBay community and was running a local eBay sellers' Meetup group. Amanda Morse and Clara Albornoz, Co-Founders and Co-CEOs of List Perfectly lived in Phoenix, learned of this group, and attended the Meetup in February 2019. Amanda and Clara knew who Theresa was and talked to her about the product that they had developed "to help sellers list faster, quicker, easier."
Theresa was interested and wanted to learn more about this seller tool called List Perfectly. She at once saw the value List Perfectly could bring to the seller community and was excited to be able to play with the software and give feedback. Theresa began testing List Perfectly and started sharing her ideas and making suggestions to Amanda and Clara for improvements. "List Perfectly came along and showed me how quickly and easy it was to import my eBay listings because that was key. I didn't want to have to recreate over 4,000 listings," says Theresa.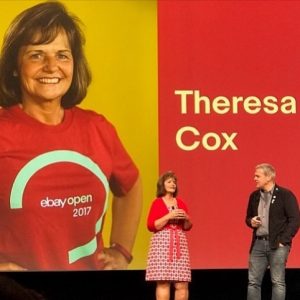 During this process, eBay Open 2019 was on the horizon and Theresa urged Amanda and Clara to attend so they could meet over 2,000 sellers and hundreds of eBay employees. It was a great way to get the word out about List Perfectly to the eBay seller community. Theresa remembers, "After that eBay Open, they did a couple of YouTube shows and it just took off and skyrocketed. I'm happy to have been in the right place at the right time and to have been a List Perfectly early adopter. It is truly a reseller's game-changer."

List Perfectly allowed Theresa to expand from just selling on eBay to selling on multiple platforms. She now not only sells on eBay and Amazon but crossposts to Poshmark, Etsy, Mercari, Grailed, and more.

"List Perfectly makes it much faster and easier. It's not this big elephant that you have to conquer, it's as easy as crossposting your listings from your native platform to the List Perfectly catalog then out to the various platforms, or crossposting from your native platform directly to another platform, bypassing the List Perfectly catalog altogether," says Theresa.
The BOSS Reseller Remix
Besides running her own local meetup in Arizona, Theresa also runs the BOSS Reseller Facebook group. BOSS stands for "Business for Online Selling Success because it's all about the acronym." Theresa explains, "the idea when I started the group was to talk about all the things sellers didn't like to talk about, like taxes, finances, and all the numbers sellers should know when running their business." The group has over 8,500 members and four other admins that help, including fellow sellers Katy Zilverberg and Vikki Eagan, well-known for their Katy and Vikki YouTube Channel.
In January 2020 eBay announced they would not be hosting their annual seller event in Las Vegas that July. Instead, they were going to visit 10 different cities and host smaller, more intimate events called eBay UpFront. It wasn't long after that announcement that Theresa, Katy, and Vikki decided they would put on their own in-person seller event, and BOSS Reseller Remix was born.
"The foundation was laid at that time. We started talking. We had chosen a venue. We had a loose idea of what we were going to do and the topics we wanted to discuss. We were about two weeks away from launching our ticket sales when the pandemic hit, and the world shut down. We realized we could not possibly have this event safely and we had to postpone," Vikki recalls.
Theresa, Katy, and Vikki decided to make the BOSS Reseller Remix happen in 2021, and in October 2021, the inaugural BOSS Reseller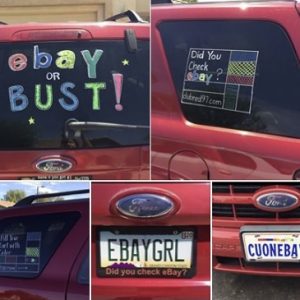 Remix was held in Las Vegas and was a huge success. Many attendees were new sellers who mixed with experienced sellers and influencers like List Perfectly, eBay, WorthPoint, eBliss Reseller Solutions, Rollo, and more. BOSS Reseller Remix 2022 has already been announced and will be held again in Las Vegas in October.
Theresa shows no signs of slowing down and stays active in the seller community and in multiple Facebook selling groups. She regularly attends eBay events, online and offline, runs her own local meetup and the BOSS Virtual Meet Up, and gives back to the community daily. She continues to sell online across multiple platforms and was recently featured in First for Women magazine as part of their "Successful Women Over 50" article, where she discussed online selling and selling books on Amazon specifically. You can also find Theresa weekly for List Perfectly Office Hours, where she shares List Perfectly tips and tricks and #theresagems, little extra pieces of knowledge from her selling experience.
Though she still loves eBay and always will, the eBay girl has moved beyond just selling on eBay.
Theresa can be found at:

BOSS Reseller Remix Facebook Group
numbersgeek Instagram
Clubred97 eBay
Listen to Theresa on The Seller Community Podcast:
Season 1 Episode 38: Learning from the Community: BOSS Reseller Remix Recap
Season 1 Episode 27: BOSS Reseller Remix: Learn, Network and Have Fun
Season 1 Episode 14: eBay Main Street – Advocating for Your Small Business
Season 1 Episode 4: Seller Mentoring, eBay Seller School, Seller Resources