Before I get into my list and my justifications, I want to let you know why I wrote this blog post. (Poshmark isn't sponsoring me, although, if you know how to get them to sponsor me, please hit me up.) I'm writing this post because I love what I do. My success in reselling is allowing me to live life the way I want to, and I want that for you. Live selling through Posh Shows can seem really scary, but if you give yourself the time, and grace to learn how to do it, I believe it will change your business. Let's start with the basics of three myths about Poshmark Live shows you believe.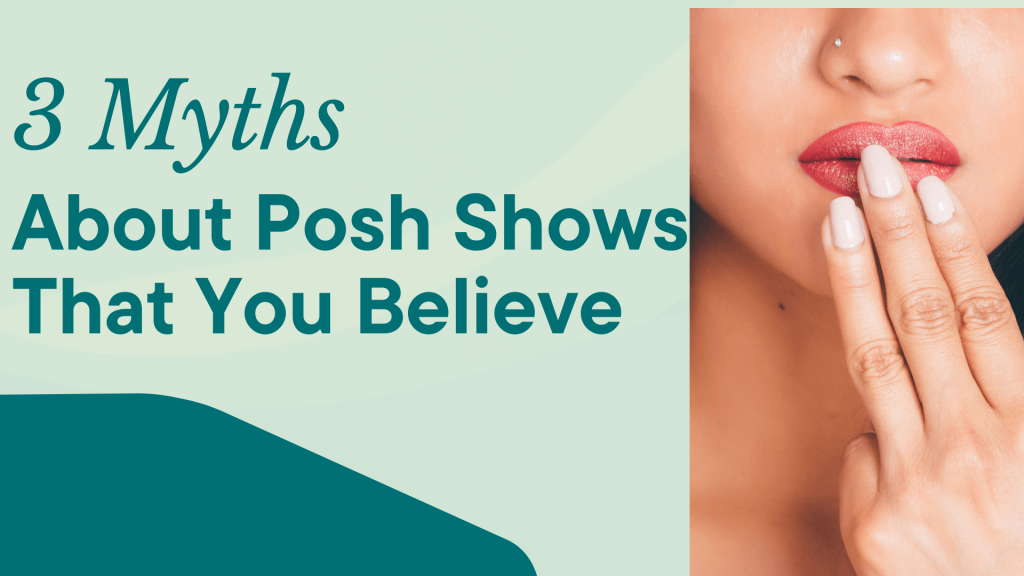 What are Posh Shows?
Basically, Posh Shows are 15-minute to one-hour-long selling sessions scheduled and hosted by you. You choose a theme, which can be as specific as "Women's Small Lululemon Leggings," or as broad as "Stuff I Like," totally up to you. There are two kinds of shows: Live and Silent.
Silent Shows are the easiest to set up and run. They are called silent shows because they are, very simply, silent. You don't appear on screen, or talk. The items you preloaded into your show are there, you select one, choose a starting price, and it will run through all of the pictures in your listings while the auction runs.
Live shows are more involved. You can preload existing listings or new listings through their "quick add" process, and you are seen and heard on camera. Although I prefer live shows, both have their place and can help to expand your business. If you want more information on the difference between live and silent shows, and the potential benefits of each, please see my YouTube videos.

It's also important to understand that a Posh Show is not the same thing as a Posh Party. Poshmark is still running their parties. Those are created and scheduled by Poshmark, and a small number of users are invited to "host" the party. The host's job is to select items from all across Poshmark that suit the theme. Any selected item is known as a Host Pick and gets more visibility. Customers shopping from a Posh Party will have an experience very similar to shopping from any regular closet except that parties are, at least in theory, more curated. The hosts never appear, and do not speak to the buyers. The sale runs for a limited time, but I wouldn't consider it a live sale.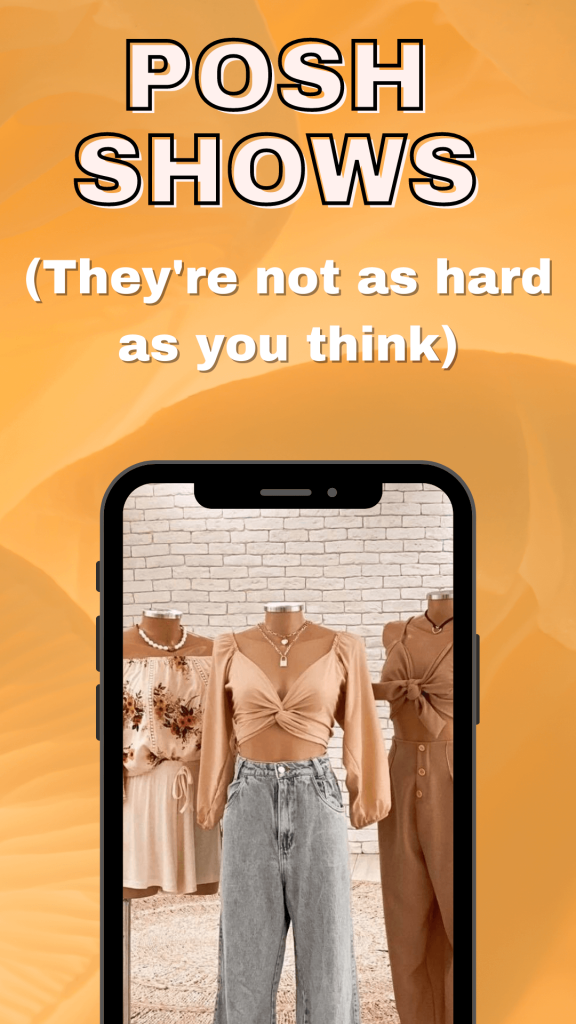 Unless you've been living under a rock, you've noticed that live selling has been booming lately. Some companies like Poshmark have added an element of it to their sites, and platforms like WhatNot are based entirely on it. Even eBay has added an option for adding a video component to each listing. I think that videos are the future of reselling, so acclimating to them now will put you ahead of the curve.

Myth one: It wastes time
Scheduling, creating, and running your first Posh Show will probably take you a long time. Please don't judge every Posh Show by your first. Setting one up is just like any other skill. Think about the first time you got behind the wheel of a car. I almost ran over my dad the first time he taught me how to park inside a spot. Now, I can back in while yelling at my kid and picking up the French fries she dropped. The same principle applies to creating and running your first live sale. Once you know what you're doing, you'll go a lot faster. Plus, Poshmark does a lot to help you.

You can create a show entirely out of your existing listing with just a few clicks of your mouse. If you want to add new pieces, you don't have to take pictures, write a description, add measurements, and fill out all the item specifics. Using quick add, you add a title, item type, and size, and move on. I've found that building my shows entirely around quick adds actually saves me time because I don't have to do all of the background work. I add in a simple listing, then go over all of the details live on camera. Setting up a show that way, I can sell through a week's worth of product with about three hours of work.

I also get to introduce myself, my product, and my business to new customers. Cultivating new customers can be expensive in any business. I would rather do one show than pay a VA, share thousands of listings, reach out to new Poshers, and flood social media images of available listings. Posh Shows have brought me return buyers, perhaps the most valuable resource I have.

Myth two: It wastes money
Starting your auctions low is a great way to get people to stop in and watch your show. We've all seen the $5 shows on Poshmark and the $1 shows on WhatNot; they pop up all the time. But that doesn't mean that you have to sell your items for practically nothing.

In my experience, my clothing sells for the starting price about 90% of the time. I run $5 shows sometimes, but that's because I can afford to. Most of what I sell is donated to me, and people rarely buy one piece. Usually, they bundle and I end up making more. Let me give you an example. If someone buys one $5 item from me, I make $2.05. If the same person buys a second $5 item from me, I still lose the same amount in Poshmark fees; $2.95. With the second sale, I make $7.05, not $4.10. That might not sound like a lot, but once someone buys one piece from your live, they are much more likely to keep buying. They've already paid the shipping fee, so it's worth it to keep going. Plus, you can always add items to that bundle that you didn't feature in your show. Just encourage them to look through your closet!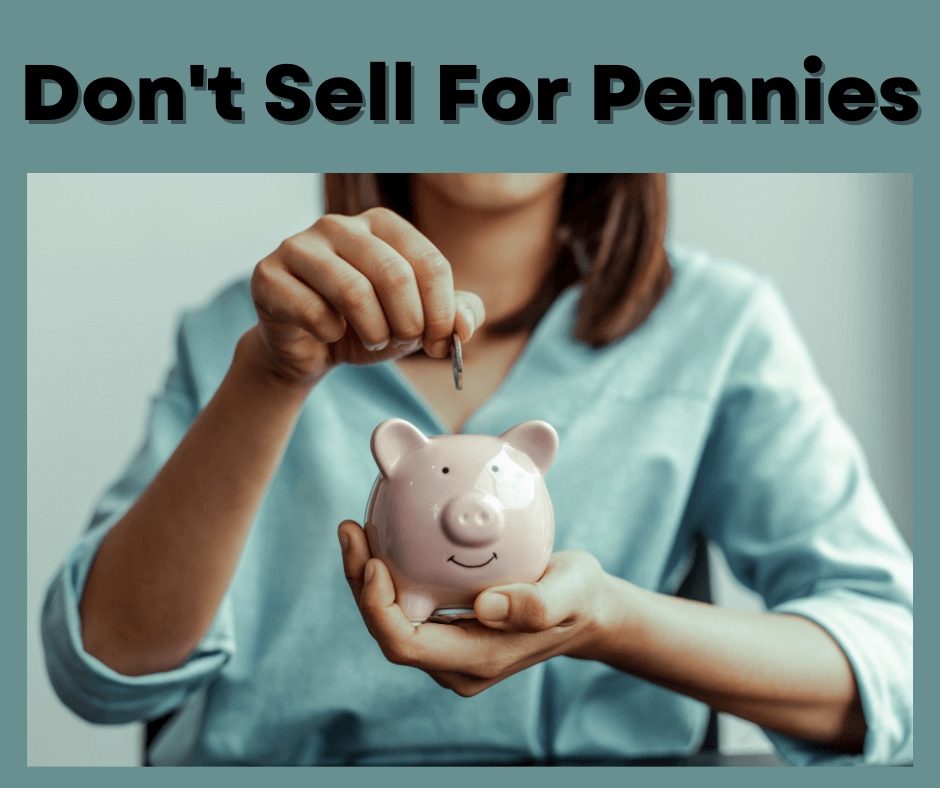 And remember that there is absolutely no reason to sell your items for less than they're worth. You don't have to give away your Anthropologie and Johnny Was tops. There are a lot of reasons to attend Posh Shows, and they are not all low prices. Usually, sellers try to use low prices as a gimmick. If you have high-quality, in-demand items, don't sell them for less than they're worth.

Maybe your buyer just wants to see a curated collection of boho clothing or plus-size professional clothing. Maybe they are not exactly fashion aficionados and they want to know how to style a top or ask you live about the fit. People aren't going to lives because they have to. If they were just shopping, they could continue to scroll Poshmark by themselves. They are coming for you. If you know the worth of your pieces, discuss that, and treat them that way, then that is what they will sell for.
Myth three: I lose visibility in my closet
The first thing you should know, as a reseller, and a general denizen of the internet, is that any platform will push their newest features. That's as true of Poshmark's Posh Shows as it is of Instagram's reels or TikTok's lives. Think about how many notifications you've been getting about Posh Shows. Almost too many, right?

Poshmark is still rolling out shows and refining features. Join now, and they will help advertise you.

If they weren't profitable, people wouldn't keep doing them. I think it's because they are working, that other platforms are trying to make them seem like they will hurt your business. Platforms are like pageant girls; they want each other to trip and fall on their faces.

I saved this myth for last because I didn't want to start my rant too early. I promise I will try to keep myself under control, but as I said, I feel strongly about this.

Every single time I sell live I get a mixture of new buyers, and a few of my dedicated customers who come back for every show. My dedicated buyers make up the bulk of my sales, around 80% per show. The other 20% of sales are made to new buyers who may or may not return. That accounts for my sales, but the attendees are another matter.

On average, I have about 10 people in my live shows at a time. That probably sounds low to you, but let me make two points. I would rather have three dedicated people who will build bundles, than one hundred looky-loos who just tune in and then drop out. Second, just because I have a low average, doesn't mean that I have low viewership. At every show, at least a hundred people come in out of curiosity and leave fairly quickly. I don't view that as a negative.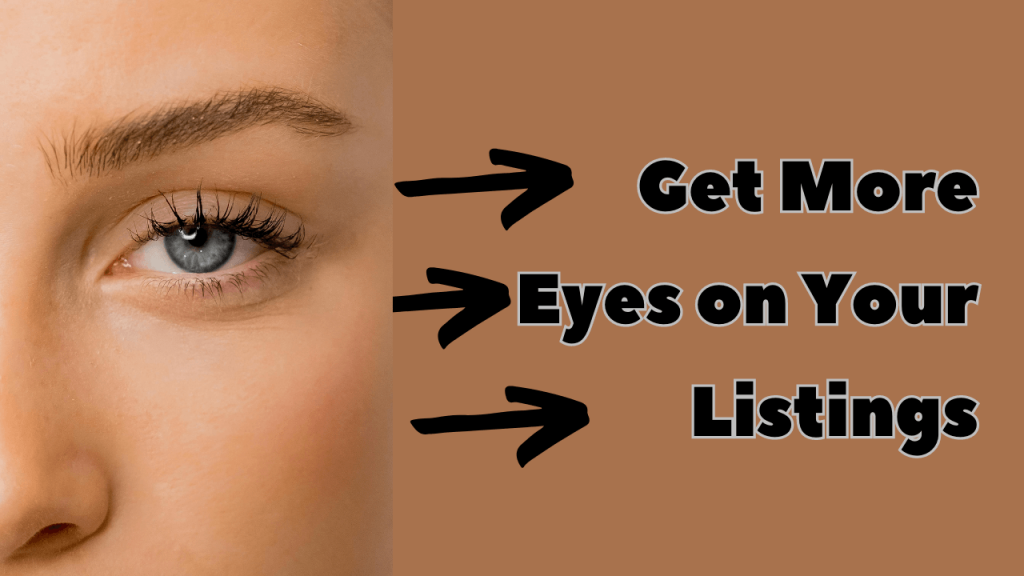 That means that I get to introduce myself, my closet, and my business to a hundred new people that I otherwise wouldn't get to talk to. My profits are split between my daughter's college fund and Sanctuary Village, a non-profit that I volunteer for building a tiny house community for those experiencing homelessness in Philadelphia. When I tell people that, it makes them want to buy things to support me. Even if the show isn't catered to them, a lot of people check out my closet, and some go on to buy. I reintroduce myself and the reasons why I sell about every 10 minutes when I'm live.

It's true what they say, familiarity breeds comfort. Buying clothing from strangers online can be a scary prospect. When you show people your face, introduce yourself and tell them who you are, that gets less scary. Once someone makes one purchase from you, they are much more likely to come back and shop with you again.

Even if you don't sell a single piece, and I often don't in my silent shows, I get people to come in and see my products. I get to invite them to build a bundle from my regular closet, and I get to tell them about why I'm proud to be a seller. Those are all positives in my book.
Now is the time to sign up for live selling on Poshmark. If you've been waiting for a sign to get involved, this is it!
As always, I would love to help you with your journey. Please feel free to reach out to me with any questions on Listing Party.