Est. reading time 8 minutes
I use List Perfectly to cross-post to multiple platforms but Poshmark will always be my home platform. I started reselling on Poshmark and, to this day, it's the platform that I know best. Poshmark, like every other successful platform, is constantly trying to improve both its user and buyer experience to increase sales. Recently, they've been adding more ways for sellers to connect to our buyers.
Poshmark has always had Posh Parties, regularly scheduled events organized by Poshmark and hosted by their chosen sellers called Hosts. Those parties can be as specific as "Maternity" or as open-ended as "Summer Fun". Hosts handpick items from all across Poshmark that best fit the party's theme. You can see them in the Host Picks section, and you can share your own items within the party. Sharing to a party might get your item some attention, but securing your item as a Host Pick definitely will. Of course, as every Posher knows, attention does not always equal a sale.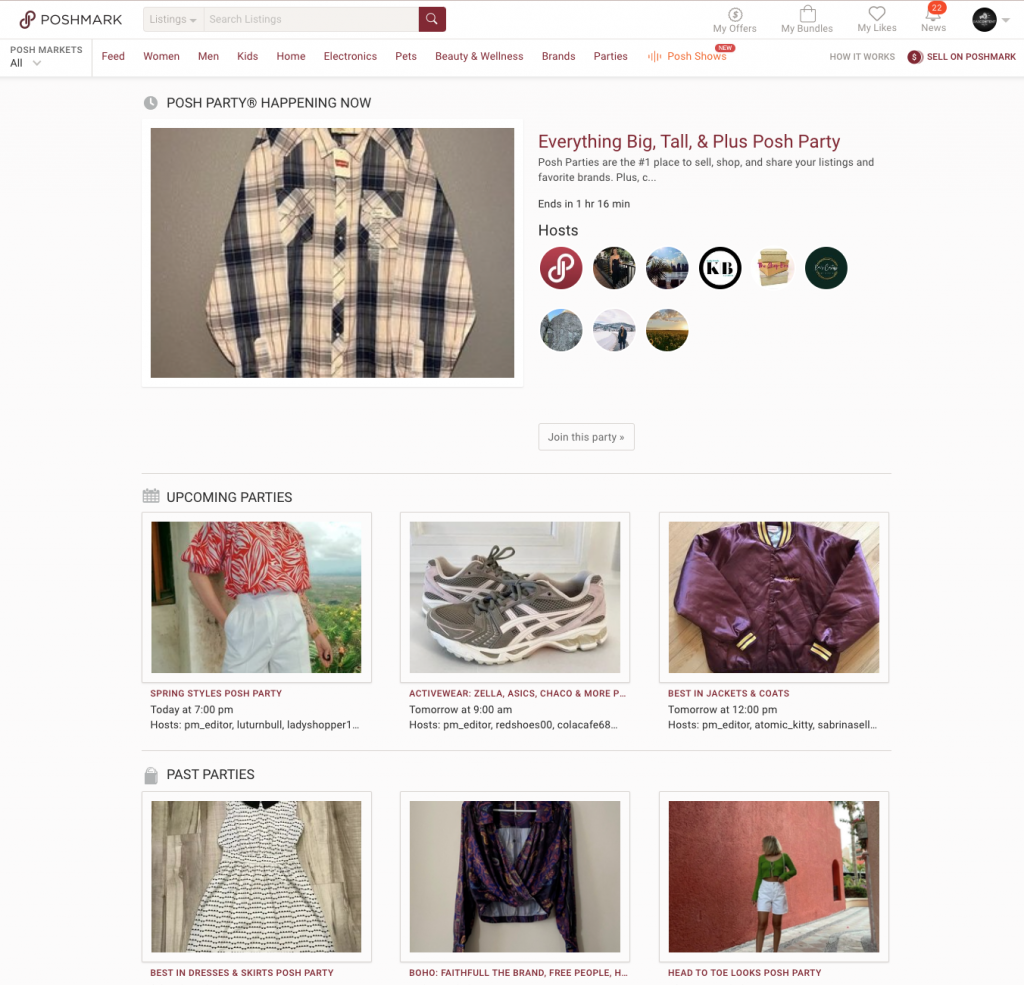 Poshmark Shows
There are millions of things listed on Poshmark and every seller from the full-time warehouse-owning types, to the part-time hustlers trying to make ends meet, are competing with one another for sales. That's why Poshmark has been adding Shows to its features.
There are two types of Poshmark Shows: Live and Silent. To learn more about the differences between them, you can read this post: 3 myths About Poshmark Live Shows That You Believe
One option that you might overlook when you get started, and something you can do in either show, is share items from another seller. I know what you're thinking – why would I do that? It's the same thing I thought until I started attending share shows and saw for myself how effective they are.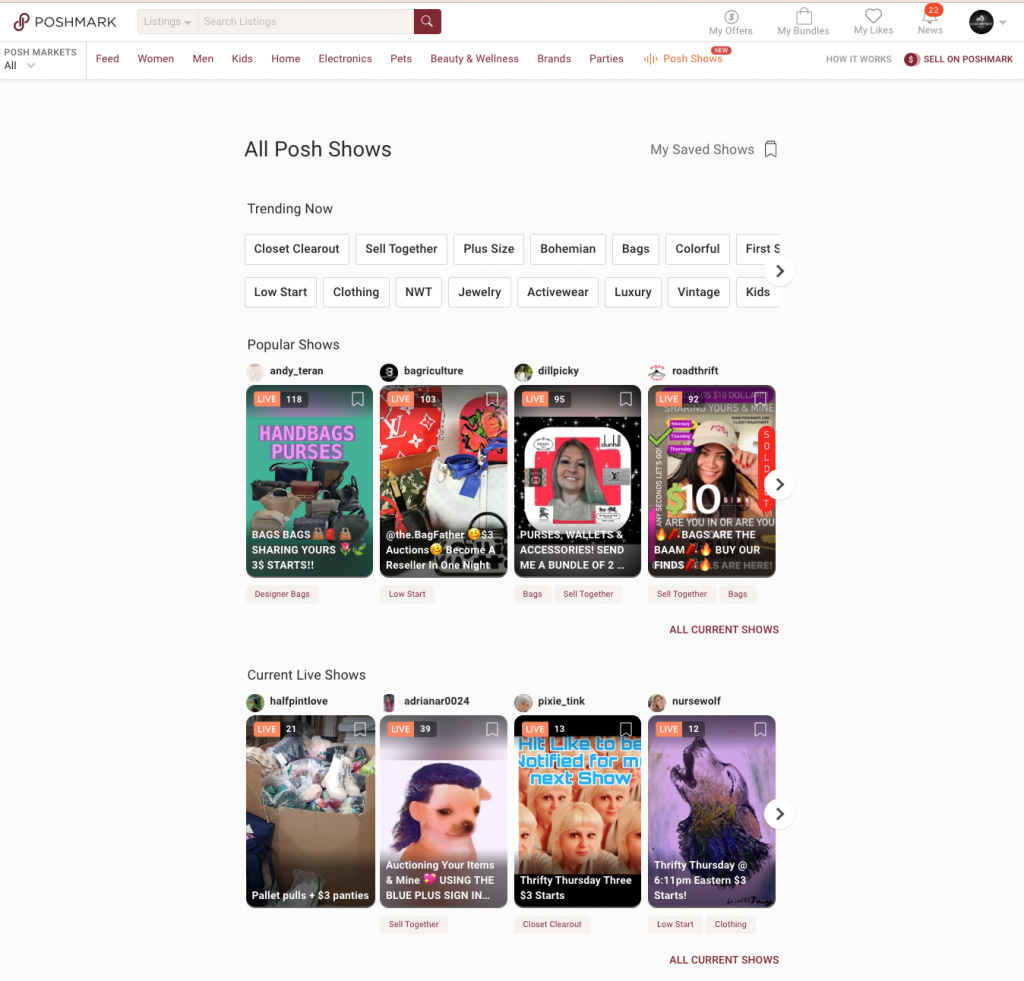 Poshmark Run or Pass Shows
Let me start by telling you how easy it is to run and share an item from another seller's closet. When you build a show, you can add up to 50 items at a time. Fortunately, you can remove items and add new ones as you go as long as you have a secondary device. Some people, myself included, have even used these features to host a Poshmark Run or Pass show. Rather than prepping only 50 items, in a Run Or Pass show, you can hold up as many items as you want for the camera and add them into your show if any viewer requests one in the comments. These kinds of shows can have the easiest setup, and retain the most viewers from start to finish because no one knows what items are coming. Share Shows are even easier.
Poshmark Share Shows
Creating a Poshmark Share Show starts like creating any other show. You add a display image, schedule it, decide if it will be live or silent, and add keywords. In a share show, instead of adding items from your own closet, you scroll through Poshmark and share other people's listings into your newly created show. When your show is running, you select one of the items, hit "Request Auction," and the item's owner will get a notification sent to their phone.
They determine the starting price and the length of time the item will be auctioned for. If it sells, they are responsible for packaging and shipping it, just like any other Poshmark order. If a buyer purchases one item from you, and one item from another seller, they will not have combined shipping. If they buy two or more items from the same seller during your show, they will be bundled automatically. Building and running a share show is that simple. That's one of the reasons I like them, but there are a lot more!
Poshmark Live Shows
The biggest reason to run a Share Show is that they give you the golden ticket to Poshmark Live Shows – a guaranteed audience. The Poshers you are selling for have to attend, or at least pop into, your show to run their items. In my experience, most of the other sellers are so grateful that they simply stay, and talk to one another in the comments section. When their item comes up, sure, they could set the terms and leave, but most people will stay and share info about their stuff with anyone else watching. They might even tag potential buyers or friends on Posh to see your show to help their item sell.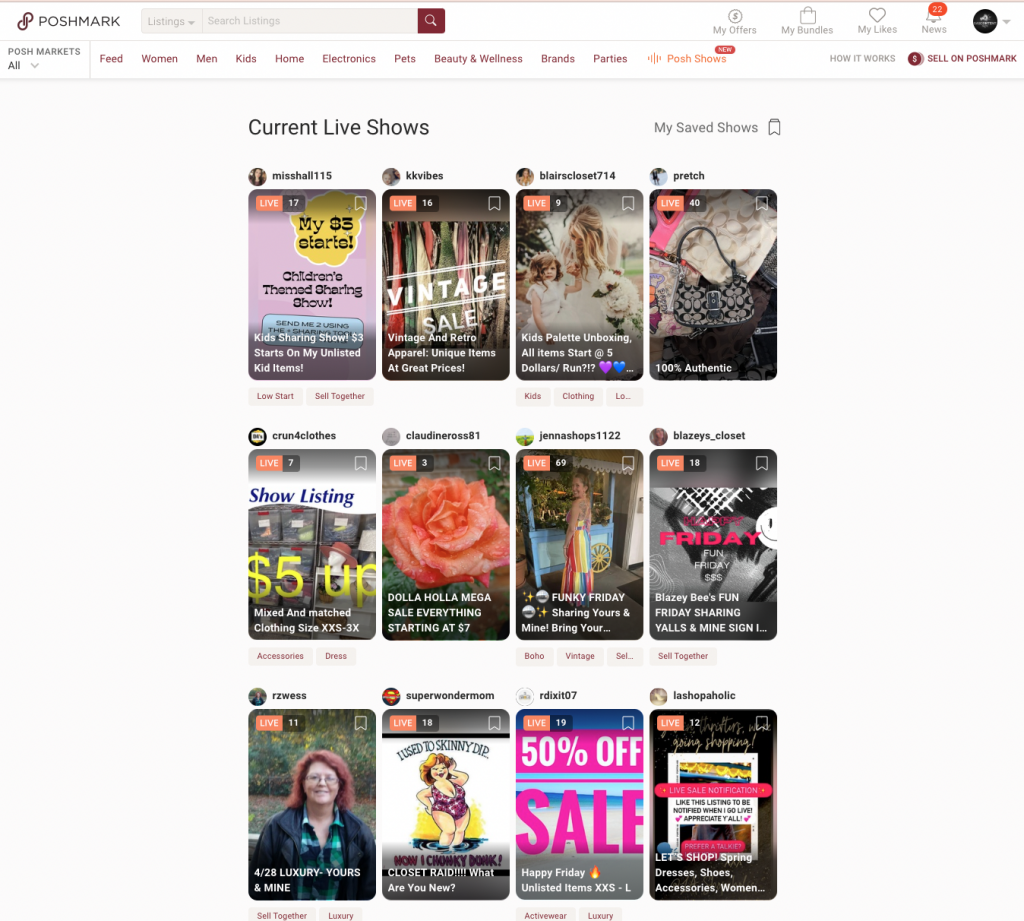 The Poshmark algorithm
Poshmark, like any other tech platform, operates based on an algorithm. The more viewers you have, the more comments they make and the more hearts they send, which will all bump your show higher in the algorithm and increase the chance of random Poshers finding you. If someone comes to your show and likes what they see, they are much more likely to follow you, bookmark your future shows, and come back to buy from you again. If you feature items from 5 different closets, it's a great way to virtually guarantee at least 5 viewers will be watching. It's also a great way to build relationships with other sellers and build up some good karma.
How to get approved for Poshmark Shows
Some people are interested in live sales but are not approved to sell yet. Some people never want to sell live, but still want their pieces to sell. You can help them by featuring their items in your shows. You never know how another seller might be able to pay you back one day. Maybe they will advertise your show on social media. Maybe they will give you incredible deals in their own closet, or share your items with their followers and rack up some sales for you. Maybe you'll just make a new reselling friend.
Creating a Poshmark Share Show
Creating a Poshmark Share Show allows you to speak with your customers in a much more intimate setting. They can really get a feel for who you are, and why they should buy from you. But the items you chose can also show your audience a lot about you.
Crafting your personal style is a constantly changing, and lifelong endeavor. Some days I want to be a dark and mysterious Wednesday Addams type, the next morning I wake up wanting to be a hippie, boho-inspired Earth mama. While I can't buy every single item that I like on Poshmark, I can display them in a share show.
You can show your audience who you are, what you like, and what type of items they can expect from your closet by filling a show with the pieces you love. On Tuesday, I can run a goth night filled with faux leather and vampireesque corsets, then wake up on Wednesday and build a show around all the floral, tiered maxi dresses that fit my hippie dream. Even though I don't think I will ever find a real Louis Vuitton in the wild, I can even have a luxury night, sip a martini and pretend I know what high fashion means with my Posh friends.
Plus, added bonus, I can have fun without a lot of stress. Poshmark Share Shows are a lot less pressure because I'm not selling my stuff. I don't have the emotional connection to each item that I usually do, so if something goes for a low amount, I don't feel bad. I get to be happy because I helped someone sell something, and someone else got a great deal!
Share Shows don't have to be all about other people. I like combining my Share Shows with Run Or Pass sales of my pieces. That maximizes my selling potential while minimizing the amount of work I have to do, and I get my biggest audience. While waiting for a seller to confirm the sale price on their own piece, I display my own items and if someone in the chat wants something run, I load it in through a quick list while the other seller's item is being auctioned.
Incentivize your Poshmark customers
You can further incentivize your Poshmark customers by offering deals. Tell the sellers watching your show that if they buy an item from you, their items will get priority. Someone might buy a $20 top in the hopes of you selling their $200 dress for them. I would buy myself a dress for that!
Best of all, you can run a sale at basically any time with almost no prep work. It's important to have your sales at consistent times so your audience knows when you will be on, but sometimes life gets in the way. I had to cancel a show because when I came home, I discovered my dog had eaten a diaper. I spent two hours with her in emergency care and got home 15 minutes before my show. I had no time to do the prep work that I needed to do, so I canceled the show. I wish I had run a show anyway! (Also, and most importantly, my dog is fine!)
I love Poshmark Shows, have I mentioned that? Live Shows are definitely my favorite, Silent ones are ok, but I'm going to keep trying Share shows. Want me to feature some of your items? Find me on Instagram @RefashionedHippie, or on Poshmark @MaggieandRipley. Just make sure to return the favor!