Welcome to List Perfectly's December news and updates!

Happy holidays and Happy New Year from List Perfectly! Thank you all so much for being a part of the List Perfectly family! 2022 was an amazing year for List Perfectly and the seller community and 2023 is going to be even bigger!

We can't wait to tell you what's coming!

Haulsale, the new marketplace for sourcing wholesale deals and liquidating excess inventory within the reseller community, has launched a new Refer a Friend program. Now, when you bring a new user to Haulsale, you'll both earn $10!
New to Haulsale yourself? Get started buying and selling inventory in bulk with your own $10 credit at haulsale.com/invite/LISTPERFECTLY
Check out their tips for sharing your referral link here and tune into Haulsale's Listing Parties to learn more about this new platform designed just for sellers.
List Perfectly Updates
If you haven't checked out Listing Party, you're missing out on connecting, sharing your expertise and listings, and live events including Cup of Consignment with Molly and Libby of Consignment Chats and List Perfectly's own Danna Crawford, Weekly Listing 101 with Theresa Cox, antiquing with Stewart White of Franklin Hill Ventures, thrifting with Maggie Weber (@RefashionedHippie), and more each week!
See all of the live events here!
Soon all List Perfectly members will be able to host their own live parties!


Inventory Migration: Tradesy → Vestiaire

While Tradesy's official closing is not until the end of 2022, you can no longer publish new listings. You may have noticed or already completed the option to simply migrate your Tradesy closet to a new Vestiaire Collective closet.

If you have already completed the switch, are planning on doing it soon, or waiting until it is completed automatically, you can learn more and watch a demo video.
You can always see the latest List Perfectly updates here.
Check out some recent posts from our blog:



Listen to recent episodes on your favorite streaming app, or on thesellercommunitypodcast.com.
Here are some of our recent episodes:



Some recent live sessions from the List Perfectly YouTube channel:



Listing 101 is held every Wednesday at 1 PM PST / 4 PM EST.
Come join and meet with Theresa Cox and List Perfectly team members to get live help and to learn more!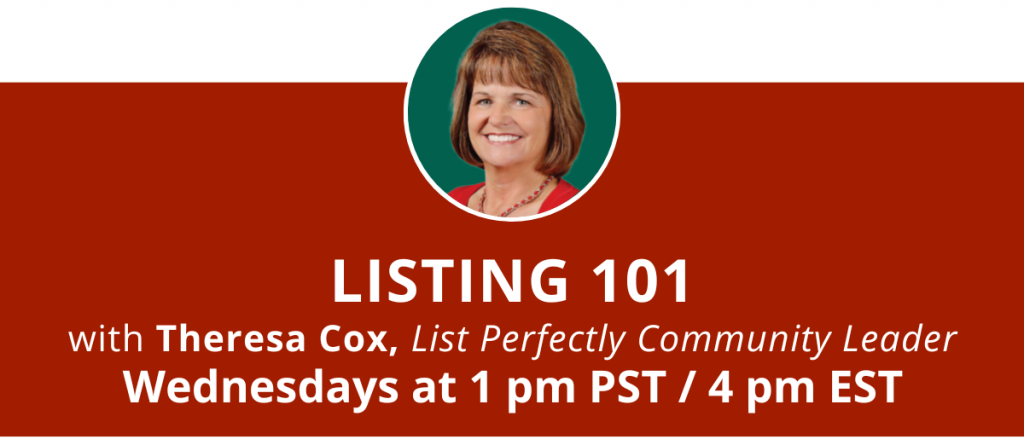 Thank You!
We'll see you next month with the latest List Perfectly news and updates!
Thank you for being a part of the List Perfectly family!