List Perfectly: No need for comparison charts
You might have seen "other" services posting comparison charts or blog posts comparing their company to List Perfectly, and of course, they always conclude that what they offer is better. Don't be fooled.
List Perfectly has never created comparison charts because they don't need to. List Perfectly was the first service to figure out how to crosspost listings to marketplaces like Poshmark and Mercari, and they've been innovating ever since.
Read on to learn about who List Perfectly is, their philosophy, what they offer, and an entirely risk-free invitation to try List Perfectly so you can judge for yourself if List Perfectly is right for you and your business.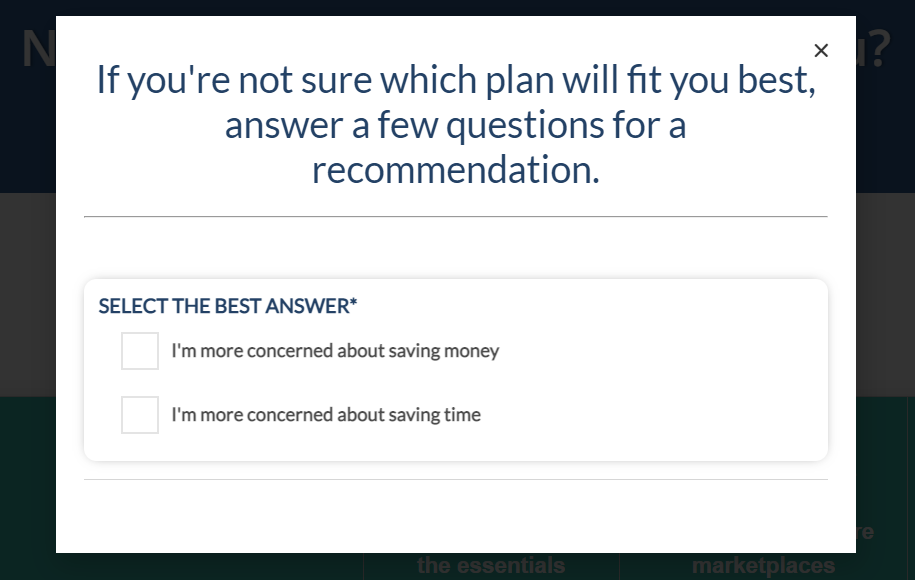 By resellers, for resellers
The founders of List Perfectly, Clara Albornoz and Amanda Morse, created List Perfectly for their own needs as resellers. Back then, nothing existed to crosspost to marketplaces like Poshmark and Mercari, so they built the first-ever tool to do this and used it successfully in their vintage clothing business, The Clothing Vault.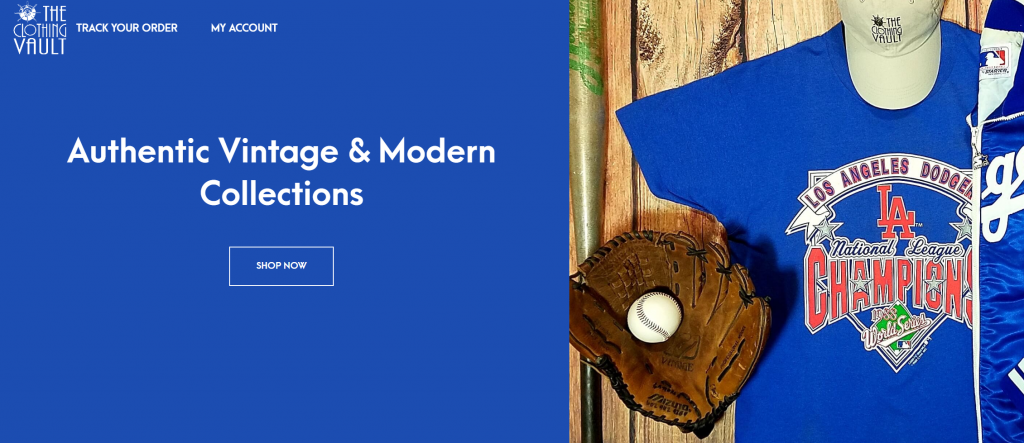 Their proven success from using the original prototype, then called List Clothing, led them to work on making the tool available to everyone so they could have access to the same solutions that big businesses had. Tools that would allow them to scale up their e-commerce business to reach more buyers, save them time, help them work more efficiently, and grow their businesses to the next level.
Together, they have 34 years of combined experience selling online. Their philosophy then and now is to continuously bring original and innovative ideas to List Perfectly with features, tools, and solutions that possess real value and actually work for your business.
So much more than a crossposting service
Since day one, Clara and Amanda have thought only of their customers and how to help them grow by investing in the community and reseller education. Sellers have so many ways to connect and get support from each other. YouTube lives, The Seller Community Podcast, the List Perfectly Facebook Group, The Seller Community Blog, Listing 101 with Theresa Cox, Listing Parties, social media channels, Listing Party, and so much more!
Listing Party
Listing Party is a new site created for List Perfectly members where anyone can host live listing parties and list together. Members come together to share tips, learn, teach and find camaraderie with other sellers. Listing Party also provides a place where sellers can find VAs, set and track goals, share listings, source from other sellers, and even communicate with other sellers through Listing Party with a chat feature. No other company has attempted to create anything like this so Amanda and Clara are not only innovating List Perfectly, but they are community innovators as well.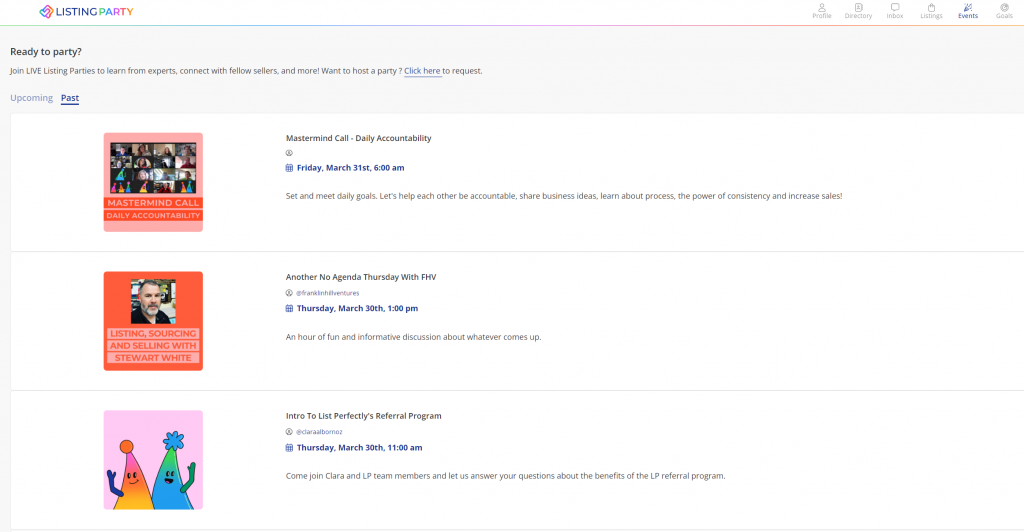 List Perfectly has clear pricing, no add-ons or surprises, and no limits
Each plan List Perfectly offers has been the same price since day one, with the only changes being added features and channels for each plan without ever raising prices. Pricing is very clear, without add-ons, and every plan includes unlimited listing! Plans are based instead on features you may need to grow and succeed, with the most basic plan designed with simplicity in mind – it's called simple because it's the easiest to start and grow with. There's no a la carte pricing scheme to deal with and no surprises.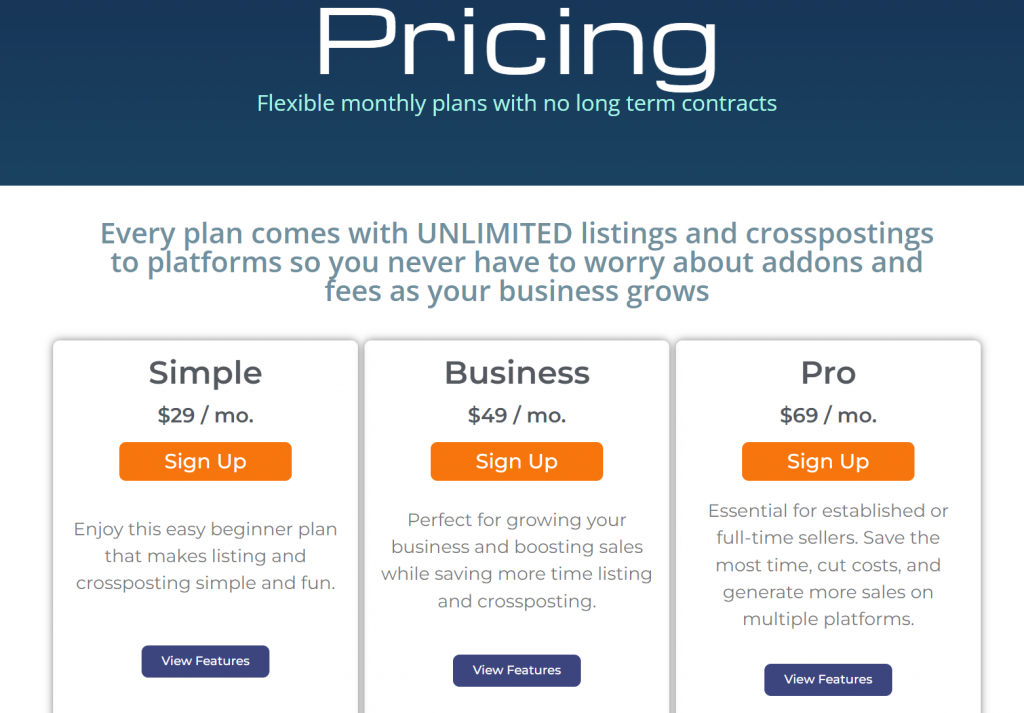 Use the plan advisor tool so you can decide what's best for your business needs.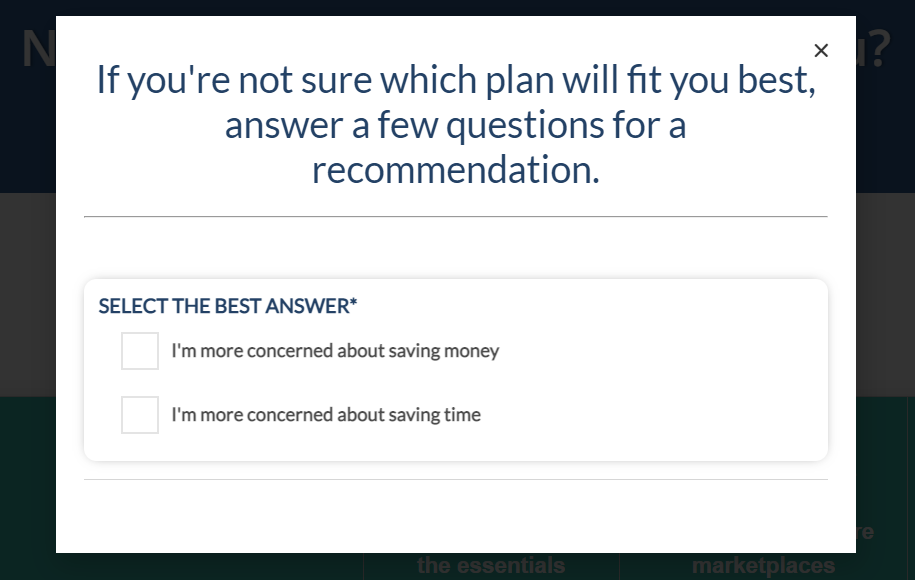 List Perfectly is truly unlimited
For one price, you get unlimited crossposting to ALL the marketplaces your plan supports, no limits to the number of listings in your catalog, unlimited importing, unlimited templates, unlimited delist/relist and so much more! You can also crosspost in bulk as many listings as your computer and internet will allow. Bulk crossposting is truly done in BULK!
List Perfectly's
flexibility to accommodate your workflow
List Perfectly is designed to be very flexible and can be tailored to fit the needs of YOUR business. List Perfectly is also constantly releasing new features to save you time and help you succeed. Time is money and List Perfectly optimizes the whole process so you can save time AND money. You have the option of using List Perfectly to track your inventory and take advantage of all the features that they offer, or you also have the option to only crosspost from marketplace to marketplace. You can even use List Perfectly on the go because it is a desktop app that is mobile-friendly and can be used on any device with any browser.
List Perfectly's commitment to helping you grow your sales and marketplace compliance
List Perfectly is committed to helping you safely sell your items fast. They don't ask for or store your marketplace passwords, which would be a violation of the terms of service for multiple marketplaces.
List Perfectly knows from experience that there are many factors that go into creating an optimal listing that sells, and they provide the tools you need to do this when you create listings directly on their site. Once you're ready to publish your listings on the selected marketplaces, List Perfectly's software will crosspost your listings to the marketplace(s) of your choice. You are then given the opportunity to ensure that your listing looks great, finalize any changes, and then publish your listing.
This isn't only for compliance, it's actually faster! List Perfectly staff has tested this and timed it, showing each time that this process is faster, which in turn means that List Perfectly members list faster as well.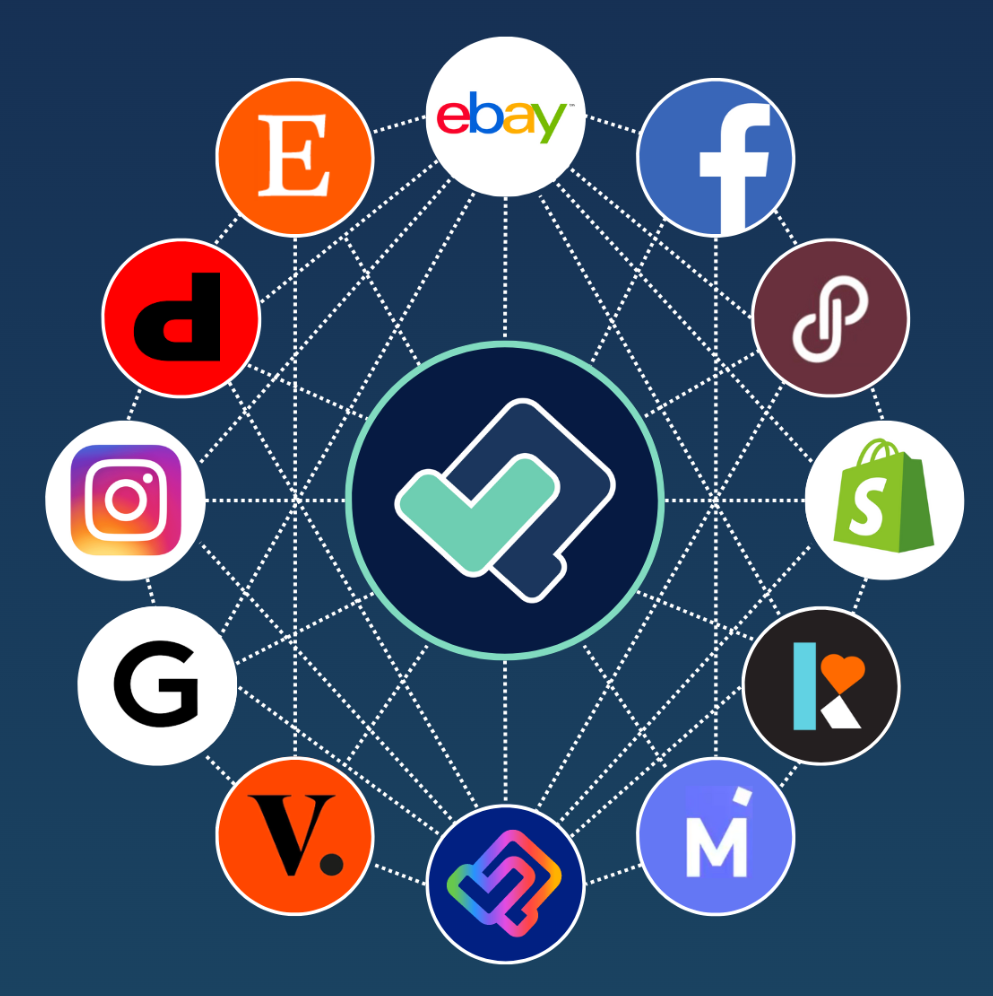 Consistently innovating adding more features for the same price
Updates and new features are added almost weekly, sometimes daily. You'll never get a fair or accurate picture of what List Perfectly offers from our Seller Community Blog. For example, once the word got out that Vestiaire Collective was going to shut down Tradesy, List Perfectly's tech team made sure customers would have the ability to crosspost to Vestiaire Collective before their Tradesy accounts were discontinued. Other sites as of today have yet to even support Vestiaire, months after List Perfectly added support.
List Perfectly's 24/7/365 live support
One-on-one, 24/7/365 live support with actual human beings is always available. With fast response times and customized support options, such as the ability to submit screen recordings, List Perfectly provides quick resolutions for their users. Customers have found it so much easier and faster to use List Perfectly's built-in screen and voice recorder rather than type out what they are experiencing when they need to submit a help ticket to customer support.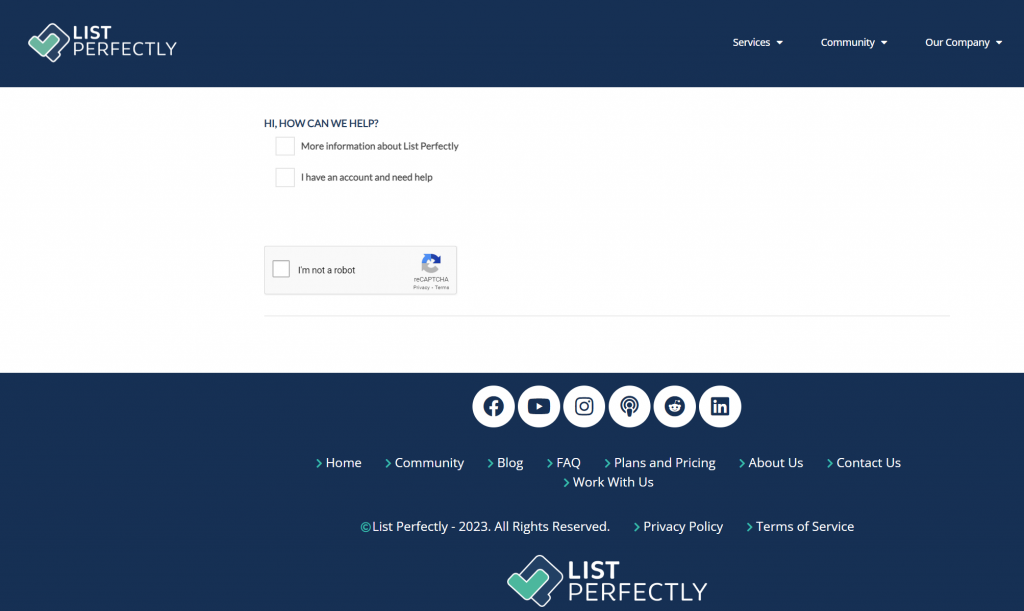 You can also join group or one-on-one onboarding calls, something offered to every member. Everyone that works at List Perfectly is a real seller and real List Perfectly user, and they understand the needs of the community.
Detailed guides and step-by-step instructions
Some customers prefer to solve their own issue with a little assistance from guides. List Perfectly provides that option. They've even built a help wizard where you answer questions and get suggested fixes. If the suggested fixes don't resolve your issue, you can proceed further and get to their support staff where the answers you gave the wizard are provided to them, with no back-and-forth describing the issue you're having!
List Perfectly's image management and PhotoRoom integration
List Perfectly supports adding up to 30 high-resolution images per listing and these will remain in your catalog until or unless YOU remove them. One other groundbreaking innovation to note is that List Perfectly was the first to ever integrate with PhotoRoom and offer free background removals and bulk processing features so users can remove the background from their images, edit their images and even choose the color they want their background to be.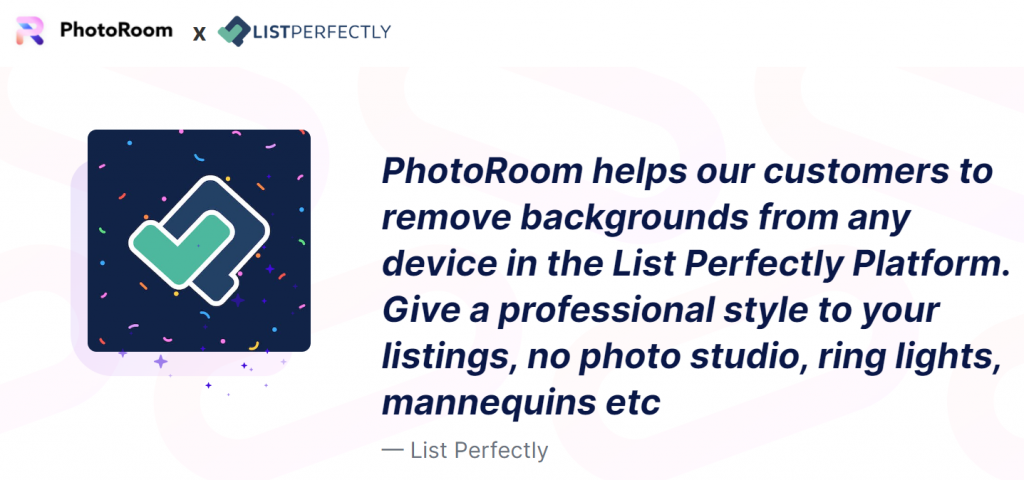 Photo filters are also included, along with formats for square or custom cropping. Also, during crossposting, List Perfectly will automatically modify images to be in a square or 1:1 ratio for marketplaces that require it.
In addition, once you've made your edits and you decide you want to start over, even months later, you can restore your original, uploaded image and apply a new color background, or make any new edits you want with no reduction in photo quality.
List Perfectly's
sales tracking
Just recently, List Perfectly launched the Sales Detection Feature which will notify you when you've made a sale on almost all of their connected marketplaces. Yet another first! You even get a "cha-ching" sound when you've made a sale.
The sale will show in the extension with a button to click that takes you directly to the listing in List Perfectly so that you can quickly and easily remove the listing from all of your marketplaces immediately after being notified of the sale.
List Perfectly's
Pro Description Builder
List Perfectly is the first and still, the only service to offer a description builder that formats your description so it looks professional and readable by a potential buyer on any marketplace.
You can use the Pro Description Builder to create SEO-rich, easy-to-read descriptions that will be formatted and supported on each marketplace.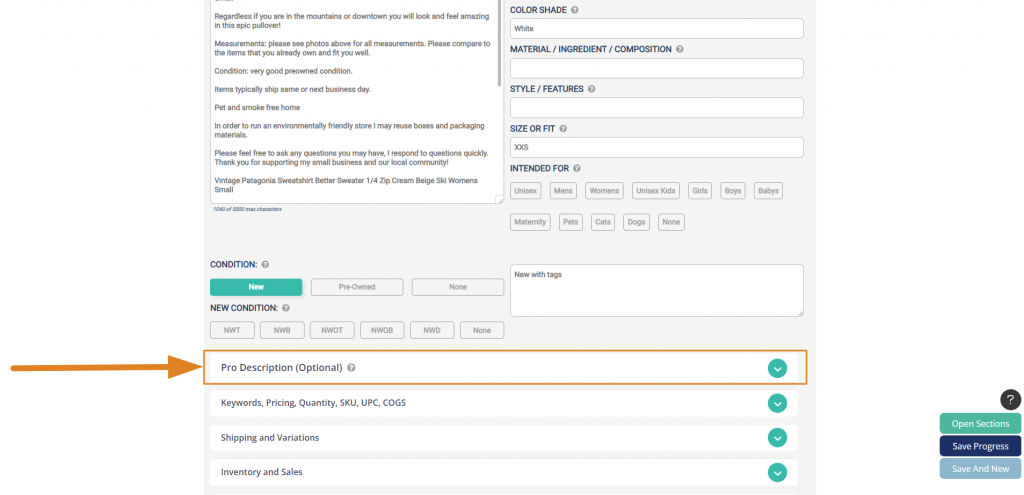 List Perfectly's draft listings
Another one of List Perfectly's great options is being able to create draft listings. Draft listings assist in optimizing your workflow, whether you're collaborating with team members or utilizing a hybrid process by creating from both mobile and desktop. You can use draft listings to make hand-offs or transfers quick and easy.
List Perfectly's pro title and keyword suggestions
You can create custom titles if needed for each platform you crosspost to. List Perfectly will also automatically generate a formatted title for your listing. In addition, List Perfectly creates a list of suggested keywords for your listing, taking the guesswork out of what keywords to use.
List Perfectly's Express Editor and CSV downloads
Express Editor allows you to make quick edits to your listings stored in your List Perfectly catalog. This saves time and clicks because you can also make edits in bulk to many listings at once on this page.
Unlimited CSV file downloads allow you to download your entire List Perfectly catalog in a CSV file (aka a spreadsheet) format. The CSV file was built not only for you to track sales and the platforms where you've listed, but also to help get your available inventory to marketplaces/platforms it doesn't yet support. It's fully customizable as well, apply a search and the download will only include the listings you've searched for. It even includes your full description and links to all of your images, so you never have to enter them manually. This feature is excellent for those who sell on platforms like WhatNot.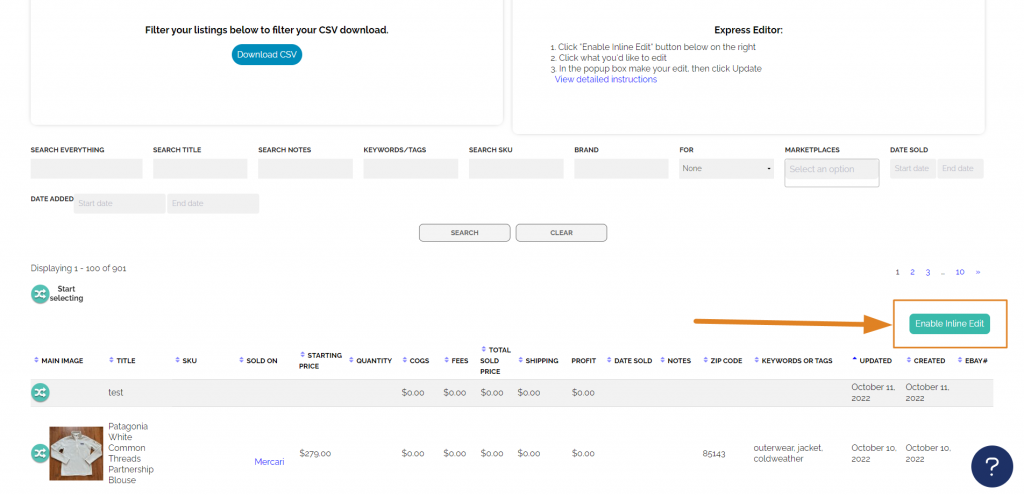 List Perfectly's Update feature
The Update feature allows you to quickly and easily edit your entire listing, or selectively update just price, title, description, SKU, and more and publish these edits to all of your platforms with one click. You can do this individually or in bulk.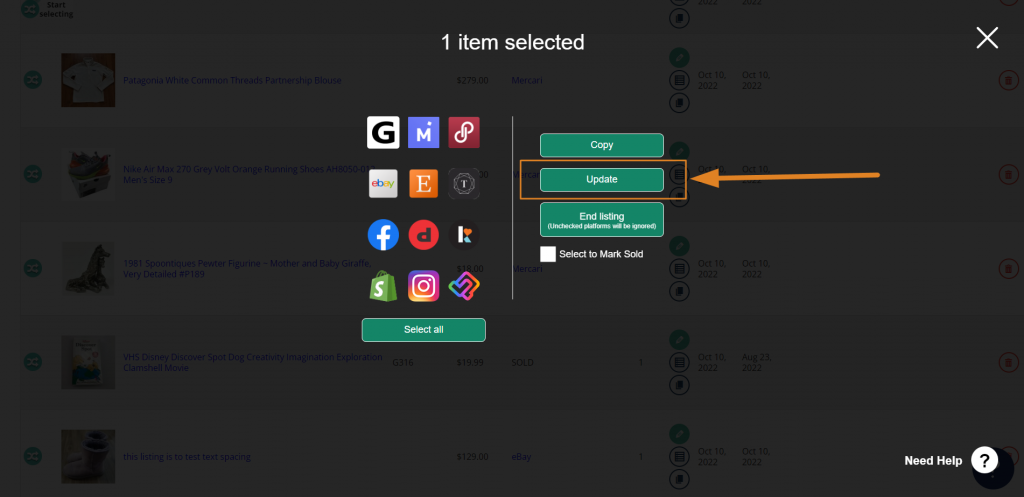 List Perfectly's word alert and custom footers
Features such as word alert and custom description footers for each supported marketplace assist you in avoiding situations where your listing is crossposted to a marketplace with a word or phrase that is not allowed. Imagine crossposting to Mercari with the words "eBay" or "PayPal" in your listing. If you do this, List Perfectly alerts you and gives you the opportunity to edit your listing before it's published. Marketplaces have systems in place that will detect these types of violations and you run a very high risk of having your listing removed from the platform, or worse – your account could be suspended.
List Perfectly does not use bots
List Perfectly does not use bots, which is another violation of marketplace terms of service. List Perfectly will always be 100% compliant with all platforms so you can always be assured that you will never have to worry about using List Perfectly because List Perfectly will ALWAYS be in compliance. The consequences of using non-compliant software can devastate your business and your reputation. Sellers can face stiff penalties for using technology that is not compliant, up to and including being banned from selling platforms. Compliance is a #1 priority with List Perfectly because they know that livelihoods and reputations are at stake. Unfortunately, not all crossposting and reseller services make this a priority and sadly, it is their customers who ultimately pay the price.
Your listings will always be available with List Perfectly
Something else that List Perfectly guarantees is that they will never delete your catalog. Even if you unsubscribe and resubscribe later, your listings will always be there just as you left them allowing you to start back up again right where you left off. Other companies delete your listings as soon as you discontinue their service.
The value of social commerce
List Perfectly's Co-Founders saw the value and importance of social commerce years ago, which is why they made sure List Perfectly can crosspost to its users' Instagram profiles. They found taking advantage of free social commerce sites really helped them reach more buyers and they started crossposting to their own The Clothing Vault Instagram account back in 2018 with their List Perfectly prototype.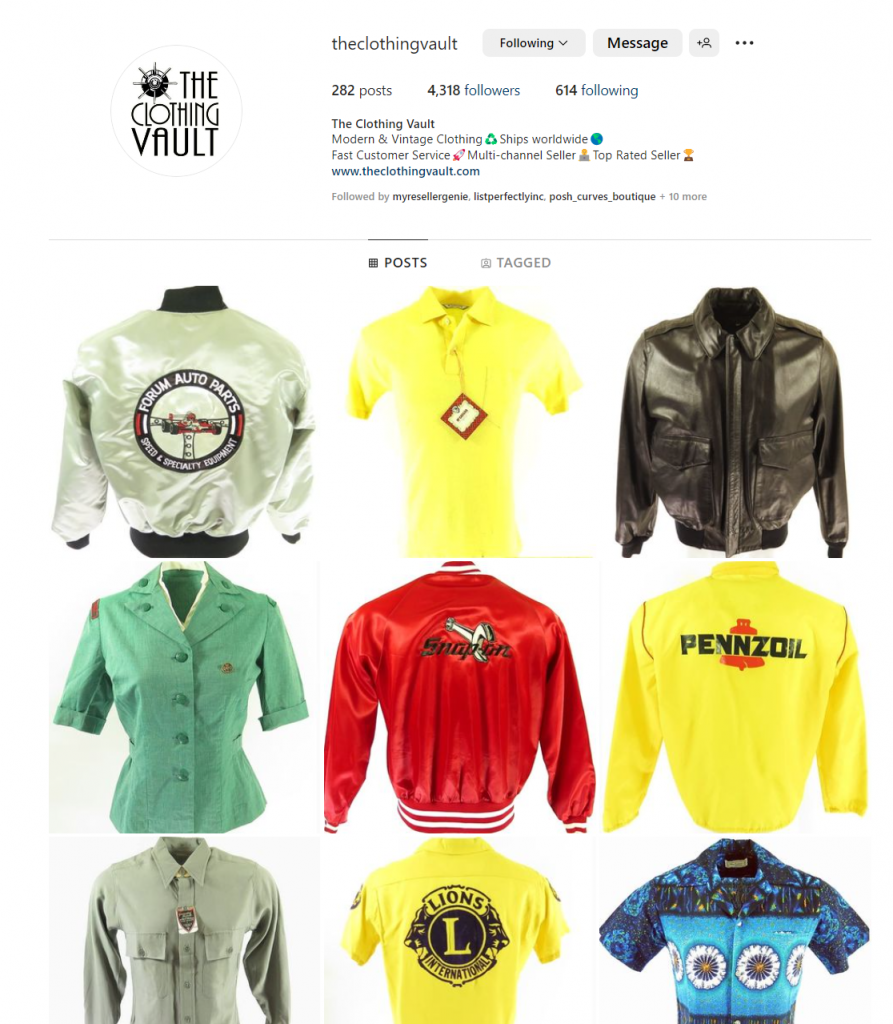 Don't be misled, go straight to the source
When it comes to options, it's always best to do your research and seek out the facts. When it comes to List Perfectly, always go straight to the source. List Perfectly is glad to answer any questions you may have and verify any information you might receive from outside sources. This way, you know you are getting accurate and up-to-date information.
Be aware that content being shared about List Perfectly by other companies or referral members of other services can contain misleading information, false claims, outdated information, and unfortunately, may also include blatant lies about List Perfectly in order to make the other companies sound better.
List Perfectly's risk-free trial
List Perfectly is for ANY seller who is ready to take their business to the next level. This post only covers a fraction of what List Perfectly offers, and I recommend you try it out to see for yourself if LP is right for you. If you would like to try List Perfectly, you can do so, risk-free. You are covered by their 5-Day Or Up To 50 Listings (whichever comes first) Money Back Guarantee. On top of that, those 50 listings never expire. To try List Perfectly risk-free for 5 days (or up to 50 listings), click here.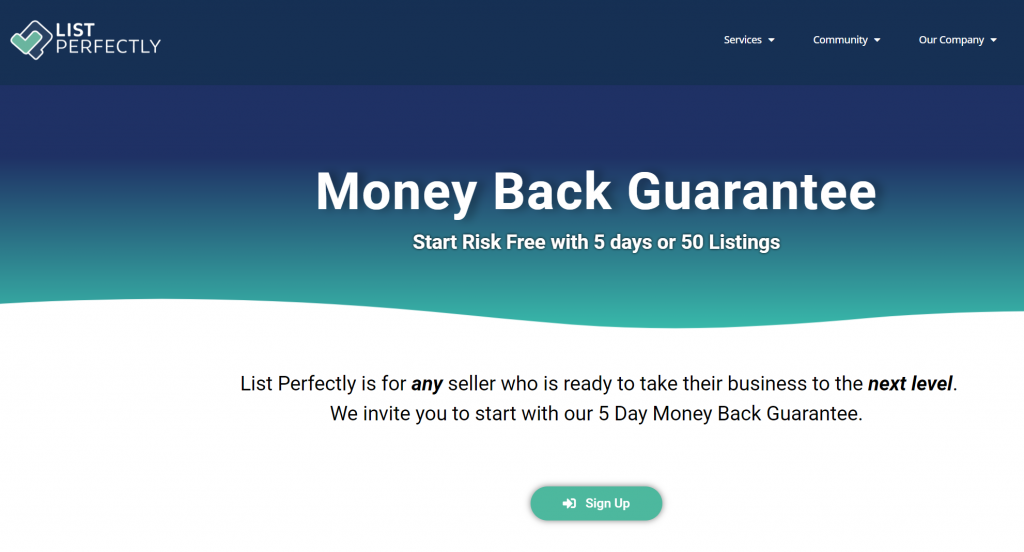 So, just remember to do your research and come straight to the source for answers that are factual, up-to-date, accurate, and honest.
If you have questions or would like to verify information, please feel free to email List Perfectly at info@listperfectly.com.